Sridharamurthy K, a Bengaluru-based civil engineering graduate turned sculptor is known for his colossal statues of Hindu Gods and Goddesses. The 47-year-old and his father are among the sculptors that made the towering statue of Lord Shiva that adorn an island in Murudeshwara town in Uttara Kannada District. It is supposed to be the world's second largest Shiva statue. 
The statues of Lord Hanuman stand tall in Madhya Pradesh and Himachal Pradesh and the breathtaking statues of Lord Shiva in Jabalpur, Sikkim and Bengaluru and Goddess Durga in Gujarat also bear the mark of his genius. His ancestors were sculptors in Hampi, the capital of Vijayanagara Empire. 
Sridharamurthy has tried his hand at wax statues, reminiscent of the ones in Madam Tussauds Museum. He did one of those statues for a museum. Shrinivas Gupta, a businessman from Koppal happened to see it. Gupta was impressed with the sculptor's attention to detail and asked him if he could make a statue of his late wife MVK Madhavi who died in an accident three years ago. 
While alive, one of Madhavi's biggest dreams was to own a new house. "She only got the building plan done and was part of the foundation laying ceremony,'' recalls Gupta. Knowing the new house would be incomplete without Madhavi, Gupta wanted to have her statue installed in the drawing room. 
It took Sridharamurthy and his team of sculptors at Gombe Mane months to infuse life into Gupta's dream. However hard work paid off. 
Madhavi sitting on a sofa, sprang a surprise on guests on the occasion of the house warming.  Wearing a pink and gold sari, she was bejewelled and had flowers in her hair. 
Gupta says he can almost feel her presence while in the drawing room. Madhavi sports a smile that comes from the heart and gives him solace. 
The silicon statue has transformed the life of Anusha Gupta, Madhavi and Gupta's daughter too. '' We had a couple of sittings with Sridharamurthy. He made sure that every detailing was perfect and my mom looks exactly like when she was alive. We even had a nice family photo after three long years."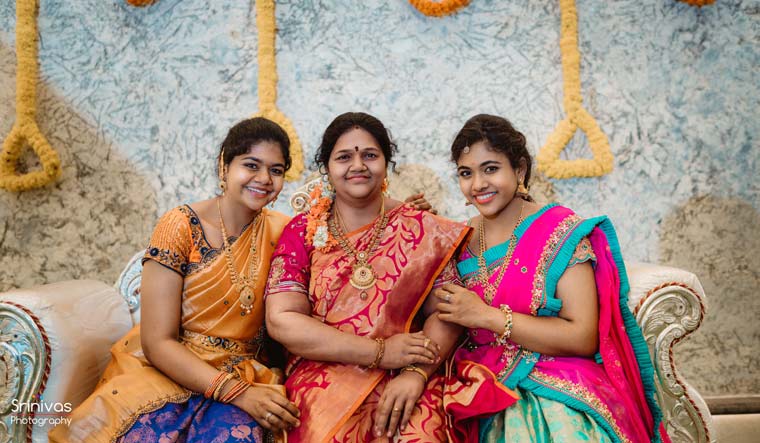 Anusha shares her problems with her mom as she used to before. "It is so comforting to see her when I get back home. The moment I open the door, I can see her,'' says Anusha who has joined her father's business after completing her studies. Her sister, Sindusha, is a chemical engineering graduate. 
Sridharamurthy took great pains to ensure the statue looks real. The statue even features natural hair, he says. "We took help from chemists while making the statue. Technology was of great help to us as we tried to recreate Madhavi's skin texture, wrinkles, bone structure, lips, nostrils, eye balls, cornea and the nerves of the eye," adds Sridharamurthy who is a member of the Karnataka Shilpakala Academy. 
Madhavi died in a car accident. While traveling to Thirupati, her car crashed into a speeding truck and she died immediately. Anusha and Sindusha, who were with her at the time of the accident, survived miraculously.