Asha, a house help in Delhi, recently developed a new ritual for reciting the rosary after dinner. The lockdown restricted the regular churchgoer to her one-room home and denied her the simple assurance of a Sunday mass. This was until she received a WhatsApp forward on May 1, of an adoration held in a convent in Kapurthala, Punjab. In the 30-minute video, a large group of Catholic nuns invoke Mother Mary as mata dulari (cherished mother) and sing for forgiveness in front of her three-foot statue. "Now I play this video every day after dinner," says Asha. "It helps my daughter and me concentrate. I think I will continue to use it even after the lockdown is lifted."
Many commentators and experts have raised questions about the future of organised religion in the wake of Covid-19, especially with religious sites shut around the world. Just like the bubonic plague and the printing press sowed seeds for the protestant reformation in Europe, can technology and the ongoing pandemic lead to a change in the way we approach places of worship? Can gatherings, the heart of a religious experience, be reduced to carefully managed crowd control strategies? Masks, sanitisers and social distancing at Vaishno Devi temple and the Tirupati Balaji shrine? And for how long?
Many religious gatherings were seen as large "viral vectors" from where cases multiplied and exploded—a secretive sect called the Shincheonji Church of Jesus in South Korea, the Islamic missionary movement of Tablighi Jamaat, which held a 16,000-strong gathering in a mosque in Malaysia, an Orthodox Jewish congregation in New Rochelle, New York, and so on. Attending a service in a church, temple, mosque or gurdwara will not be the same for the devout, at least for the next year. Will this collective isolation bring devotees closer to their gods? Or will they fall into despair when sacred places become physically out of reach?
"The pandemic situation has introduced a kind of atemporality in experience in the absence of a regular calendar time," says H.S. Shivaprakash, poet, playwright and professor at the School of Arts and Aesthetics, Jawaharlal Nehru University, New Delhi. "The more esoteric aspects of spirituality, the core ones which are not very popular, all talked about the interconnectedness of things. The Shashtra and the tantras call it sarvam sarvatmakam, which in European schools of mysticism was called the theory of correspondence. The interconnectedness of things is the grounding principle of Sanatan Dharma, animism and pantheism. Whether we like it or not, this realisation is being forced upon us now."
Shivaprakash is working on a book on spirituality and the pandemic. He believes that individual religiosity, the constant focus on individual liberation and salvation is going to take a backseat. As people switch to virtual congregations to commune with a so-called God, they will realise that they are praying to their own self, he says. "Nobody is listening outside. Idolatory and external worship is required, but this is only a means to circle back to oneself," says Shivapraskash.
This year, on the eve of Easter, Fr Stanley Kozhichira of the Delhi archdiocese had to deal with a volley of questions from youth attendees of a webinar: Why is God a hard-hearted person? Why is he closing his eyes to our difficulties? For how long can we hope to go on like this? He explained to his anxious listeners that God is beyond time and space. "In the Bible, one day can equal a thousand and a thousand days can equal one. It is only we humans who think in terms of a finite space. One can only wait in hope for betterment," Kozhichira said.
He has been live-streaming a mass at 6:30am every day since March 19, before the lockdown was announced. Kozhichira talks about an interactive, explanatory mass on Zoom, with a group of 60 participating with readings and music and questions on faith and practice. "The Church has given advisory guidelines for people attending these online services," he says. "It has to be attended live; no recorded service is allowed. For a Sunday mass, one has to dress the part, prepare a table, a Bible, two candles and a cross near the altar." Unstable internet bandwidth, he says, is the greatest challenge at this point, apart from accessibility of internet services to low-income groups. But Kozhichira is absolutely certain that an active service will not be taking place before September.
The Sri Varaha Lakshmi Narasimha temple in Simhachalam, Visakhapatnam, is perhaps the second largest temple in Andhra Pradesh and one of the more well-endowed in terms of land. Two of its biggest festivals, Kalyanotsava and Chandanotsava, happen in April, drawing in lakhs of devotees. But this year, there have been no public darshans since the end of March. "Before the lockdown was announced, I had a board meeting via video conference and we decided that we were not going to allow public darshans (considering) the safety of our devotees," says Sanchaita Gajapati Raju. She is the hereditary trustee of the Simhachalam Devasthanam board, and became its first woman chairperson on March 4.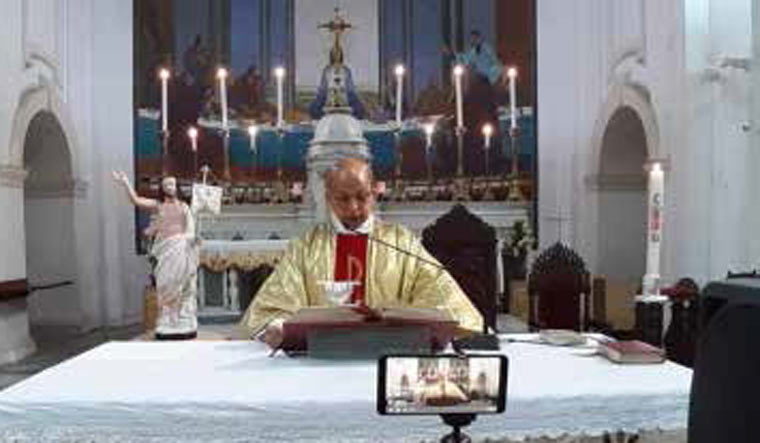 In a first, the temple telecast pujas live on social media and local media outlets. The preparatory puja before the Chandanotsava (sandalwood festival) was telecast as well. The faithful can register for prasadam through a WhatsApp number and it will be couriered once the lockdown is lifted. People stranded in the vicinity of the temple have been housed by the authorities for free, with access to medicines and dry rations. "As religious institutions, we have a certain leadership role in all of this," says Raju. "This is a challenge, but it is also an opportunity. How do we reinvent connecting with people? Here, technology can play a huge role. Religious practices are not a pickle to preserve in a bottle. They change with the times. We have to ensure that people's safety is paramount. Physical darshan now will only be done in staggered timings. There will be access of masks, sanitisers and temperature check. Till such time as you can find a vaccine, I don't see a silver bullet. "
Punjab has seen a recent spike in Covid-19 cases after pilgrims returned from Hazur Sahib gurdwara in Nanded, Maharashtra. Of Punjab's tally of 1,780 cases as of May 10, those who returned from Nanded account for 68 per cent (1,205 cases). The devotees had returned from Nanded in buses arranged by the Punjab government.
Karnail Singh Panjoli, a member of Shiromani Gurdwara Parbandhak executive committee, says that only the basic thermometer drill was done before the pilgrims boarded the buses. He added that there were many migrant workers, too, in the buses. "Our committee had written to the Punjab government three months ago," says Panjoli. "We had given them a list of gurdwaras they could use for testing the pilgrims and migrants. We had arranged beds, clean bathrooms and the langar was well organised. They should have checked the list and taken the bus there to test and screen people. Instead, when the pilgrims came to Punjab, they were sent home. Then, when they became positive, there was chaos and they were called from home and kept in various places. This worsened the situation." He says the primary responsibility of gurdwaras now is to feed the hungry and the homeless, apart from offering residential facilities under the Parbandhak for testing and recovery of the afflicted. "Covid-19 has no religion. By targeting a single community, we are endangering all of our safety. Whoever is doing this is an enemy to all religions and the country," says Panjoli.
Fayaz Khwaza from Srinagar is a shawl merchant in Leh, Ladakh. In the last two months, he has suffered a loss of 015 lakh. In this holy month of Ramzan, he offers his prayers with his family at home, some 4km away from Lal Chowk. He does not seem perturbed and is happy playing volleyball with his children. "The prophet spoke of quarantine 1,400 years ago in the time of a plague," says Khwaza. "The Quran says we have to stay where we are when such a calamity strikes, instead of trying to run away. Nobody can step out of the house until the outbreak is completely over." He especially highlighted the Wudhu ablution or ritual washing performed by Muslims before offering prayers. "Yes, one can wear masks in a mosque, but it is not possible to pray with social distancing," he says. "We might as well pray at home, right? What is the problem in that?"