If you look at Sufiyan Malik playing the rabab in the video 'The Cure', you will notice the concentration and effort required to play instruments in sub-zero temperatures in Kashmir. "We were playing in minus temperatures. So, the shoot lasted only for an hour and we were completely freezing. We couldn't move our hands properly," says Malik. There is a piano and guitar too. But rabab is special.
The ancient rabab—a short-necked, lute-like instrument which originated in Afghanistan and spawned sarod as we know it—is having its moment in Kashmir, thanks to the improvisational skills of a 19-year-old Srinagar native, Sufiyan Malik. In February, Malik got a call from HBO asking for permission to include his beautifully haunting Game of Thrones-themed (GoT) short musical, 'The Cure', in their official fan anthem #ForTheThrone in the run-up to the ongoing eighth and final season of the network's wildly popular fantasy drama. While the musical has lookalikes of Jon Snow, Tyrion Lannister and the Night King playing out their high-stakes drama against formidable snowy vistas of a ski-resort in Gulmarg, it is Malik playing the rabab which is the game-changer. The most famous piece of music from GoT, its opening credit or the theme song, achieves added emotional heft with the delicately deep drones of Malik's three-stringed Kashmiri rabab made of mulberry wood; the strings are made of goat gut, nylon and steel.
Malik has been playing the rabab—once popular in the 16th century in classical music circles in middle Asian countries until sarod and sitar stole its thunder—for the last two years. He also made a tribute to the Pirates of the Caribbean as 'Firdous X-He is a pirate' based on the theme song of the film, starring Johnny Depp. Both Pirates and GoT tributes were sponsored by the Department of Tourism in Kashmir as a campaign to promote local artists and revive interest in Kashmir as a shooting destination. The videos have clearly sparked more interest in the traditional music instrument which travelled to Kashmir from Afghanistan many centuries ago and is considered the soul of Kashmiri folk music.
"I know of only four or five master-craftsmen who are making and teaching rabab in Kashmir. Even their students don't consider they have future prospects with the instrument. Our traditional music is getting lost. I have ditched the guitar completely and will stick to rabab," says Malik on the phone from Pune where he is completing his B.Tech in Computer Science.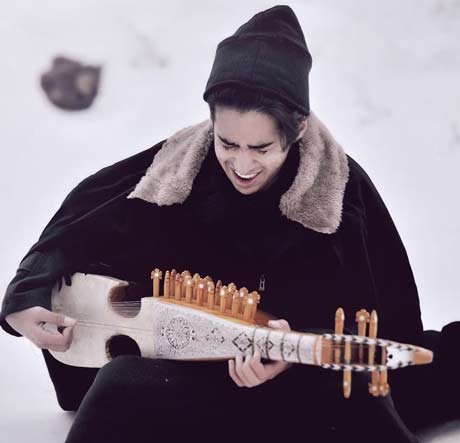 His grandmother, a santoor player, always wanted Malik to learn classical music. He was gifted a second-hand rabab by a relative. The instrument gathered dust for a long time in a corner of his house before Malik rediscovered it. He scoured YouTube videos for old recordings from the 1990s and picked his rabab skills there. He finally managed to receive a three-hour lesson in a far-off town in Baramulla's Sumbal where night-long mehfils or musical soirees of sufi music are the norm. Rabab is a prominent fixture there. "I absorbed every little nuance I could in that short lesson I got from my teacher Mir Parvaiz in Sumbal. It is the knowledge I am using even now. Anyone who knows how to play the guitar can learn rabab in a year," says Malik who started playing the guitar at age six. He now helms a band called The Sufiyan Malik Collective.
His teacher Parvaiz, who teaches in the music department of Delhi Public School in Srinagar, called Malik a week after the 'Pirates' video landed on the internet in 2017. Parvaiz informed him how he couldn't eat during the lunch break for days with kids making incessant inquiries about the instrument. "Suddenly all the kids wanted to learn the rabab," laughs Malik. "It is true. These themed videos are making more and more youngsters in the valley turn to rabab. I know of seven bands who have included rabab as one of their instruments now."
Malik's deft handling of the rabab has mesmerised politicians and public figures alike. His fans include National Conference's (NC) Nasir Sogami and activist Shehla Rashid Shora. Former chief minister of Jammu and Kashmir Omar Abdullah tweeted on April 22, "In honour of the final season of #GamefThrones I'm reposting this amazing tribute to the show by these young Kashmiris. I never tire of watching & the theme using local instruments is something else. The Cure - Game of Thrones Kashmiri Tribute".