If you browse through Nandita Iyer's Instagram feed, you will know she has a green thumb. Her Insta stories are often about her vibrant kitchen garden, and the fresh produce that goes into making some of the most gorgeous-looking healthy food.
Born and raised in Mumbai, Nandita lives in Bengaluru and has been blogging about both traditional and fun recipes since 2006. Her debut book The Everyday Healthy Vegetarian – Delicious Meals from the Indian Kitchen is an extension of her successful blog Saffron Trail, the one that she started 'purely to record her experiments in the kitchen'. Expect more than 100 recipes with nutritional information, daily meal plans and tips on how to grow your own vegetables in this latest cookbook.
In an interview with The Week, Nandita Iyer talks about blogging, getting published and more.
What is your food philosophy?
​I like to keep it simple, fresh, seasonal and of course, local. What I cook on a day-to-day basis sticks by these four principles. By simple, I also mean respecting the ingredient and not going overboard with cooking or dousing it with spices. ​
Tell us about your earliest food memory from childhood.
​I think it is standing on a low stool in my grandmother's kitchen and making dosas when I was nine years old. Although I had not started cooking full-fledged until my late 20s, this was something I loved to make, and I'm told I was good at it even then.
How did blogging help you come up with a book?
​Blogging since 12 years kept the creative juices flowing when it comes to creating healthy recipes and sharing with my audience. It also built a community over the years who have given a hearty response to my book the minute the pre-order link was out. ​
What made you start a food blog?
I started blogging on a whim and to keep my impulsive cooking documented so that I could repeat any of the dishes if I wanted to.​
​What inspired you to write a cookbook?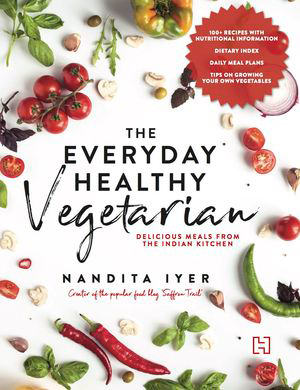 ​My book is most definitely an offshoot of my blog of 12 years. I can say my blog readers are one of the inspirations that motivated me to write a book. ​
Saffron Trail is one of the earliest food blogs in the country. What is the change you see today in the blogging world?
I feel blogging is no longer a hobby. It can be a full-time profession today if the blogger wants to. Also, blogging has led to a lot of other allied careers and has helped many to quit their full-time jobs.
Tell us about The Everyday Healthy Vegetarian (TEHV) - who and why we should buy it?
​It is for everybody, but if I were to narrow down the audience, it is for anyone who loves to eat but wants to shift towards a healthier lifestyle. The Everyday Healthy Vegetarian stays true to its title as the recipes are something you can cook and eat every day, and are made using healthy, unprocessed ingredients. I must say that quite a few meat-eaters have also bought my book and have told me that they love the simplicity of the recipes and how it will help them include more vegetables, beans and other healthy food into their diet.
TEHV is a fun guide to healthy eating with lots of personal anecdotes that readers can identify with, variations for the recipes, gardening tips, nutritional information—all of it in a non-preachy way. My readers have already started creating their own variations to the recipes, which gives me a lot of joy as it is what my book is meant to be—an inspiration and guide for people who want to cook healthy.​
What do you think are the three essential ingredients that go into publishing a cookbook?
It involves a gruelling attention to detail. Also, patience to go over things a dozen times and then some more. And an absolute focus on your target audience and their needs.
How did you come up with the title?
​It was a joint decision between my publishers and myself. The title says out loud and clear what the book is about, and the target audience will understand this as soon as they see the cover. It also helps that healthy and vegetarian are popular keywords so it is great for online search too.​
Your book has some gorgeous food photography. Can you share your top three tips?
​For food photography, lighting is everything. You must try to capture photos in natural light ​and when the sun is not blazing. Your focus should be on the food, which means stick to one or two props, and let the dish speak for itself. Use one of the three tried-and-tested angles that always work for food—top shot, 45°​ and straight on.​
What is your favourite recipe from TEHV?
Every recipe in the book is a favourite, but I especially love the Roasted Fruit Salad with Mint Cream because I have never tasted anything like that before. This recipe comprises seasonal fruits, cubed and roasted in the oven, served with whipped coconut cream (or regular cream) and a sprinkle of dried mint and ground fennel seeds. The flavour combinations are unforgettable, and I am very proud of this creation. 
An excerpt from the book
Helpful Healthy Cooking Tips
■ When cooking ingredients with a long cooking time (for example, rown or red rice, beetroots, chickpeas, rajma, whole wheat pasta, etc.) cook a bigger batch so that you already have one healthy ingredient (or two) sitting in the refrigerator when you plan your next meal.
■ When in doubt, soak some beans overnight. These can be used in salads for lunch or to cook a khichdi or misal for dinner. Don't want to use the soaked beans immediately? Sprout them. Drain and put them in a bottle to sprout. Make use of the sprouts in a salad, pulao, khichdi, smoothies or along with vegetables in a curry.
■ Prepare a triple batch of dry ingredients for pancakes and store it in bottles or sealable plastic bags. This way you only have to measure once for three breakfasts.
■ Prepare a dry mix for instant dosas by combining wheat flour, oat flour, corn meal, sorghum flour or any other combination you like with a dash of spices such as black pepper, dried curry leaves, etc. and you are minutes away from a hearty dosa.
■ Use the pressure cooker to its full capacity using separators. For this, it is useful to have a general idea of foods that have similar cooking times. For example, beetroot and brown rice both take around 15 minutes on low heat, potato and lentils cook for similar times.
■ When grinding a fresh paste for a curry or a sambar, double the quantity, freeze half and make sure you jot this down in your weekly menu for another day.
■ The same rule applies for salad dressings. Prepare a full bottle and, as long as there is no fresh garlic or herbs swimming in your dressing, it will do just fine. 
You can always add the fresh ingredient to the required quantity of dressing just before use.
■ Salads in glass jars are very popular. Chop and prep once for five salads during the week. Carrots, sprouts, cooked beans, hardier leaves like kale, cooked beetroots, radish slices, etc. will stay fresh for a few days. Make sure the bottles are airtight and store in the refrigerator.
■ While cleaning and prepping fresh produce, make sure you wash veggies, fruits and green leaves well. As this is a given, it is not included in the steps for the recipes. Soaking produce in a small tub of water with a mix of lemon juice and vinegar (1 tbsp each) helps remove most of the pesticide residue.