The Ashtavaidya families have been instrumental in bestowing upon Kerala the distinguished reputation of being the paramount centre for Ayurveda in India. Among these families, one that shines like a beacon of light is the Eledath Thaikkattu Mooss of Ollur, Thrissur, whose unwavering commitment to upholding the Ayurvedic tradition has been a constant source of inspiration. Through the medium of treatment, education, and medicine manufacturing under the esteemed brand name of Vaidyaratnam, and by introducing the concept of 'Ayurveda First'—to make Ayurveda a person's first choice of medical care,  not his last resort—they have made a lasting impact.
The fifth generation of physicians from the Thaikkattu Mooss family, Ashtavaidyan Dr E.T. Yadu Narayanan Mooss and Ashtavaidyan Dr E.T. Krishnan Mooss, now hold the mantle of taking the rich legacy of Vaidyaratnam to new heights. Both of these young and dynamic individuals hold postgraduate degrees in kayachikitsa. Today, Vaidyaratnam is a veritable powerhouse, with three state-of-theart manufacturing units, two hospitals, a premier Ayurveda college, a research centre that is the envy of many, and a museum that showcases the proud heritage of Ayurveda. The brand has a presence that extends far and wide, with dealerships and branches dotted across the length and breadth of India. Dr Yadu is responsible for the manufacturing division and the research activities of Vaidyaratnam, and his unwavering commitment to his work is evident in every aspect of the organization. Dr Krishnan, on the other hand, oversees the sales and marketing of the pharmaceutical division and the hospitals, and his astute business acumen is a testament to the bright future of Vaidyaratnam. In this interview, the scions of Vaidyaratnam share their vision for the future and their plans for taking the brand to new heights, while also reflecting on the evolution of Ayurveda in the modern era and how it continues to flourish despite the changing times.


Tell us a little bit about the growth story of Vaidyaratnam.
Dr Yadu: Vaidyaratnam was founded in 1941. Since ours is an Ashtavaidya family, the preparation of medicine was a tradition carried out within the household for generations. However, as demand grew, it became increasingly difficult to reach all patients with the necessary treatments. It was then that my great-grandfather, Ashtavaidyan E.T. Neelakandhan Mooss, established the Vaidyaratnam Oushadhasala manufacturing unit in 1941. The name "Vaidyaratnam" was inspired by an award given to his father—our great-greatgrandfather—by the British government. Over time, we expanded our reach into healthcare, with hospitals, academic institutions, and research facilities, as well as preserving their heritage through the creation of a museum.
Could you please tell us about the evolution of Ayurvedic practices in this modern era?
Dr Krishnan: The evolution of Ayurveda has undergone two distinct phases. Initially, it was simply a practice of medicine and a doctor, then it transitioned to the hospital setting. As government policies changed, it was necessary to adapt the preparation of medicines to comply with regulations, all while maintaining the quality of treatments and remedies. Currently, there has been a shift in the trend of medicine usage, such as the introduction of Ayurvedic capsules for ease of use for patients. In the hospital segment, there has been significant growth in specialization and super-specialization in Ayurveda since 2005. Vaidyaratnam also prioritizes specialization and the development of personalized protocols and medicines for patients. However, in Ayurveda, the focus is on treating the patient, not just the disease, and so there is a balance to be struck between traditional knowledge and contemporary, protocol-based treatments to make Ayurveda more widely accepted globally.
 Earlier, Ayurvedic medicines were made for individual patients. Now, mass production is necessary. What research have you conducted to ensure their effectiveness for a wider range of people?
Dr Yadu: The quality of mechanised manufacturing is on par with the traditional way of medicine making, thanks to strict quality control measures during the entire production process. We are constantly incorporating advancements in other sciences to enhance our products.
Ayurvedic drugs have documented biochemistry in traditional textbooks, but we are translating this knowledge into a more accessible form by incorporating modern fields like chemistry, biology, and botany. This makes Ayurveda more acceptable to a global audience.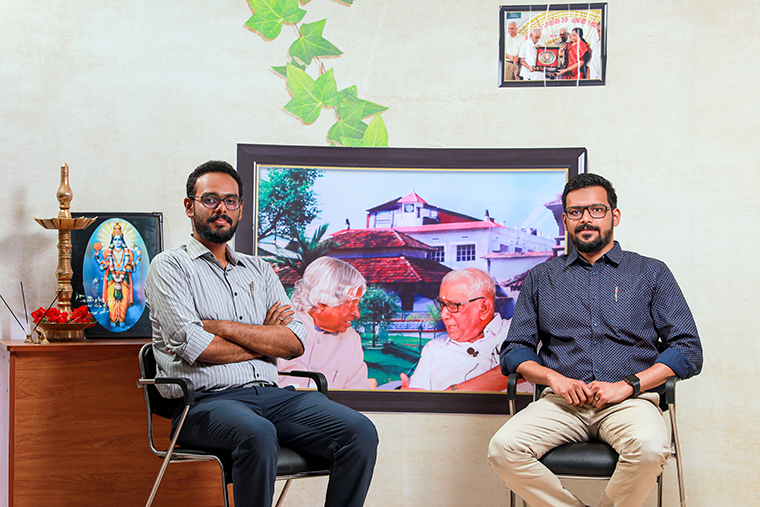 Could you please share a little bit about your expansion plans?
Dr Yadu: We are focusing on two key areas—clinical advancements and research in Ayurveda. In research, we aim to collaborate with universities and contemporary sciences to interpret and disseminate Ayurvedic knowledge through a platform for practitioners. On the clinical side, we are expanding into specialities such as infertility and maternity care, sports medicine, ophthalmology and ENT. Our longterm vision includes launching a neurorehabilitation centre that integrates Ayurveda, occupational therapy, physiotherapy, yoga, meditation, and speech therapy. We are also handling pediatric cases of autism and ADHD by adding a pediatric department.
Tell us about the CSR activities and collaborations of Vaidyaratnam.
Dr Krishnan: To address menstrual and other related health concerns faced by women, we created the "Angana" project. It features a team of 30 doctors available for discussions and classes in schools and colleges. The aim is to educate girls on menstrual health, physical care, and mental wellness during this time. These sessions also include free counselling by doctors. To date, over 200 sessions have been held across Kerala. Additionally, we offer free outpatient and inpatient services to low-income patients, with over 200 outpatients and 10-15 inpatients receiving care.
Dr Yadu: We are also in the process of forming CSR initiatives wherein we promote the cultivation of medicinal herbs. Our museum highlights the rich history of Ayurveda and Vaidyaratnam. Visitors can learn about the science and history behind Ayurveda and often become intrigued by its clinical aspects after touring the museum.
You were invitees to the G20 healthcare summit held in Thiruvananthapuram. Could you share some learnings?
Dr Krishnan: I've spoken with many people, including foreigners, and I've noticed that often when they think of Ayurveda, they see it as only a wellness option. However, Ayurveda has a significant role in treating illness as well. The world must view Ayurveda as a viable medical system, not just an alternative. We should work towards promoting Ayurveda as a primary medical option, not an alternative medicine.