With the proliferation of smartphones and the widespread availability of affordable internet access, the Indian audience has shifted its consumption habits from traditional media to the digital realm. This seismic shift has created immense opportunities for content creators, yet the journey to making a name in this dynamic landscape is anything but easy. With millions of creators vying for attention, it takes more than just talent to stand out. It demands relentless dedication, innovation, and a deep understanding of the ever-changing preferences of the diverse Indian audience. As platforms continue to multiply and user expectations evolve, the competition remains fierce whether in Media or in Content Production. However, despite the fierce competition, there are few people who manage to create a name for themselves all because of their relentless pursuit and hard work. Dinesh Anand is one such name that has emerged as a force to reckon with in the realm of Media and Content Creation & Production.
A Humble Origin and the Journey
Dinesh Anand's voyage towards excellence commenced in the heartland of India, Patna, Bihar. A graduate of Patna University, he discovered his passion for Hindi journalism, laying the foundation for a remarkable career. In the tumultuous media landscape, where authenticity and integrity are scarce commodities, Dinesh Anand's commitment became his guiding light.
His journey into the Glittery Film Industry began with getting involved in the process of film distribution during the 1990s. He was involved in the process of Film Distribution for iconic movies like "Qayamat Se Qayamat Tak," "Hero," Dayavan," "Hero," "Karma," "Ramlakhan," "Jo Jeeta Wohi Sikandar," "Jeeva," and "Watan Ke Rakhwale," among others. However, like everyone's life, the journey to success for young Dinesh was also riddled with obstacles. Nevertheless, his unwavering spirit guided him through these trials. The turning point arrived when he produced impactful biopics, a milestone that not only defined his career but also celebrated the contributions of over 500 distinguished media personalities.
Later, as it is often said, "Luck supports the brave", Dinesh, with all his determination and hard work, started climbing the success ladder in his career. With the advent of Digital Media and Content Creation, Dinesh's career graph witnessed a massive northward surge. As of now, the virtuoso has over 25 years of experience spanning prestigious platforms, including National Hindi Daily, National News Magazine, National News Channel, and the expansive digital media.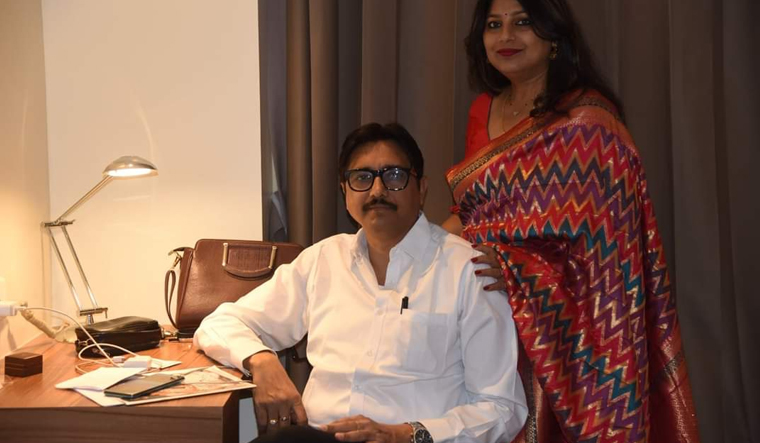 Pioneering "Dinesh Anand Production"
In 2015, Dinesh Anand transcended conventional boundaries, founding "Dinesh Anand Production." What started as a vision soon evolved into a platform reshaping media, production, events, and branding. Under his leadership, the production house birthed documentaries, short films, and biopics, each narrating a unique story that resonated with diverse audiences.
DAP- A Platform for Recognition
Dinesh Anand Production evolved beyond content creation, becoming a conduit for recognition. Luminaries like Madhuri Dixit, Anupam Kher, Pankaj Tripathi, Shatrughan Sinha, Deputy Chairman Rajya Sabha- Harivansh, Union Minister Anurag Thakur, and others were names that honored and awarded some of the exceptional people for their phenomenal work. The production house led by Dinesh was not just limited to honoring these people but DAP also amplified the contributions made by these people and made people aware of their success saga through the means of Media Coverage.
The Journey of Persistence
Dinesh Anand reflects on his journey with humility, stating, "My journey is a testament to the power of persistence. There were moments of doubt, but my commitment to authenticity and quality never wavered." His renowned show, "Khaas Mulaaqat," hosted on a premium digital platform, exemplifies his ability to engage audiences in meaningful conversations.
The Visionary's Aspirations
Dinesh Anand's ambitions extend beyond the present. With the upcoming launch of "DAP TV Network," he envisions a platform that will redefine storytelling and engagement. Collaborating with his wife and managing partner, Kavita Anand, he aims to produce impactful films that resonate deeply with audiences. Talking more about his upcoming project, Dinesh, who is also trustee of the Ramayana Research Council & National Chief Team Coordinator along with being the National Media Adviser of the Indian Medical Association, stated, "Well, currently I am working on plans for film production in Bollywood with my wife Kavita Anand who also happens to be the DAP's managing partner. For people eagerly waiting for my next big project, all I can say is that the story of DAP's first feature film is fully prepared, and the screenplay writing process is also underway and it will be an OTT release. The shooting will commence soon and the film will have some of the prominent names of the industry. I, like always, believe that people would always stand by me and hopefully they would like the film."
A Mark on the World
It won't be wrong to say that Dinesh Anand's journey from Bihar's heart to the media and entertainment industry's epicenter embodies perseverance, vision, and innovation. His contributions have not only shaped the industry but also earned national acclaim. He stands as a testament to the transformative power of determination and the pursuit of excellence.