HINDUSTAN INSTITUTE OF TECHNOLOGY & SCIENCE (HITS), Chennai a Deemed to be University is the most sought-after destination for aspiring students across the globe in higher education in technology and science. It has been the center of educational excellence and academic research since its founding in 1985, built under the noble vision of the Founder-Chairman, Late Dr. K.C.G. Verghese, "To Make Every Man a Success and No Man a Failure".
HITS is a part of the most illustrious Hindustan Group of Institutions which caters to the academic needs of over 18,000 students. The learning community comprises of students from several foreign countries besides those from India.
Competitive curriculum:
Hindustan is mindful of the changes in technology, education and the global career market and has strived to offer industry-centered, cutting-edge Undergraduate, Postgraduate, Diploma, Research & Doctoral programmes in diverse fields of Engineering, Technology, Aviation, Architecture, Management, Law, Design, Fashion, Liberal Arts & Sciences, and Allied Health Sciences.
Programmes offered:
UG: https://hindustanuniv.ac.in/ugcourse_new.php
PG: https://hindustanuniv.ac.in/pgcourse_new.php  
Ph.D: https://hindustanuniv.ac.in/phd_courses.php  
HITS is a pioneer in Aeronautical and Aerospace engineering education in the country and is offering UG, PG and PhD Education in Aeronautical and Aerospace Engineering with annual graduates exceeding 400 in number.
HITS campus is vast and covered in greenery, designed specifically to accommodate 8 Academic Blocks, 16 Centers of Excellence for Research, Modern Workshops, Aircraft Hangars, Expansive sports fields, a Moot court, and an excellent multi-storey AC library facility with digital access. The aerospace laboratories house Supersonic Wind Tunnel, Subsonic Wind Tunnel, and Propulsion Testing Laboratories, Flight Simulator, and Aviation equipment. The campus has newly established, Centers of Excellence in Satellite Technology, Underwater Robotics and recently inaugurated Data Science Lab named after Mark Zuckerberg, an office for the NCC.
Global connect& Industry Collaborations:
HITS has carved a niche for itself through established collaborations with Institutes and Industries to promote internships, hands-on training, student exchanges and placements.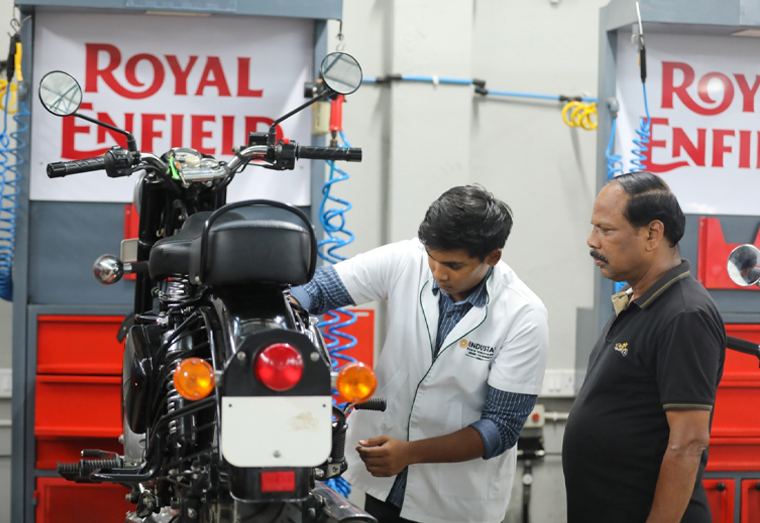 Royal Enfield has a state-of-the-art National Experiential Training Centre within the campus to provide first-hand training on all types of RE two-wheelers. HITS campus has a one-of-its-kind advanced ALSIM AL250 Multi-Engine & Single-Engine Aircraft Simulatorfor flight simulation training established by ALSIM. HITS also constantly updates its curriculum based on industry requirements, in this regard HITS offers UG degrees in Optometry and Pharmacy. HITS joined hands with Ecole Nationale de l'AviationCivile (ENAC), France to jointly conceive and launch an advanced program in 'Aviation Safety Management'.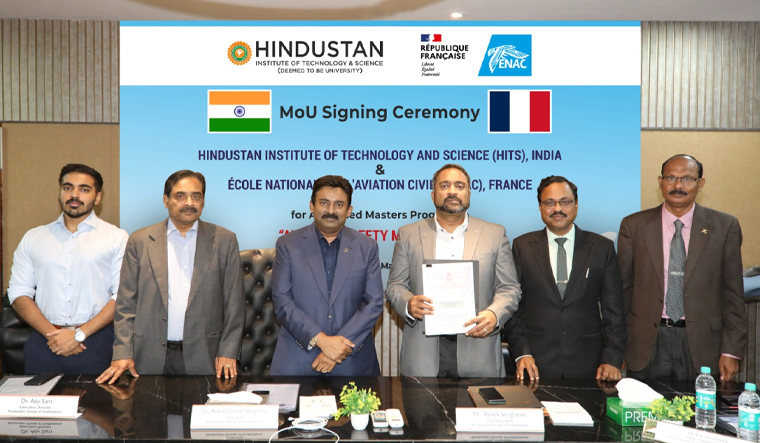 HITS have strong collaborations and MoUs with numerous institutions including our most recent alliance with Global Hospitals (Now Gleneagles Health City) for internships to Allied Health Science students.
HITS has been awarded many Patents, and sanctioned Funded Research Projects from leading organizations like the Department of Science and Technology (DST), Defense Research and Development Organization (DRDO), Naval Research Board (NRB) etc…
We have always delivered on our promise, "Reach Greater Heights with Hindustan" with our commitment to quality and excellence.
Campus Address:
1, Rajiv Gandhi Salai (OMR),
Padur,(Via) Kelambakkam,
Chennai - 603 103,India
Phone: +91-44-2747 4262
Toll Free: 1800 425 4438
Email: info@hindustanuniv.ac.in
Website: www.hindustanuniv.ac.in