Picture this; There are around 8,902 engineering institutionsmin India, out of which 1,192 aremin Tamil Nadu, 358 in Kerala, 669 in AP, 508 in Telangana. These 4 States alone cover 30 percent of the engineering institutions in India whereas the remaining 70 percent are spread across all the other 32 states and Union Territories in India. This has created a very competitive environment amongst educational institutions in the southern states resulting in excellent infrastructure, teaching- learning process, placement records, research activities and honing the twenty first century skills to students.
"South India also has high literacy rates due to government initiatives like free education, free books, free mid day meals in government schools, special allowance for girls completing their schools, scholarships for first graduate in the family etc. Due to this even the poorest of the poor will send their kids to school in South India. The Christian missionaries even started their roots only from the southern parts of the country. As per reports, literacy rate of South India is much higher than the national average. The higher the literacy the more is the inclination to pursue higher education too," remarked P Deiva Sundari, Principal KCG College of Technology, Chennai.
She adds that the southern state of Tamil Nadu has a diverse manufacturing sector and is a national leader in number of sectors such as automobile, textile, aviation, IT and many more. "The growth rate of electronic industry is around 14 percent out of which 25 percent is expected to be in Tamil Nadu alone. Tamil Nadu contributes about one third of the total textile production in India," said Sundari. South India is also the hub of Information Technology (IT) business in India particularly Bangaluru, Coimbatore, Chennai, Thiruvananthapuram, and Hyderabad are amongst the main IT clusters in the southern part.
Harsh Deep Singh, a Third Year Aerospace Engineering student of KCG College of Technology, Chennai hails from Jammu and Kashmir. He is full of praise for the college and says that the college is excellent for academics and he is getting excellent exposure to different extra curricular activities too. He also says that he feels completely at home despite he being so far from his state as Tamil Nadu welcomes each and every student with warmth.
Similarly Pritish Kumar Singh, a Final Year CSE (Computer Science Engineering) Student from KCG College of Technology Chennai also feels that many higher education particularly engineering colleges in south score on the number of placements their students are able to get. He feels that the standard of colleges in the south are far better than the north.
Another factor why students prefer colleges for higher education in the south as the colleges in the region offer them multiple study options to choose, quality learning environment, quality processes and outcomes and better employment opportunities in the region.
The KCG College of Technology, Chennai has various orientation programs like heritage walk, learn to live program specially conducted by the Student Counselor. In addition to that there are special Competent Communicators clubs which teaches those students who are weak in spoken English to speaking English fluently through various fun activities. The college in order to build technical competencies among students, adopts skill development programme initiated by the Tamilnadu government, industry-linked curriculum through MoUs and CoEs and upskilling programmes through value added courses.
"Pre-placement opportunities are comparatively high as the students are oriented towards placement from first year of their study through training on soft skills, quantitative aptitude and company specific technical training. Guidance on procuring internships and earn while learn opportunities are also given by us," added Sundari.
Expressing similar views Fr Thomas Amirtham, Principal, Loyola College in Chennai says that what really draws students to the southern states for higher education is the academic excellence, job opportunities, branding strategies of different institutions, English as the medium of studies, timely completion of the courses, friendly socio-cultural environment, transportation system and good infrastructure.
"Productive employment opportunities and high wages career paths are the main motivators attracting students to the southern region. Participation in skills development programme, career counselling and mentoring services are more accessible in this territory helps the students to address their career choices," said Amirtham.
He says that the southern region has students even from the north east as the northeast has the least privatized higher education sector and is almost entirely dependent on government-run or aided institutions. "South India offers the best privatized higher education for socially inclusive access to higher education. Even students from the most disadvantaged among communities, would have better access to higher education in south India whereas those in northeast India have the worst access to higher education. Southern India is relatively better placed in this regard. Besides this universities and colleges especially Loyola College offer non threatening atmosphere to students of all region with inclusivity, access and excellence," remarked Amirtham.
The Loyola college in Chennai has an exclusive career guidance and placement cell managed by an expert in the field, periodical training by an industry experts, counselling centre managed by trained personnels. Academic and personal mentoring steer these students to find their potentials and choose the career or higher education or research orientation. The campus also maintains multicultural atmosphere giving space to the nationally recognised celebrations Ugadi, Onam, Holi etc. Loyola College Cultural, Ovations accommodates a curtain raiser in the form of a dance and cultural display where the representative students from all states including north east and across India display their tradition and what is their own. In addition, even food festival by all sections of India is another practice followed and recognised to male students across globe to feel at home.•
HINDUSTAN GROUP OF INSTITUTIONS
The remarkable journey of the Hindustan Group of Institutions began in the year 1966 by our founder Chairman Dr.KCG Verghese, a visionary educationist who established Hindustan Engineering Training Centre (HETC), a pioneer in the concept of offering non-formal technical education and his vision has resulted in the evolution of the Hindustan Group of Institutions which today imparts world class education in an extensive range of specializations in varied academic fields.
Our institutions are built on the motto of our late founder Dr.KCG Verghese -
"TO MAKE EVERY MAN A SUCCESS AND NO MAN A FAILURE"
The Hindustan Group has progressed to become one of the remarkable institutions and is home to over 18,000 students from all over India and globally, offering degree Undergraduate, Postgraduate, Diploma, Research and Doctoral Programs in diverse fields of education.
The Hindustan Group has gained its reputation to this day by proactively following the foundation laid by our Founder and today, HGI has marked itself in the academic arena and includes the following institutions unified by our Founder's vision of imparting quality education
●Hindustan Institute of Engineering Technology (HIET)
●Hindustan Institute of Technology & Science (HITS)
●Hindustan College of Arts & Science (HCAS)
●KCG College of Technology (KCG Tech.)
●Orient Flights Private Limited (OFPL)
●Hindustan International Schools (CIE & CBSE)
● Hindustan College, Mysuru (HCM)
The Hindustan Institute of Technology & Sciences (HITS) is the flagship institution of our Group and was granted UNIVERSITY STATUS in 2008 making it an autonomous body. HITS consistently expands it's facilities and infrastructure in accordance with the emerging programme updates and the increasing number of students every year. The campus has recently launched Centers of Excellence in Satellite Technology and in Underwater Robotics
The progressive efforts and academic excellence of HITS have been recognized numerous times and is manifest in the high rankings achieved under various categories over the years, making it a top priority institution for the students across India.
HITS achieved grade A in the NAAC accreditation consistently over the years making it an excellent choice of students and is proud to be ranked in 9th position in India and 3rd in Tamil Nadu as the best engineering institution. HITS has been conferred Gold Band with A Grade by OBE Rankings 2022 and R World Institutional Ranking, for being a Higher Educational Institution of Excellence.
HITS has extensive collaborative partnerships with leading International universities from countries like USA, UK, Australia and Korea for Dual Degree and Semester exchange programs. HITS has signed several MoUs for exclusive industrial collaborations with well recognized top tier companies for academic internships, training programs and placements.
The excellent infrastructural facilities at HITS for curricular and co curricular activities make it a prolific destination for students all over the country. HITS is well respected for the quality of teaching and research, well-established infrastructure, expertise faculty, international academic collaborations and good placement record.
Hindustan Institute of Engineering Technology (HIET) was started in the year 1979, in response to the need to provide non-formal technical education to students. It is affiliated to the Directorate of Technical Education, Government of Tamil Nadu and offers Diploma Courses in Automobile, Mechanical, Computer, Civil and Electrical & Electronics and Electronics & Communication Engineering.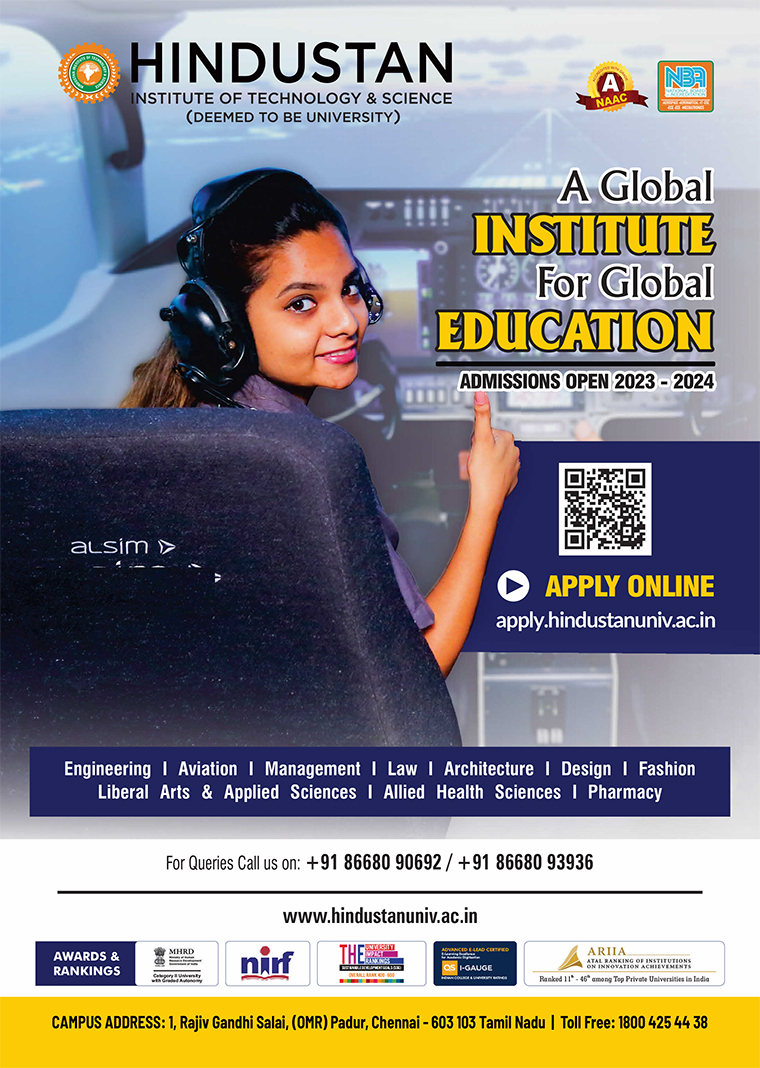 SDM UNIVERSITY
Dr. Niranjan Kumar, Founding Vice Chancellor: An Eminent Plastic Surgeon by profession, Dr Niranjan Kumar is the founding Vice Chancellor of Shri Dharmasthala Manjunatheshwara University, Dharwad. Dr. Niranjan Kumar is also the Medical Director of SDM Medical College & Hospital, Director of Craniofacial Surgery & Research Unit, Vice President of JSS-SDM Group of institutions, Dharwad. Under his able leadership, SDM University and its Constituent Institutions are growing at rapid pace. The University and its Constituent Institutions has secured top ranks in the Country among the private sector Universities and Institutions.
SDM University provides a conducive environment for study by providing the state-of-the-art facilities like modern Library, 1200 Capacity
VISION OF SHRI DHARMASTHALA MANJUNATHESHWARA UNIVERSITY
Sets the highest standards of Teaching & Learning
Nurtures the students hidden creativity
Creating an Environment by blending ancient wisdom into the modern science
Transforms the students into whole human being to face the challenges.
MISSION
Ensures the journey of Education inspiring, pleasant and enjoyable
Attracts best Teachers and Students Achieves high Principles of Trust, love and spirituality in students
Creates collaborative, diverse and exclusive community
Transforms today's Students to be a leader of tomorrow Produces passionate Teachers Creates a peaceful environment Creates a University which the nation is proud of Be an effective partner in Nation building Creates an Eco-friendly University.