Hyderabad-based e-commerce portal SabRentKaro.com allows customers to rent a wide range of products, and also, in turn, rent their things that have either remained unused or are rarely used. Brainchild of former Deloitte India chief information officer and now founder and CEO of SabRentKaro.com Raj Sivaraju, the startup went live in November 2016, with an aim to create a niche for itself in the social media space. SabRentKaro.com is an attempt to "bring entrepreneurship to common man's doorstep, without additional investments, to create recurring earnings from their already made investments."
"Unlike traditional eCommerce businesses where all portals went head on with the brick and mortar/traditional businesses, SabRentKaro has been a true enabler of SMEs where we provided technology for asset management, made sure that our users have e-discoverability, and provided eCommerce capability which they never had until we came along," says Sivaraju.
"We gave them call-centre capability so that all customer support matched world-class enterprises. With all this starting a business, or entrepreneurship is not a distant dream anymore. Anyone can start a business without any investment as they can start renting out their own underutilised assets in their house. For example students can rent their bikes, computers, entertainment centres, electronic games etc. Homemakers can rent appliances, electronics, apparel, accessories etc. This way we can take entrepreneurship to every doorstep," he added.
Sivaraju believes that every household is a warehouse and therefore every homemaker can be an entrepreneur. SabRentKaro provides a convenient solution to people to rent anything and be on the go. "I come from a traditional family background. One fine day our basement was vacated and my mom suddenly hit upon the idea of why not hire stuff and let it out again as a furnished house. In fact, it is thanks to her help and the forums she has created for more ideas, that we were able to fine tune our business," says Sivaraju.
SabRentKaro.com is one of the very few platforms which has end-to-end automation in the rental cycle while providing end-to-end services from on-boarding, insuring and shipping product from owners to renters. And for this they have filed patents in the rental processes which will set them aside from competition.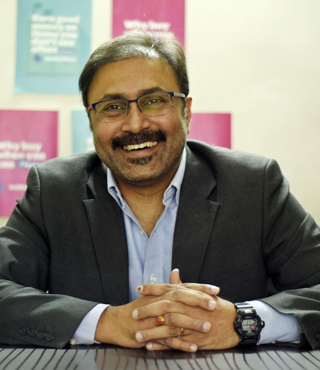 Sivaraju says, "We have filed two patents. First, a 'single-click renting'—like Amazon, we'd like to make sure our customers can rent with just a click of a button. Second, luxury jewellery rentals, where we have a process that was developed in-house to provide very safe and user friendly renting options for jewellery in the P2P sector. We have biometric lockers and multi-lever validations and checks for the safety of our customers assets. We are targeting the luxury and expensive jewellery."
"We have a robust and effective asset management technology," he says. At SabRentKaro, they curate products that are advertised on the portal and verify all products before they are picked up for a rental cycle, with pictures of the product when it is delivered. They take deposits from the renters for any damage coverage. They also insure few categories of products. Depreciation is a small player here as most of the products are used and refurbished for an extended period of time. "We have very structured vendor engagement programmes to not only make sure the quality of the products are ensured, but we also put a lot of effort in training our vendors in quality management," says Sivaraju.
Even among the high-end of the society, there are people who may not want to buy an expensive piece of jewellery, but would want to wear and flaunt it just for a day. That is where our platform comes in handy. Young girls who want to wear nice clothes to parties, but cannot afford to buy designer wear could rent a Calvin Klein for Rs 1,500 for a couple of days and wear it for parties," Sivaraju adds.
Apart from this, SabRentKaro platform practically turns every household into a virtual warehouse. You can find almost anything on the website—kitchen appliances, furniture, camera equipment, sports and fitness goods, automobiles, accessories, books, and even apparels. They also have some exclusive stuff like luxury bikes, which include Harley Davidson, Triumph and Benelli, among others for rent. All automobiles are insured with comprehensive insurance. Also all automobile vendors put only insured automobiles for rent. They expect renters to pay for their own insurance over and above if they chose to. The driver/renter is responsible for the accidents. The owner pays for the insurance.
"We are an asset light model, which means we do not procure any assets. We aggregate all vendors of rental businesses on our platform," says Sivaraju. "Therefore we don't have any capital spend on our books. Our revenues are from multiple streams, mostly commission based, value added services to the vendors (product owners), advertisements etc. We are looking at volumes here. After a critical mass of rentals, since we don't have capital expenditure and only fixed costs, getting profitable is possible, sooner than later," he adds.
As a second product/service they have Rent2Own (R2O) where B2B or B2B2C consumers take products on Rent2Own model, paying monthly rentals and eventually owning the product after a period of time. R2O, a registered trademark of SabRentKaro, has been a strong contributor to not only their top line revenues but also the bottom line revenues.
The facility can be used by both B2B and B2C consumers, allowing them to make money on the assets or things that are not used to their potential. The firm makes money by charging a fee from both product owners and users. As of now, SabRentKaro team includes 23 employees.
How does the company beat the basic want of a man to collect, possess, amass? Sivaraju says, "Our target audience are mostly the millennials. This generation is more about instant gratification and doing more with less. This generation has aspirations influencing their lifestyle more than resources at hand. There was a time, renting homes was also not the most preferred. These days this generation has no qualms renting designer wear which usually is out of their reach but has the aspiration of wearing for a party or two. Therefore, we truly believe this generation will make the best use of our services and show others the path forward into a shared economy."
In the past year and a half, the company has had only one 'mishap' when a person disappeared with a MacBook, but with some help they managed to get it back.
MartketPlace IT Solutions, which runs an eCommerce portal, had raised $430,000 to offer the services in top 10 cities. However, presently they are operational in five cities, including Hyderabad, Visakhapatnam, Chennai, Bengaluru and Delhi. So far they have raised around Rs 4 crore. For Rent2Own, they have already done close to Rs 7 crore.
The company focuses on removing senseless consumerism, and offering affordability to the world at large by removing exclusivity from society. "For the fastest adoption, come to our site," he says.