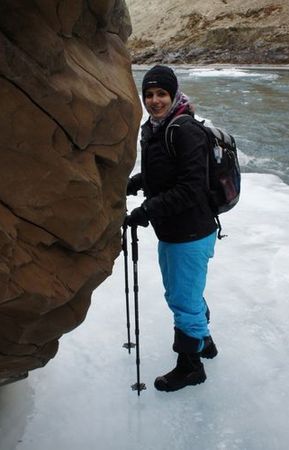 Walking on the frozen Zanskar river-the Chadar-has to be the ultimate experience for any adventure seeker. As winter sets in on the Zanskar valley in Ladakh, temperatures plummet to -25°C. Mid-January to mid-February might be the coldest month here, but it morphs into a trekkers' paradise as the river forms a veritable chadar (blanket) on which intrepid travellers can trek.
A day prior to the trek, we flew into Leh to acclimatise to the 3,500m altitude and the lack of oxygen in the air. The next morning, a bumpy but beautiful drive from Leh to Chilling brought us to the starting point of a steep walk to the Chadar. We had around 15 porters, a cook, a local guide, a seasoned trek guide, one of the owners of White Magic Adventure and another guide, who operates rafting, with us.
Overall, the hike from Chilling to Lingshed village takes more than a week. The trek was filled with stunning views-a combination of streaming water; solid, slippery ice that seems to change from a bluish hue to pure white; snowfall; frozen waterfalls; magnificently formed mountain gorges and the occasional partial sunlight. My favourite spot was at Nyerak, where you will find a frozen waterfall that is captivating and surreal.
When the river thaws, the Zanskaris have to climb steep slopes to reach their villages. They are waiting for the completion of the road being built from Chilling to Padum. But then, trekking on the frozen marvel will never be the same.
Kohli is head, luxury division, PR Pundit.