Do not go gentle into that good night...
Rage, rage against the dying of the light.
Dylan Thomas, 1952.
The words of the Welsh poet, Dylan Thomas, written as an elegy to his father, come to mind as I contemplate sport in the modern world. My life has been defined by believing that sports are cleaner than most things on this earth, and that it is hardly worth playing or watching them unless we stick by the rules.
But as we embark on 2016, the light being shone on so many sports does indeed invoke rage, together with futility.
There are FIFA leaders who are still trying to dodge extradition to the US where they are wanted on charges of embezzling 150 million USD from the game they were supposed to supervise.
The IAAF (International Association of Athletics Federations) whose athletes are the core of the Olympic Games, are accused of being at least as corrupt. Worse, in fact, because the athletics big wigs not only covered up doping among medal winners, they allegedly extorted huge sums for themselves from Russia and elsewhere in exchange for tolerating state-sponsored drug abuse.
FIFA's leaders fed out of the trough of plenty; IAAF officials went further, poisoning their own trough. They not only turned a blind eye to runners and throwers and lifters swallowing banned substances, but the IAAF president and his son blackmailed governments to pay them to cover up the abuse.
Rage? Oh yes, plenty of that.
It isn't just these two contaminated sports. The Australian Open, the first tennis Grand Slam of the year, was hounded by allegations of match fixing. Even Novak Djokovic, the world number one, said he was offered 200,000 US dollars to throw a match in St Petersburg in 2007. He claimed he pulled out of the tournament rather than become involved, but still Djokovic was treated like a prisoner in the dock by reporters questioning him about the few matches he lost over the years rather than the wins he once more piled up in Melbourne.
Heard enough? Alas that old enemy, corrupted cricketers conspiring with betting cartels to throw matches, returned in January, too. There are probes involving Test match players in Sri Lanka, and South Africa's cricket association announced a 20-year ban on Gulam Bodi after he admitted plotting to fix two Ram Sam Twenty20 games in 2015.
Bodi, 37, was born near Surat, India, but represented South Africa as a wrist spinner. "Our attitude to corruption will always be one of zero tolerance," said Cricket South Africa. "There is no doubt that Mr Bodi's actions have threatened the integrity and image of the game that we love and he must be handed a strong punishment. He accepts the folly of his actions."
They banned Bodi from anything to do with cricket for 20 years. Why 20 years? Why not a lifetime ban for someone who conspired to corrupt sport?
South African cricket will not answer that, or any related question while the investigation continues.
What can anyone do, apart from rage, rage against the dying of our right to trust implicitly what we see on the playing fields?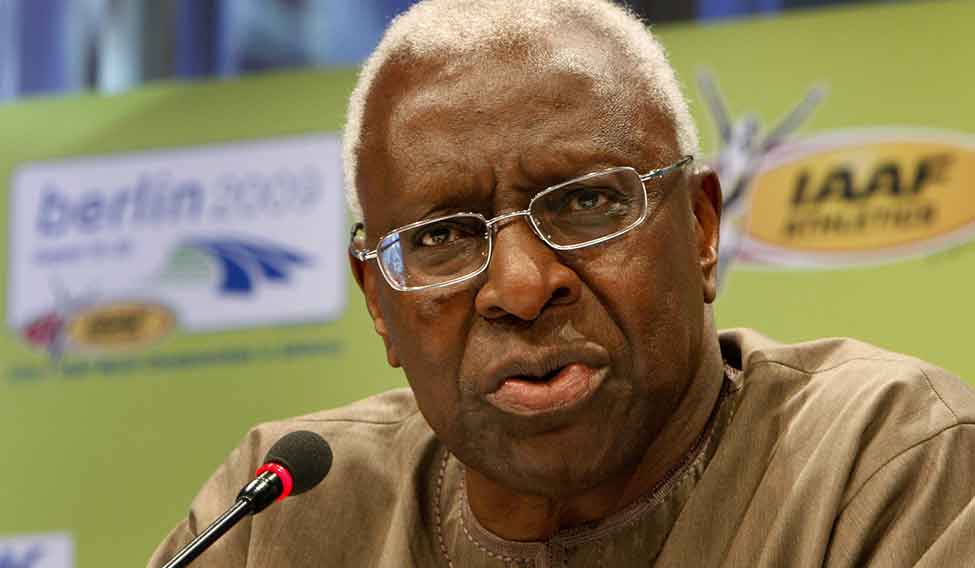 If only trust was that simple. If only the boys and girls whose athletic prowess we admire and envy were guaranteed to perform out of human potential, and not out of a bottle or a betting slip.
The other day, Peace and Sport, an organisation based in Monaco, reminded us that 2016 is an Olympic Year, and called for everyone to observe the "Olympic Truce" during which warring factions around the world are asked to lay down their weapons while the Games are in progress.
A great idea, and a laudable ideology. Sport, not war, was expounded in the times of Ancient Olympia, and the grandees of the IOC automatically welcomed within their circle the likes of Sepp Blatter and Lamine Diack once they became figureheads of FIFA and the IAAF respectively.
Alas, we were wrong to trust them, if we ever did. Under Blatter's FIFA presidency since 1998 (indeed while he assisted the original corruptor Joao Havelange who led FIFA for 24 years before him), the inner game appears to have been that many of the FIFA executive committee swindled football out of as much money as they could get away with.
At the last count, the United States of America justice department has listed 92 indictments against FIFA officials on charges ranging from racketeering, money laundering and wire fraud. If and when they come before courts in New York and in Zurich, the governors of the game will be accused of accepting systemic bribes and kickbacks.
Not all those removed from the FIFA high executive face criminal charges. Chung Mong-joon, the South Korean Hyundai billionaire, was kicked off the FIFA executive committee, he says, for speaking out against corruption ever since he joined the committee in 1994.
Chung tried to run for the presidency this February, but he was removed by FIFA's self appointed ethics committee which banned him for six years. His crime? South Korea bid to host the 2022 World Cup, and in the process Chung pledged to establish a Global Football Fund that would distribute 777 million USD to member associations to improve football infrastructure around the world.
Quite how this violated the bidding rules was unclear. Chung argued that his fund would have run alongside FIFA's own method of enabling less rich countries to build football fields and stadiums and pay for coaching. "I tried, once again, to reform FIFA by running in the presidential election," said the Korean. "But my candidacy was undermined by Mr Blatter and his cronies."
He intended to challenge his ban through the Court of Arbitration for Sport, but was told he must first go through FIFA's internal appeals process. For that, he needed a document explaining why he was banned but, three months after the suspension, he still had no such written explanation.
He was, though, effectively out of the presidential race.
That remains a closed shop. The next president will be an insider, elected by the 209 national associations which voted time and time again for Havelange, and then Blatter.
Those associations are paid for their votes. It is not an illegal payment, but Havelange came to power in 1974 by promising to redistribute some wealth from TV contracts and sponsorship to the associations. In Africa or Asia, where the poorest nations exist, a regular payment of hundreds of thousands of dollars per country every World Cup cycle is manna from Heaven.
The handout, and another FIFA scheme known as the Goal Project, are supposed to pay for facilities. But would it shock you to learn that some of it ended up in private bank accounts of local soccer chiefs who mimicked what they saw as the great FIFA fiddle?
Each of the five candidates to run FIFA after February 26 will continue this principle of recycling money to the national associations. The cash emanates from the global popularity of the game, and the FIFA president gains his mandate through a one country-one vote ballot.
Taking a reasonably informed guess, I would be surprised if Shaikh Salman Bin Ebrahim Al-Khalifa is not the next FIFA president. He currently holds the highest office of the Asian Football Confederation, and in January he drew up a memorandum of understanding between African and Asian football.
This accord, ostensibly to support one another on matters of integrity, administration and coaching across the two vast continents, is very timely for Shaikh Salman's FIFA ambitions. Africa has 54 football associations, Asia has 46, and while the memorandum is not guaranteed to deliver every vote, it will go a long way towards it. The sheikh, a member of Bahrain's royal family, denies accusations that he was involved in human rights abuses against footballers and other athletes who were jailed and allegedly tortured after joining in pro-democracy demonstrations in 2011.
Lies, says Sheikh Salman, intended to damage his FIFA presidential campaign.
His main rival is expected to be Gianni Infantino the Swiss/Italian general secretary of Europe's governing body UEFA. However, Infantino is by no means assured of a bloc vote of Europe's 53 member associations, let alone support from Concacaf (the 35 countries of North and Central America and the Caribbean), and from South America (10 votes), and Oceania (11 votes).
Infantino stands as the main European candidate in place of Michel Platini, the former French player who was the UEFA president until he was banned for eight years following the claim that Blatter paid Platini an unauthorised 2 million USD from FIFA funds.
The deeper you probe, the murkier it gets inside FIFA House. Of the 24 members of the executive committee who in 2010 voted for Russia to host the 2018 World Cup and Qatar the 2022 tournament only five remain. Thirteen were removed either by the FBI sting on behalf of the US Justice Department, or by impending Swiss prosecution, or simply by FIFA's own so-called ethics process. The FIFA president Blatter, his general secretary Jerome Valcke, who set up that process, are now banned by it. Yet, before any of this comes to trial in New York or Zurich, FIFA is conducting its own leadership election. Every candidate is from within the committee structure of the old, corrupted system. The same 209 national association presidents will elect, ultimately by simple majority, a new head of FIFA who will have served on the committees of the old.
While the meltdown of the Blatter regime entered its terminal stages, the same group of multi-national sponsors and broadcasters were still on board. A few said tut-tut, FIFA you disappoint us; but no ties were cut.
Adidas, the German sportswear company that practically invented the golden triangle between sport-sponsorship-television exposure, has been a FIFA "partner" since the 1970 World Cup. In November 2013, despite the scandal already then seeping out of FIFA, adidas renewed the arrangement guaranteeing FIFA an estimated 100 million USD per World Cup cycle.
Interesting, then, that adidas in January began the legal process of severing its much smaller sponsorship (around 8 million dollars per year) to the IAAF. The kit manufacturer (one of seven major backers of athletics, the others being Canon, Toyota, Seiko, TDK, TBS and Mondo) leaves the impression that it cannot afford to have its products associated with a corrupt organisation.
The FIFA tie-up remains, the IAAF one is too toxic?
Lamine Diack, the 82-year-old Senegalese who presided over the IAAF from 1999 to August 2015, and Joao Havelange, 99, the former FIFA president were both found by a Swiss court to have received huge back handers from Swiss marketing company ISL (International Sport and Leisure) to smooth marketing contracts. ISL, which went bankrupt owing hundreds of millions of dollars, was set up by by Horst Dassler, a son of the adidas founder Adi Dassler.
But long after that trial, adidas continued to support Diack at the IAAF. Then, thanks to a whistle-blower from Russia and to television and newspaper investigations, the international athletics cover up of systemic doping was exposed. Diack and at least one of his sons employed by the IAAF, face trial in the French courts under whose jurisdiction the IAAF headquarters in Monaco fall.
Russia is accused of doing now what East Germany did 50 years ago—state supported systemic doping of athletes. Diack is accused of taking a million (US) dollars to cover up thousands of positive dope tests among Russian and other athletes, many of them medal winners at Olympic and world athletics games.
Diack's legal adviser and the IAAF director of anti-doping are also under criminal investigation. And when the World Anti Doping Agency (WADA) followed up the journalistic findings of corruption condoned by the IAAF, it confirmed:
"Lamine Diack was responsible for organizing and enabling the conspiracy and corruption that took place in the IAAF. He sanctioned and appears to have had personal knowledge of the fraud and the extortion of athletes carried out by the actions of the informal illegitimate governance structure he put in place."
The study concluded that every major athletics championship and every Olympic Games since 2009 needs re-evaluating. To you and to me, that means that we might all have been duped. Much of what we thought we saw—man beating man, woman beating woman—comes under the suspicion of gold-plated cheating.
The man who has to try to restore credibility to athletics is Lord Coe, or plain, magician Seb Coe the 800- and 1,500-metre Olympic champion of the 1980s. Coe made a very foolish mistake when he took over from Diack last August, declaring the previous president he had sat beside for seven years to be "the spiritual" leader to follow.
He, maybe, made another error in being tied to Nike, the American sportswear rival to adidas. Since 1978, Coe has been paid to represent Nike, latterly on 150,000 dollars per annum as a global ambassador for the brand.
Adidas, obviously, did not like that. And though Coe divested himself of that Nike role after the media pressed him late last year, questions are still being asked about the way that the US city of Eugene, Oregon, was last April awarded the 2021 IAAF world championships, without any bidding process.
Eugene is the home base of Nike Corporation, and is known as Track Town, USA. Awarding it the world track and field championships came under President Diack, but Coe is dogged by insinuation that he lobbied for it.
Another reason, possibly, for adidas to pull away from the IAAF.
Where all of this leaves sport is a sad question. There are pressing issues ahead. In June and July, France is due to host Euro 2016, the 51-games, 10-city tournament involving 24 nations.
In August, Rio de Janeiro stages the Summer Olympics, at the moment without Russia.
The attraction, in human and sporting terms, is under revision. The security costs must be re-evaluated following the terrorist atrocities in Paris last November when people were shot dead simply for having a good time.
Ensuring the safety in 10 stadiums, and the down-town "fan zones" that UEFA and France intend to go ahead with, must sooner be the priority. But with so many leaders of sport under such suspicion, can we be sure that the priorities are in place?