As the longest-serving monarch in British history, Queen Elizabeth II has come to embody a number of apparently contradictory qualities: majesty and modesty; familiarity and mystery; grandeur and humility. For all her reassuring consistency, she remains enigmatic, often silent, never revealing publicly what she really thinks about the momentous episodes that she has witnessed in her lifetime. And throughout, she has been under constant scrutiny—the most famous woman in the world, the instantly recognisable outline of her face appearing on coins, banknotes, stamps and memorabilia. As the queen herself has observed, "I have to be seen to be believed." Thus, her clothes take on a special significance as her armour and uniform, conveying a powerful visual message.
And so it is that I have come to Buckingham Palace, just a few weeks before Her Majesty's 90th birthday, to see some of the most iconic garments from her wardrobe. I am here with Caroline de Guitaut, senior curator of decorative arts at the Royal Collection, who has selected a remarkable array of outfits from the queen's wardrobe that will be displayed in three exhibitions (at the Palace of Holyroodhouse in Edinburgh, Buckingham Palace and Windsor Castle).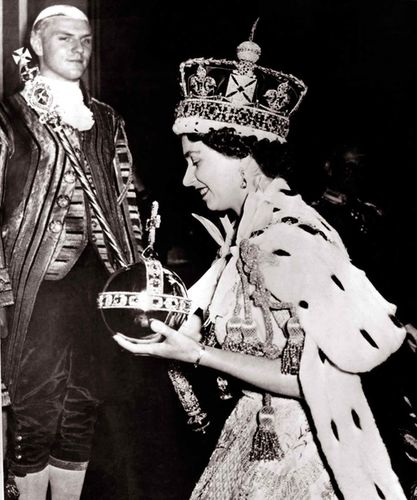 Several of the pieces have been chosen to represent the queen's private self as a countrywoman, devoted to her horses and dogs. Here are two neatly tailored riding jackets—one in traditional brown tweed, the other in navy blue—and her beige jodhpurs, made by a Royal Warrant holder, Bernard Weatherill of Savile Row, with a handwritten label inscribed 'Princess Elizabeth, 11th November, 1947'. The waists are tiny, as is that of a kilt of Balmoral tartan, dating from the same era. Paired with the kilt is another tweed jacket, this one by Norman Hartnell, the queen's long-standing couturier.
Alongside these off-duty clothes are three more formal outfits created by Hartnell, who had first encountered Elizabeth as a young princess when she came to his salon in Mayfair in 1935 with her mother and younger sister, to be fitted for bridesmaids' dresses. Hartnell was to recall the glamour of their mother—then the Duchess of York—who arrived in a swathe of "silver-grey georgette, clouded with the palest grey fox, and her jewels were dewdrop diamonds and aquamarines. The young princesses, on each side of her as she led them by the hand, wore little blue jackets, silver buttoned, and tiny grey hats wreathed in blue forget-me-nots, making a symphony of silver and blue."
A similar scheme is apparent in the crinoline evening gown designed for the queen by Hartnell in 1962—a pale, silvery, blue-grey silk faille, embroidered with an intricate pattern of feathers in white bugle beads, sequins, crystals and diamanté. "The queen wore this dress during the state visit of King Olav V of Norway to Scotland," explains de Guitaut. The Victorian aesthetic was intentional, as Hartnell revealed in his memoir, describing George VI's influence. After the abdication crisis, in the wake of Edward VIII's decision to marry the twice-divorced Wallis Simpson, the new king was keen to re-establish the steadiness that had characterised the reign of Queen Victoria. Hence his invitation to Hartnell to visit Buckingham Palace, "to inspect some of the decorative pictures which portrayed many beautiful dresses of the Victorian period.... His Majesty made it clear in his quiet way that I should attempt to capture this picturesque grace in the dresses I was to design for the queen."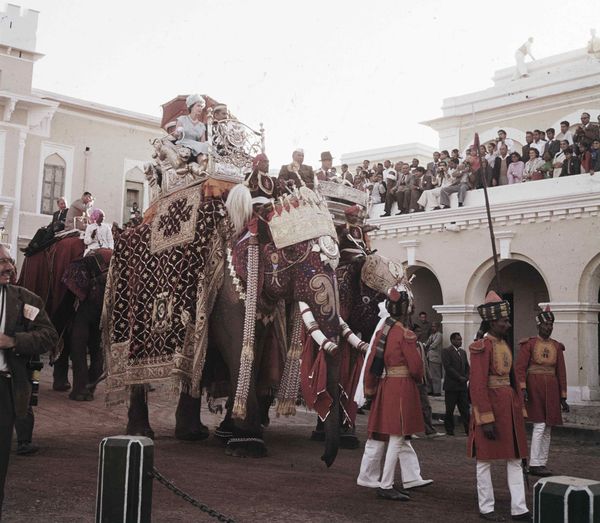 The symbolic power of a royal gown was even more apparent in Hartnell's designs for Princess Elizabeth's wedding in 1947 and her coronation in 1953. It was deemed that her wedding dress must be British; Hartnell duly sourced a suitable material from the Scottish firm of Winterthur near Dunfermline, "and then the trouble started. I was told in confidence that certain circles were trying to stop the use of the Scottish satin on the grounds of patriotism; the silkworms, they said, were Italian, and possibly even Japanese! Was I so guilty of treason that I would deliberately use enemy silkworms?" Further investigation revealed that the worms were in fact Chinese, which was acceptable.
The widespread interest in every detail of Princess Elizabeth's wedding was as intense as the attention focused on subsequent royal brides (including Diana, Princess of Wales and the Duchess of Cambridge). To maintain secrecy, Hartnell had his workroom windows whitewashed and curtained with thick muslin, while his manager even slept at the couture salon to keep a constant guard on the dress.
Six years later, Hartnell's design for the coronation dress involved similarly detailed preparation and research, incorporating all the emblems of the United Kingdom: an English Tudor rose, Scottish thistle, Irish shamrock and a Welsh daffodil. Unfortunately for Hartnell, he was then instructed by the relevant authority—the Garter King of Arms—that the correct emblem for Wales was actually a leek. "The leek, I agreed, was a most admirable vegetable, full of historic significance and doubtless of health-giving properties, but scarcely noted for its beauty." The Garter King of Arms, however, could not be persuaded to bend the rules and substitute a more graceful daffodil. "And in the end, by using lovely silks and sprinkling it with the dew of diamonds, we were able to transform the earthy leek into a vision of Cinderella."
Needless to say, there are no leeks on the pale primrose-yellow silk ensemble displayed at Buckingham Palace, designed by Hartnell for the queen to wear at the investiture of the Prince of Wales at Caernarfon Castle in 1969. A worldwide television audience of 500 million watched the ceremony, and the queen's outfit was as practical as it was visually distinctive: a coat, embroidered with pearls at the neckline and hem, worn over a sleeveless tunic and matching shift dress of the same material. "It's beautiful, and the colour is also instantly recognisable," says de Guitaut. "The queen is one of the few people who can wear yellow. These clothes are stylish, but they also follow protocol—they have to perform a role." The finishing touch is provided by a Tudor-inspired hat designed by one of the queen's favourite milliners, Simone Mirman, in the same silk as the rest of the outfit, and also embroidered with pearls and bugle beads.
The third Hartnell dress is equally evocative: a raw silk evening gown—its royal-blue skirt embellished with maple leaves made of silver beads and diamanté—worn by the queen in 1967 when she visited Ottawa to mark the centennial celebrations of the Confederation of Canada. It is a beautiful dress, but as with the rest of the queen's wardrobe, it transcends fashion; indeed, it would look just as appropriate if worn today as it did nearly five decades ago.
This timeless quality is also apparent in the clothes designed by Hardy Amies, the queen's other key dressmaker from the 1950s onwards. I am reminded of another of Amies's comments when de Guitaut shows me the most recent outfit in the collection—designed by the current royal dressmaker, Angela Kelly, for the queen to wear to the wedding of her grandson Peter Phillips to Autumn Kelly in 2008. The dress and coat are in a matching pale blue and gold silk brocade, with a copper-coloured trimming, while the headpiece is adorned with a slim line of feathers—the perfect shape for the queen, according to Amies.
Yet my favourite story relating to the queen's wardrobe is of something that remained hidden: a lucky four-leaved clover embroidered into the cluster of shamrocks on her coronation gown. "I am not superstitious," wrote Hartnell, who nevertheless confessed to making a secret addition, in the hope that she might "touch this small omen of good fortune."
If this sounds like the stuff of fairy tales, then perhaps it is appropriate: there is something altogether enchanting about the queen's clothes. But the magic is also mixed with reality. For these garments have outlived many of those who made them; we can touch and see the material of legend, brought to life by the woman who wore them, as she evolved from young princess to reigning monarch, protected by a shield of gossamer silk and delicate embroidery, without ever revealing what might lie beneath.
Picardie is editor in chief of Harper's Bazaar and Town & Country.