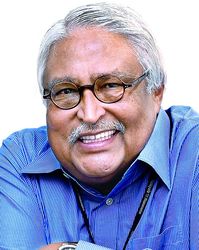 THE AIRPORT AT Santa Cruz de la Sierra, Bolivia, has a dedicated zone for its narcotics wing. Perhaps, one of the few airports in the world to do so. Elsewhere, the narco-police work with the regular customs team. But, with Bolivia being the home of coca, they can't be careful enough, can they?
Passengers exiting Bolivia reach the zone after clearing the regular security check. The narco-police pick travellers at random and subject them to everything short of a strip search. After a pat down, passengers are X-rayed, their cabin luggage is taken apart... the works. Our News Editor Lukose Mathew went through the search and came out clean. All the heady stuff he was carrying was in his notebook and dictaphone. For some time now, he has been on the trail of the ghost who lives.
When THE WEEK conceived a story on the 50th death anniversary of Ernesto 'Che' Guevara, we were taking a closer look at the eternal rebel who now adorns T-shirts, mugs and posters. Is Che's message relevant today? Has it been watered down? How is he perceived in Cuba, his most celebrated battlefield, and in Bolivia, where he made his last stand? All this and much more is covered in this special issue.
Lukose travelled the Che trail all the way from Havana and Santa Clara, to the Bolivian capital of La Paz and on to Vallegrande, where Che's body was autopsied. The highlights of this package are the interactions with Dr Aleida Guevara March, Che's eldest child, and the one with the Sattoris, whose parents hid the guerrilla's severed hands and death mask for five months.
To manage space, we have moved parts of the package online. An eminently readable piece among those is our Chief Subeditor Navin Antony's take on Che's popularity in India. Also online is Lukose's interview with Tamara Nunez del Prado, a "Marxist, feminist, social activist", transwoman, and the grandaughter of Antonio Peredo. All four Peredo brothers have a prominent place in Che's life story.
Interestingly, Che's lone trip to India, in June 1959, was ignored by communists. It had something to do with his criticism of Russia. Lukose, too, touches upon this disagreement. Much of what we know today about the trip is a result of exhaustive research by Om Thanvi, former editor of Jansatta. My elder brother, Mammen Mathew, describes him as "a very committed journalist and friend". They grew close through the Editors' Guild of India, of which Thanvi was secretary-general.
In Thanvi's piece I first read about Jawaharlal Nehru's interesting gift to Che—a khukri. It is described as ivory-handled with a carved sheath of walnut wood. The carving on the sheath was that of a woman, and Camilo, Che's son, was very curious to know who that was. "I told him that it was not a woman but a goddess, probably Durga," Thanvi writes.
What piques my curiosity above all is the identity of the mystical Krishna, whom Che met in Calcutta. The guerrilla was deeply impressed by this person, and he refers to him in his report on India. "We had an opportunity of meeting a wise person called Krishna, who seemed like a person far above our world of today," Che wrote. "He with his simplicity and humility, a characteristic of his people, talked to us for quite some time, stressing the need for using the entire resources and technical capacity of the world for peaceful use of the nuclear energy."
My first guess was Jiddu Krishnamurti. But, Thanvi snuffed out that assumption: "Krishnamurti had left Delhi in May 1959 for a three-month visit to Kashmir".
Then, who is the man who stayed in El Commandante's heart, long after he had left India?