"The ISI was never involved in any 
attack in India. It is protecting Pakistan. We are proud of it" - Rehman Malik, Pakistan's interior affairs chief
Kare Bismillah," said the voice calmly over phone. Gently encouraging, the man with accent-less Hindi repeated the phrase which means 'let us do it, in the name of Allah', like a teacher urging a student to start a project. In reality, he was ordering the massacre at Nariman House in Mumbai on that fateful day—November 26, 2008.
The cold voice belonged to Zabiuddin Ansari aka Abu Jundal, Lashkar-e-Toiba's highest ranked Indian operative, who was marshalling the Mumbai marauders from a 'control room' in Karachi. Four years later, the sole local 26/11 handler, who has 23 aliases, was finally nabbed by the Indian intelligence agencies in Saudi Arabia. He was brought to India on June 21.
A native of Beed district in Maharashtra, the 30-year-old Jundal's arrest comes after intensive surveillance and monitoring by Indian intelligence agencies. According to Union Home Minister P. Chidambaram, Jundal was closely tracked for a year. Jundal was sent to Saudi Arabia by the LeT to raise funds and recruit cadre. Recruitment was his area of expertise. Delhi Police sources say he has recruited and trained many Indian jihadis, too, in the past few years.
He travelled to Saudi on a Pakistani passport issued in the name of Riyasat Ali. He was first tracked by the US intelligence officers, who intercepted a phone call he had made to Pakistan. By then, Indian intelligence agencies, too, had picked up his trail.
According to a senior Intelligence Bureau officer, Jundal was arrested by the Saudi authorities on charges of forgery, courtesy strong persuasion from Indian and American intelligence agencies. Diplomatic haggling to get him deported to India ensued.
DNA samples collected from Jundal's family and voice samples from the 26/11 recordings were quickly dispatched to Riyadh. Islamabad, meanwhile, started its dirty game, pressuring the Saudis to not deport Jundal to India. They claimed that he was wanted in Pakistan!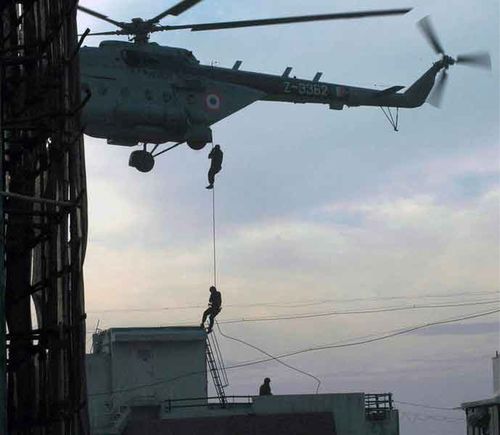 However, thanks to solid evidence and US prodding, Jundal was finally put on a plane to the Indira Gandhi International Airport, where the Delhi Police arrested him. He was produced in court and sent to 15 days' judicial custody, where a special team of officers is interrogating him.
Jundal was in the Karachi control room throughout the 26/11 attack. It was he who had taught the Mumbai-bound LeT boys Hindi and mannerisms that would help them pass as Indians. Ajmal Kasab, in his statement, had named Jundal as his handler who taught him Hindi, while Pakistani-American David Coleman Headley, in his testimony, identified him as an India expert.
"We have him [Jundal] on tape instructing the terrorists to tell the electronic media that they are from India," says Ujjwal Nikam, the public prosecutor in the 26/11 trial.
"Aur agar wey kehte hai action kyun ki hai... hum hukumat ki doshi policy... hukumat peet thapthapati hai aur prashasan sar pe tole maarti hai [And if they ask why you carried out the attack, blame the government's faulty policy, the dual policy... the government pats your back and the administration hits you on the head]," was what Jundal drilled into one of the Nariman House attackers as the carnage was underway. In these recordings, Jundal can also be heard telling him about the location of Indian commandos outside.
Currently, Indian investigators hope they can make him pinpoint who else were there in the Karachi control room, including 'state actors', thus giving concrete evidence about Pakistan's direct involvement.
"For the first time we have someone in our custody who was present in the room from which directions were being issued," says former home secretary G.K. Pillai. "Jundal's arrest will tell us who all were present in the room, who issued the instructions and help us build a complete picture. A sort of dotting the 'i's and crossing the 't's exercise."
A senior Research and Analysis Wing officer says, "Jundal's interrogation would definitely allow us to get to the bottom of the 26/11 conspiracy." Another officer adds that the revelations would conclusively determine if Lashkar-e-Toiba ideologue "Hafiz Saeed had authorised the attack on Mumbai, more than anything else".
Disqualified Pakistan prime minister Yousuf Raza Gillani had gone on record claiming that there was insufficient evidence to arrest Saeed. Now, Indian officials hope to make up for the "bargaining failures".
Another part of Jundal's interrogation would concern his links with Headley. "We have a case registered against Headley. So once we get Ansari [in custody], we will primarily focus on tallying his version with the information we had obtained from Headley. We would also coordinate with other agencies to arrive at the larger picture," says National Investigation Agency Additional Director-General N.R. Wasan.
Reports say Jundal is already singing like a canary, giving names of those who were present in the control room, including top LeT commanders like Sajid Mir, and about the planning and training for the attack. There is talk that he has pointed fingers at the Inter-Services Intelligence.
Even as the intelligence authorities in Delhi continue with their interrogation, the Mumbai ATS and the NIA cannot wait to get their hands on Jundal. However, as of now, the court has refused to shift Jundal's custody, as the Delhi Police Special Cell is already on the job.
Besides security implications, Jundal's arrest has come as a big boost for Chidambaram. Speaking to reporters in Thiruvananthapuram, he said Jundal's statements prove that "there was state support for the 26/11 massacre" and have "confirmed our suspicion that there was some organised effort".
"When I say state actors, at the moment, I am not pointing finger at any particular agency," he said. "But, clearly, there was state support or state actors' support for the 26/11 massacre."
Pakistan's interior affairs chief Rehman Malik was quick to rubbish the charges. Though Chidambaram tactfully avoided naming the ISI, Malik went on the defensive: "The ISI was never involved in any attack in India. It is protecting Pakistan. We are proud of it."
He accused Chidambaram of "unnecessarily targeting ISI", adding that Jundal was an Indian, a home-grown terrorist. "Please have a look at your system as well," he said.
Well, that is not entirely bunkum. Jundal hails from a middle-class family in Beed. Son of an insurance agent, he studied at the local Industrial Training Institute to become an electrician. He was an above-average student and got enrolled for a master's degree. His initiation into fundamentalism took place at the hands of SIMI during that period and, one fine day, Jundal disappeared from Beed. He cut his teeth with the LeT after the 2002 Gujarat riots, and later emerged in Kashmir.
He fled India after he was almost caught with a cache of arms and RDX in Aurangabad in 2006. His operations in India did not cease, though. He is wanted in the German Bakery bomb blast case and the New Delhi Jama Masjid attack, ahead of the 2010 Commonwealth Games. His role in the Mumbai train blasts of 2006 is also under the scanner. Reports also say he was planning attacks on the RSS headquarters in Nagpur, and the American and Israeli embassies in Delhi.
Understandably, the investigative agencies are now drawing praise from all quarters. "The arrest will not get Pakistan to change its attitude or sing a different tune but it is one more nail in their coffin as far as India is concerned. It gives us more leverage and strengthens our position even further," said an IB official.
"The world appreciates how India is tracking each one of the accused in the 26/11 case.... In contrast, Pakistan comes out poorly as a country in denial," said Chidambaram, who vowed to hunt down all the culprits behind 26/11. "Whenever we have an opportunity we will apprehend them. I am not going to say how we are going to do it. But we will make every effort to track every single mastermind and every single accomplice."