He made his name with movies like The Sixth Sense, The Happening, Signs and The Village. Now, director M. Night Shyamalan has put his familiar style to test on the small screen. His first television show, Wayward Pines, contains some mystery like many of his signature films.
A ten-part event thriller, Wayward Pines is based on writer Blake Crouch's trilogy by the same name. It has actors like Matt Dillon, Melissa Leo, Toby Jones, Juliette Lewis and Shannyn Sossamon, to name a few. It tells the story of secret service agent Ethan Burke (played by Dillon) who is looking for two missing federal agents. His search brings him to the small town of Wayward Pines where he quickly notices that things are not like they seem.
Shyamalan is on board as the executive producer and he also directed the pilot. In an interview, the director talks about what he learned from his first TV show.
How faithful did you stay to the series by Blake Crouch?
It is pretty faithful to the first book. We were making and writing together, so we kind of did parallel stuff. The spirit is the same. We kept on asking, what do you think if we went this way? If we wanted to change, we would say this is the reason and it was okay, I can see that. So, there was always an adviser role [by the author] throughout. We felt really excited because his source material was still forming, and to some extent a lot of the fans through the source material will come because of the show. It will be interesting. It is almost like they can get more depth if they wanted to by reading his novels. I don't think they'll be conflicting in that way.
How difficult was it to adapt the series for TV? And on top of it with such an impressive cast.
It was very hard. Honestly, I'm saying that it was hard but it is unrelenting. It is a group of intense film actors. Practically every single one of them has been nominated for an Academy Award for their specificity. Sometimes when you are driving this fast, it hurts them to make a general choice. 'I don't know why I'm here.' 'I thought my character would never just sit here when you're saying that. They'd never sit here.' You have to work through all that, one step at a time. The pressure is so intense. That was a super challenge.
How did you deal with the pressure?
By staying ahead of it with the writing. We shot a set, stopped, regathered. The writers all came to my house. We worked on it and then we sent it to the actors. In a sense we broke it up into a filmmaking kind of thing. I never wanted to say 'Oh we don't have time, it's good enough'. And, hopefully, overall that meant that the episodes were at a certain level.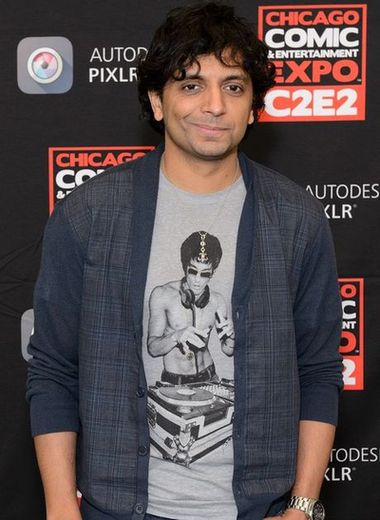 It is your first time working in television. Did you enjoy the process?
The pilot is where you start to discover it. And we would all sit together and go, how about if this and this happens? And then we try it and it was like, wow it just feels right and it is working. It starts to find itself. I think that is the great benefit of the TV format versus film. In a movie it just has to work, there's no finding it. If it doesn't work, you go on to the next movie. Whereas this, you can find it in its way. It was almost like we shot four or five episodes and then I went back and added some stuff. It is a cool format that way, at least this ten-episode thing. And I had to let go of bad habits.
What are these bad habits?
For example, you don't have playback in television, or at least we didn't do playback―it wasn't there and that's always there in films. Everyone gets around the monitor, we watch the take again and we become the editor right there. So, that part is gone. It is all organic. I didn't realise how much we start to rely on [playback]. First of all, I'm getting away from my instincts and the actors have a moment to go 'oh he's not sure' as opposed to I'm like an antenna watching everything that's going on. So those are bad habits that money and time give you. I always say The Sixth Sense didn't cost much money. If we had $10 million more, it wouldn't have been a better movie. It is the limitations that creativity bounces off of. It taught me that again. So really, it was a great learning thing for me.
Wayward Pines is described as Twin Peaks. You also have done many movies that had mystery elements. How do you know how much mystery is good?
That is the game, isn't it? As long as the character that you are with is acknowledging where you are at, you will be safe. So if the weird thing is happening and the character is not acknowledging that it's weird, you are going to get frustrated. Make truthful characters and you won't have these issues. It's a balancing act for sure. You can't have an agenda. You only lose the audience if you're not respecting the characters and they can't connect to the character. Twin Peaks [a crime drama] is a touchstone. But Stepford Wives [a 1972 satirical thriller] or Twilight Zone [an American sci-fi TV series] are another kind of touchstones for me in terms of odd tone. That vibe, if that is what you are feeling, we are in a good place.