She [Theresa May] gets a task and focuses on it. Philip [May] is the wine waiter. She does the cooking. He does the washing-up.
Theresa May, the new prime minister of the United Kingdom, gave a rare glimpse into her formative years when she wrote the introduction to a book about life at her old grammar school in the 1960s and 1970s.
She wrote: "Despite covering a period only just over 50 years ago it seems like a different world. This book brings back so many memories—from sherbet fountains to Corona, from Tommy Steele to Z Cars, from stodgy puddings to Vesta curries; and that's not to mention the education.
"How different from today's world of the internet, yet children now will have their favourite teachers and the not so favourite, will still try to find ways out of doing homework and will still make lifelong friendships at school."
She said School Songs and Gymslips by Marilyn Yurdan, published by The History Press, brought back "memories of what are always called the happiest days of our life".
The world was already fast changing when Theresa Brasier, a clergyman's daughter, won a place at Holton Park Grammar School in Oxfordshire. While she was there, in 1972, her school went from being single-sex and selective to a co-ed comprehensive, Wheatley Park. "She started as a grammar school girl and ended up as a comprehensive pupil," Yurdan said. "They had boys coming in and that was a bit disruptive."
Theresa, the only child of Hubert and Zaidee Brasier, went up to St Hugh's College, Oxford, in 1974, to read geography. She spent hours watching university cricket in the parks. At a Tory disco, Benazir Bhutto, the future prime minister of Pakistan, introduced Theresa to Philip May, one of the university's brightest stars who went on to become president of the Oxford Union.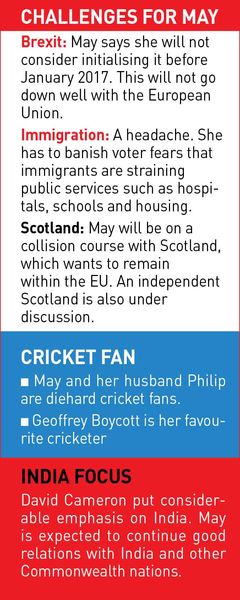 Damian Green, MP, a campaigner for Theresa May, has been a friend since their Oxford days. He said: "It was a generation that was very much turned against that left-wing nature of the Sixties. We were the next generation up that became Thatcher's children. In that period when the Labour government was just running into the ground, the Conservative association was very strong."
Theresa landed a graduate job with the Bank of England at a time of immense turmoil. When she arrived at Threadneedle Street, the International Monetary Fund had just provided the Labour government with an emergency bailout in 1976.
SHE WORKED IN what was then the bank's economics area on financial institutions, and also in the monetary policy group. She was seconded to the Wilson Committee, chaired by the former prime minister Harold Wilson, which was looking into the working of financial institutions.
In 1980 the budding banking analyst brought her student sweetheart, by now a stockbroker, back to be married at her father's church of St Mary the Virgin in Wheatley. Brasier conducted the marriage ceremony. The following year, he was killed in a car accident. Theresa's mother died a year later. She has spoken privately of the shock and strangeness of being orphaned in her mid-twenties.
She and Philip May became immersed in Tory politics. He chaired the Wimbledon division of the Conservatives. She was elected a councillor in the London borough of Merton, rising to be education chairwoman. Keith Guy, a Tory official who worked closely with her, said: "She is a determined lady but, unlike Margaret Thatcher, she has a social conscience. The first thing about her is she is a devoted Christian but she doesn't stuff it down your throat. She is very firm on what she believes but she has an enormous social conscience."
The Mays lived in a humble townhouse in Dora Road, one of the less privileged parts of Wimbledon. They were unable to become parents. "We knew about the problems with having children," a friend recalled. "They desperately wanted it. I know it upset them enormously. She is wonderful with other people's children. When she decided she was going to be the MP, not him, he was totally supportive. He was out delivering leaflets and knocking on doors. They are very loving. They are a team." The couple moved to a larger home and converted the basement into a kitchen fitted with a splendid array of pots and pans. Theresa will spend up to four hours following a recipe and is known for her French and Italian dishes. "It's part of her personality. She gets a task and focuses on it. Philip is the wine waiter. She does the cooking. He does the washing-up."
She drinks modestly, a gin and tonic or a white wine. Green saw how Philip and Theresa became inseparably loyal from their teens. "Once they became an item, they have been a rock solid item ever since. That's true at university as well."
Philip's immediate predecessor as president of the Oxford Union was Sir Alan Duncan, now a Conservative MP. He recalled Philip as a "steady, logical speaker, sort of undemonstrative, thorough and likeable". Sir Alan said Philip, a member of a golf club in Berkshire, has "a dry northern sense of humour, with a wry grin rather than a belly laugh. He's far more of a bank manager than a sort of hedge-fund gambler and in that sense reflects Theresa. He's a solid bedrock of support."