A campaign has been launched in Uttar Pradesh to press the BJP leadership to name Irani as its chief minister candidate in the next assembly elections.

Irani has been accused of working as per the sangh parivar agenda of gaining control over campuses.
You can love her, you can hate her, but you cannot ignore Smriti Irani. Few in the current Indian politics are as polarising as the Union human resources development minister—she stirs you up or leaves you rattled, depending on which side of the ideological divide you are on.
Irani came out all guns blazing in a debate in Parliament on the police action taken against some students in Jawaharlal Nehru University, Delhi, and on the suicide of the research scholar Rohith Vemula in Hyderabad University. She combined emotion with aggression, and single-handedly took on the opposition. It was a made-for-television performance by the former soap star, and it could pass muster as a model for politicians on how to make the best use of theatrics.
As expected, there were extreme reactions to Irani's speech, with her supporters talking about how she had demolished the opposition, and her opponents moving notices for a privilege motion saying she lied on the floor. Irani, in fact, has evoked extreme reactions very often ever since she was sworn in as minister in May 2014. At 38, she was the youngest member in Narendra Modi's cabinet, and it had caused a lot of heartburn in the BJP. Many leaders did not take kindly to her swift rise. And, after her power-packed performance in Parliament, they grudgingly admit that she has earned a place for herself in the big league. In fact, a campaign has been launched in Uttar Pradesh to press the BJP leadership to name her as its chief minister candidate in the next assembly elections.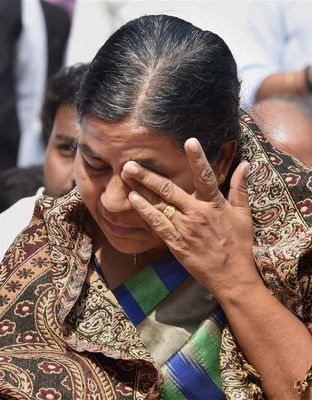 Modi was full of praise for her speech. He recommended it to his followers on Twitter. She appeared to have won round one for the government in the nationalism debate and put the opposition on the back foot.
The opposition reclaimed some ground by holding her accountable for the "lies" in her speech, particularly on the suicide. "The HRD minister has not only been economical with truth but also wilfully misled Parliament on the unfortunate suicide of Rohith Vemula," said Congress general secretary Mukul Wasnik. The Congress's notice challenges Irani's statement that no doctor was allowed near Vemula when he was found hanging on January 17. The party has also challenged Irani's claim that a book by social activist Teesta Setalvad and commissioned by former HRD minister Kapil Sibal was being taught at Don Bosco School in Mumbai. Irani is also under attack for reading out a pamphlet on the goddess Durga. "The significantly false, fabricated and unauthenticated statement was made by the minister on the basis of reported, stamped documents received from JNU registrar, thereby trying to malign the image of JNU and made derogatory remarks about Goddess Durga," said the Congress's notice.
Irani has some explaining to do now. But she has succeeded in cushioning the opposition's attack on the prime minister by diverting the attention. And she was true to the government's stand when she took on the opposition. While taking a tough stand in the nationalism debate, she repeatedly mentioned Vemula in her speech as a child and accused the opposition of politicising his death.
Irani does not have many friends in the BJP or in the government. But she enjoys the confidence of Modi, and has the backing of a section of the RSS. She has a good rapport with Sangh leaders and gives them a patient hearing.
A turning point in Irani's political life was her candidature for the Lok Sabha election in Amethi against Rahul Gandhi. She rattled the Gandhis on their home turf, and that had political significance for the BJP. She did not forget Amethi after the loss. "She has recall value and is nurturing the constituency," said Prof Ram Kishore Shastri from Amethi, who teaches in Allahabad University.
AS MINISTER, Irani has been accused of being domineering while dealing with institutions of higher learning. There have been allegations of intrusion into the autonomy of universities, of rendering the University Grants Commission defunct and of being high-handed with vice chancellors.
The UGC is now directly controlled by her, said one of the former members. "She completely dominates the UGC board meetings. A brief is given to her beforehand. She talks on the agenda for a few minutes and nobody is allowed to raise questions or make comments," he said. He claimed that many decisions were imposed on the UGC without discussion. "She started a scholarship programme in the name of Deen Dayal Upadhyaya and one for girls in the name of Swami Vivekananda. When I suggested why not one of the famous women—Sarojini Naidu, maybe—I was asked to keep quiet," he said.
One of her controversial decisions was to scrap Delhi University's four-year university programme (FYUP). Former prime minister Manmohan Singh too had been opposed to FYUP, but it had the backing of President Pranab Mukherjee. University sources said Irani held no structured discussion on the pros and cons of the programme with university representatives before taking the decision to scrap it. "She said she knew everything about FYUP and there was no need for a discussion. She said it was illegal and had to go," said a source.
Prof Dinesh Singh, who was then vice chancellor of DU, had argued for FYUP, saying it was introduced after an exhaustive consultation process. Union Finance Minister Arun Jaitley reportedly intervened in favour of FYUP, but Irani did not budge. A show-cause notice was served on Dinesh Singh. However, the university has in its response said the programme was completely legal, and to date, the ordinance bringing it into effect has not been struck down by the president. It is said that Irani got legal counsel against sacking Dinesh Singh.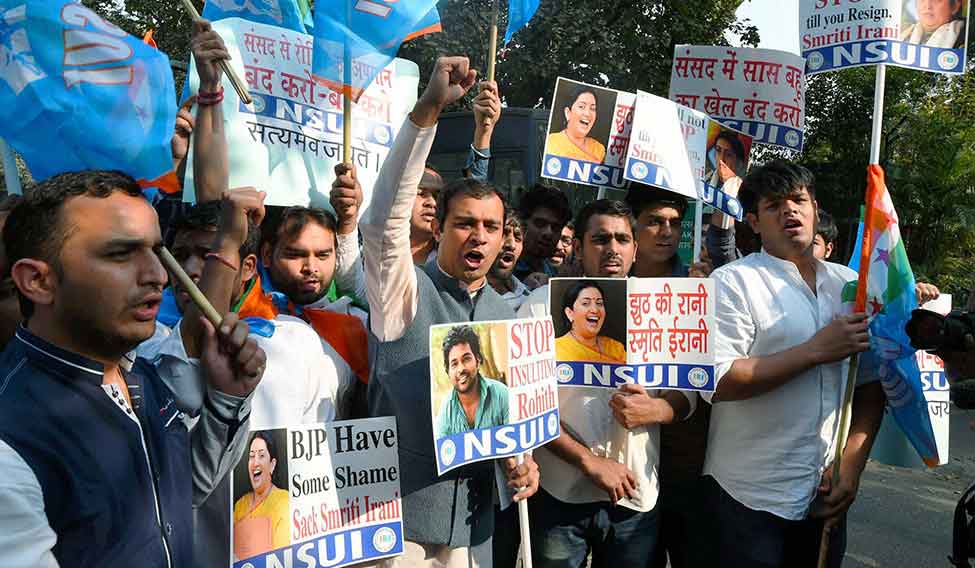 There are numerous stories of vice chancellors being admonished and humiliated by Irani. A source said she lost her cool when Aligarh Muslim University vice chancellor Lt-Gen Zameer Uddin Shah referred to students as "rascals". She said it was an abusive term and made him apologise. "He apologised, although he knew that rascal is a word you can use affectionately," said an academic close to Shah.
Another vice chancellor said on condition of anonymity that Irani had threatened to file an FIR against him, calling one of his decisions illegal. "There were problems with the Manmohan Singh government also. But things did not sink to this level," he said.
An IIT director recounted Irani's reaction to some of the IITs not sending data on time for the IIT Council's website. During the IIT Council meeting, she asked the corporate members what punishment they would give if their employees had not finished a project on time. "This was really demeaning for all of us," he said. "IIT directors are qualified enough to land a plum job in private sector or teach at a university abroad, but we are here to serve a purpose. Demeaning us publicly is not the way to get things done."
Irani is said to have softened a bit after her run-in with IIT Delhi director R.K. Shevgaonkar, who resigned on the issue of paying arrears to BJP leader Subramanian Swamy. "She thought she could threaten him and make him kneel down but that did not happen. IITs have always been independent bodies, and after this incident, the interference has greatly reduced," said the IIT director.
Irani has been accused of working as per the sangh parivar agenda of gaining control over campuses. She appointed Inder Mohan Kapahi, an RSS man, on the UGC board. Even in the latest controversy surrounding JNU, it is alleged that the vice chancellor received a call from the HRD ministry asking him to allow the police inside the campus. It is also being alleged that minority institutions are being targeted—attorney general Mukul Rohatgi said in the Supreme Court that the university was not a minority institution and it had not been founded by a Muslim.
Organisations owing allegiance to the RSS have held meetings with Irani on school curricula. Chamu Krishna Shastry, an RSS man and founder of Sanskrit Bharati, has been appointed as the languages adviser to Irani. He has got a room in the ministry and is present in the meetings on languages.
The ministry has received about 3.5 lakh inputs online on framing the education policy. Critics, however, say it is not the way to do something so important as the education policy. "There is hardly any imagination or intellectual depth. The NDA government is trying to introduce its ideological agenda in schools and institutions of higher education," said historian Irfan Habib. He said the Indian Council of Historical Research, which saw a change at the helm after the Modi government took charge, had taken the ridiculous course of calling India as an Aryan home. "Saffronisation is an inadequate word for glorifying Hinduism and sowing seeds of hostility for other religions," he said.
THERE HAS BEEN unease with Irani's attitude even within the ministry. A source said she once flung a file at a highly regarded additional secretary. He is said to have approached the cabinet secretary with a request to be moved out of the ministry. The matter reached the prime minister's office and she is said to have apologised. But the officer did not go back to his assignment in the ministry.
Irani, however, has been making efforts to warm up to her colleagues in the ministry. Recently, the higher education secretary received three cakes on his birthday—one of them was from Irani. Last year, after the completion of the 'toilet in every school campaign' under Swachh Bharat Abhiyan, all officials above the undersecretary rank got cakes. Irani spent some Rs 75,000 from her own pocket on the cakes.
The controversy over Irani's educational qualifications has been her Achilles heel, and it is raked up time and again by her political rivals. "She is intelligent, but there is no substance," said a senior academician. A former UGC member said she did not have exposure to higher education and therefore had no idea about how a university functioned. "She gets notes from bureaucrats, sometimes the PMO and even the sangh parivar for meetings," he said.
But Irani works extremely hard and expects the same from her colleagues. "She is a tough task master and will not accept any excuse for work not done," said a volunteer who has worked with her in Amethi. And, she is a survivor. With her nationalism tirade, she seems to have cemented her place in the BJP's scheme of things.