"She had always been a master of wily games," said a person familiar with Indrani's friends circle in Guwahati. "Mostly those that had to do with elevating her persona professionally or even privately."
Her parents named her Pori, which means angel in Assamese. Her friends and relatives still call her that. But Indrani Mukerjea's fall from heaven has been faster than that of a shooting star. After the Mumbai Police arrested her on August 25 for the alleged murder of her daughter, Sheena Bora, what unraveled was a heady story of messy relationships, unabashed ambition and insatiable greed.
It all started when Shyam Rai, Indrani's former driver, spilled the beans at a pub in Mumbai where he went on a binge a few weeks ago. His hints did not go unnoticed, as a policeman sat not so far from Rai. The cop reported it to his senior and a marker was put on Rai. It did not take long for the police in Khar to land him in its net, as they arrested him for illegal possession of a weapon, a 7.62mm pistol, on August 21.
When Mumbai Police Commissioner Rakesh Maria briefed the media on his arrest, however, it was not the pistol he talked about. "During the course of investigations, the accused confessed his role in a murder. To probe further, Khar police took the accused to the spot where he had disposed of the dead body. During further investigation it transpired that murder was committed on April 24, 2012. The body was found by Raigad police on May 23, 2012. We have arrested two accused, including a woman," he said.
The police say the two accused, Indrani, who co-founded INX Media, and her ex-husband Sanjeev Khanna, a Kolkata-based businessman, strangled Sheena to death in a car driven by Rai, burned the body with petrol and disposed it of at Gagode Khurd near Pen in Raigad.
Also Read: Chilling details of what happened the day Sheena was killed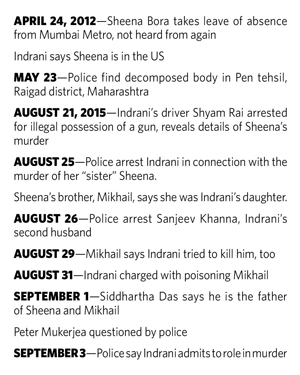 There are many theories about why Indrani would have killed Sheena, her daughter from a relationship with Siddhartha Das, whom she had met in Shillong as a teenager. She apparently did not want Sheena and her brother, Mikhail, to be identified as her children. According to the police, in an affidavit Indrani made in 1992, she mentioned her father, Upendra Bora, as the biological father of Sheena.
"She had always been a master of wily games," said a person familiar with Indrani's friends circle in Guwahati. "Mostly those that had to do with elevating her persona professionally or even privately."
Indrani's star started shining when she met Peter Mukerjea, who was CEO of Star India, in 2002. It is said that she introduced Sheena and Mikhail to Peter as her siblings. When the police questioned Peter on September 2, he claimed he was not in India when the murder happened. He is said to have been grilled on some financial matters as the police are still not sure about the exact motive for the killing.
Peter and Indrani have been married for 13 years and they set up INX Media after he quit Star in 2007. For the venture, they secured funds from Temasek Holdings, New Silk Route, Kotak Mahindra and New Vernon Private Equity Fund. INX was purely Indrani's show and Peter was more than happy to watch it from the sidelines. In 2008, The Wall Street Journal listed her among the 50 women to watch.
It was quite an achievement for the middle-class girl from Guwahati's Sundarpur area. Indrani did her schooling at St Mary's Convent in Guwahati and joined Cotton College after that. "I remember her as charming, intelligent, ambitious and money-minded," said B. Chowdhury, who had a brief relationship with her at that time. "I lost touch when she went to Shillong's Lady Keane College for graduation."
Indrani met Siddhartha Das in Shillong and she eloped with him. She had Sheena and Mikhail while they lived together. In 1990, when Sheena was two years old and Mikhail one, she returned to her parents and disappeared once again, leaving the kids behind. She emerged in Kolkata and started dating Sanjeev Khanna. They got married in 1993 and had a daughter, Vidhie, four years later. Peter adopted Vidhie after his marriage to Indrani.
Also Read: Lost love
Vidhie was Indrani's apple of the eye. A theory on the motive of Sheena's murder is that Indrani and Khanna wanted a big share of Peter's wealth to go to Vidhie, and they feared Sheena would upset that plan, as she was in a relationship with Rahul, Peter's son with his first wife. Sheena and Rahul lived together from 2009 to 2012. When Sheena disappeared in April 2012, Indrani told him that she had moved to the US for higher studies.
In May 2012, when Sheena's employer raised concern about her missing from work, Indrani is said to have asked one her staff to forge Sheena's signature on a resignation letter. "We have traced and recorded the statement of the person who sent out this email and signed on behalf," said Maria.
The police are yet to clarify why the Raigad police, back in 2012, did not proceed when it discovered the remnants of a burnt body. They just made a station diary entry at Pen police station. The grapevine is that a powerful politician from the region was behind the police inaction.
Can the police take the case beyond the confessions and the telephone call details between Indrani and Khanna? The media reported on September 3 that Indrani, who maintained during the interrogation for a week that Sheena was alive in the US, cracked and admitted to killing her. But to prove the case in a court the police will need more solid evidence and will have to establish the motive behind the murder. "The efforts being taken by Maria and his team should be commended," said a retired officer of Mumbai Police. "But I have my doubts whether these investigations will stand scrutiny under the Indian Evidence Act."
Also Read: Khanna confesses, Mikhail submits evidence
The police also have to prove that the body found in Raigad was Sheena's. The postmortem on the charred remains is reported to have been done on the spot because the remains was such that it could not be shifted a hospital. Later, the remnants were given to JJ Hospital's forensics department. But the hospital authorities said the sample provided to them was not sufficient to reach any conclusions.
The questions, in fact, are many, and the answers are hard to come by. Why did Peter remain silent despite being told by Rahul and Sheena about her actual relationship with Indrani? And, why did Rahul not question the US story when Sheena's passport was with him? Rahul has told the police that Indrani told him Sheena had travelled to the US on a second passport. Interestingly, Indrani herself is said to have three passports. And, why did Mikhail remain silent all this while when he thought Indrani wanted to kill him as well?
As of now, the Mumbai Police offer a simple take that Indrani wanted Sheena and Mikhail out of the race for Peter's fortune. And, Maria and his team have immersed themselves in piecing together the information to make a case. On August 26, a police team found a skull from spot where the body had been found. "This means Raigad police failed here, too," said the retired police officer.
Also Read: Homemade misery
Driver Rai, interestingly, was jobless after he stopped working for Indrani three years ago. Tracing how he lived these years could help solving the crime. An IPS officer told THE WEEK that, as of now, the case was built on 'admissions' made by the accused and weak circumstantial evidence. "What is missing is 'corpus delicti', body or substance material of crime. The skull that was recovered by the Mumbai police team is the only source it has to prove that it was Sheena who was murdered. The whole case now rests on DNA tests and forensic test results," he said.
The police also have to prove beyond doubt that Indrani had a motive to kill Sheena. "Why would a mother kill her daughter? The investigating team will have to strive hard to pinpoint why, if at all she did, Indrani felt threatened by Sheena," said the officer.
The investigators cannot just rely on admissions made by the accused as they can change versions in court when the trial begins. The police have the option of making Shyam Rai an approver. For that, his statement will have to be recorded in front of a magistrate under section 164 of Criminal Procedure Code. But, then a statement made by the approver will need corroborative evidence. "That is why it is very important for the police that Indrani starts singing and forensic and DNA tests are positive," said the officer.
Also Read: Bad script of a flop opera