Barack Obama said in March, "My daughters know Pope Francis. Now they want to meet Messi. But I could not arrange that."
Almost a week on, the image of Lionel Messi on his hands and knees, sobbing into the turf of the MetLife Stadium outside New York after his missed penalty in the Copa América final remains haunting. Is this how it must end for the best player on the planet, at least while representing his country, Argentina?
Who can say? Which of us can put ourselves inside the mind, and the heart, of a sports player who, if his statement that he has played his last game in the blue-and-white shirt of Argentina is to be taken as irreversible, only now has Barcelona to play for?
Doesn't that sound ridiculous?
On the face of it, Little Leo, who turned 29 on June 24, has all to play for. He is richer than Sachin Tendulkar, and he still has prime years in his game. Messi is more instantly recognised than Barack Obama and, pound for pound, more marketable in every corner of the world than, say, America's giant basketball player Stephen Curry, the king of tennis Novak Djokovic or the fastest man who ever ran, Usain Bolt.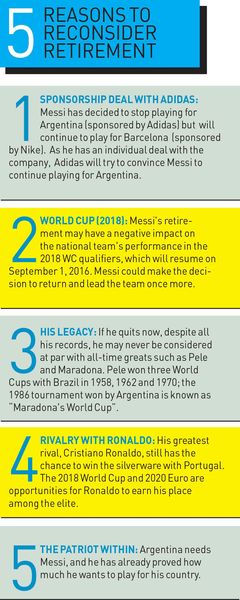 Cristiano Ronaldo? Don't make me compare them, again. In fact, let's leave money out of this.
What Messi did when he said he is quitting his national team is something you never heard from Tendulkar, at least not while there was the remotest possibility of being asked to bat for India. Indeed, Sachin wept for his country, but on the day Father Time determined that age, and nothing else, was passing his career by.
I will go on with the analogy, not simply because this is being read in India, but rather because Tendulkar is possibly the only sportsman who juggled between deification and the burden of fame on quite the same levels. Yes, Cristiano Ronaldo has a stage as big as Messi's. But he does not have, as Messi still has if he wants it, a national team capable of going for the world title. Tendulkar had it, won it, and retired fulfilled by it.
Sachin and Leo are also quite close physical matches. For while Tendulkar stands 1.65 metres, Messi's 1.7 metres was considered diminutive enough by soccer standards for him to be labelled La Pulga, The Flea.
There was affection, not malice, in that description. What Tendulkar could do with his right hand, Messi does with his wand of a left foot. And where Tendulkar fathered a son and a daughter, Messi has two small sons, Thiago, 3, and Mateo, 10 months.
Tendulkar's following is a billion-plus in India alone, but he has admirers wherever cricket is played, most especially of course in Yorkshire, where he played county cricket. Messi's attraction is worldwide, and because of his size, because of his brilliance and because he still has the air of a child at play, his appeal is also in the billions.
So, a case for likeness established, where they differ is that Tendulkar did achieve his life's ambition to win the World Cup (in 2011) and did find tears of joy in that fulfilment. Part of Messi's explanation for his tears and his resignation from the national cause was that he had failed four times to win either the Copa or the World Cup, and it hurt too much to go on.
It cannot always have been easy for Tendulkar to block out the politics of Indian cricket, but he had no place else to go. He never left his country, and never lost adulation there.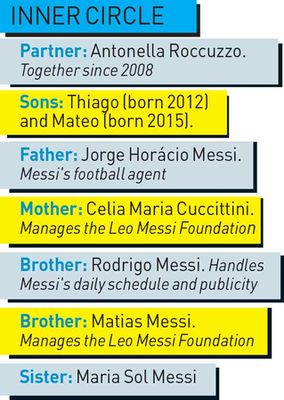 Messi is the outsider-insider in his own homeland. By that, I mean he left when he was 13, in part because Barcelona could give him the medication his puny body needed to fight a growth deficiency, and gave him the incomparable opportunity to study and grow as a footballer inside its famed La Masia academy.
Indeed, there was a time when Messi was knee high to a grasshopper but already an outsized talent that he was courted by the Spanish football federation to play for Spain. He could, in other words, have been a World Cup winner already, alongside his pals Andres Iniesta, Xavi Hernandez, Gerard Pique and others at Barça.
But he said no. He chased his dream as a child in Rosario in central Argentina. And look where it has got him: Messi won an Olympic gold with the Argentine side in 2008, but he is classed by Argentinians as a flop because he won neither a World Cup nor a Copa.
You can throw all the cliches about a team sport and its capriciousness into this. But the writer in Argentina who came closest to the polemic of Messi over the past week has been Sebastian Fest. A reporter with La Nacion in Buenos Aires, and the author of The Messi Mystery, Fest wrote: "For many people the essence of Argentine football contains kilos of Maradona and grams of Messi."
That succinct sentence gets right to the pitch of this story. Maradona is idolised for winning what Messi so far got agonisingly close to achieving, and regardless of (or even because of) Maradona being a rogue who actually cheated through the so-called 'Hand of God goal' in 1986 against England. That defines and divides them.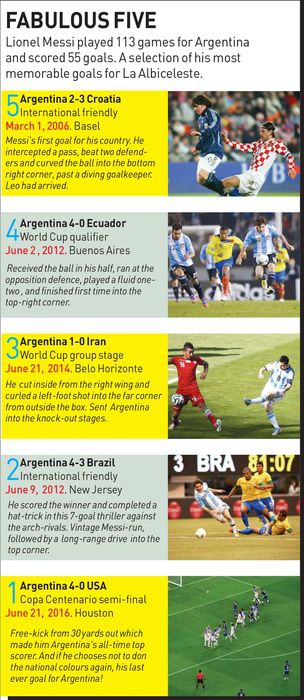 Maradona later justified his sleight of hand by telling me personally that it was revenge for the Malvinas, known in Britain as the Falkland Islands that the UK and Argentina fought over in 1982. And I believe he meant that.
Never once have I heard Messi speak about war or politics, or about life outside of his family, his football, the charities he supports or the hounding he feels at being hauled through the Spanish courts accused of nonpayment of taxes on endorsements paid outside the country.
But those are not the things at issue here. Maradona won for his country, Messi has not won where it matters to Argentina's self-image. They, of course, shared a failure, in South Africa in 2010, where Maradona coached and Messi led a World Cup attempt that promised the limit, and fell short against the might of Germany.
Throughout almost 11 years, and a record 55 goals in 113 matches representing Argentina, Messi actually played more than Maradona did. But he achieved less, with one runner-up medal at the World Cup in 2014 and three runners-up attempts in the Copa.
There, the American people adored him, and yet some called him a spoilt brat for quitting because he lost a final. That says more about America's 'winning or whining' culture than it may do about Messi.
For sure, he plays with the heart of a child. Who would rather have it any other way when he dodges and weaves, darts and tricks opponents, some of whom would break him in two if they could lay a boot on him? Who wants sports players to give up on the fantasies of childhood when the alternative is never to attempt the seemingly impossible? How selfish it would be for a man (or a man-child, as I see star players) if they stopped to rationalise the odds against doing wondrous things, and parted with the ball because it was the safer, more logical thing to do?
I remember Frank Rijkaard, the Dutchman who first promoted Messi to the Barcelona lineup when he was only 16, being almost speechless when asked whether he knew La Pulga was ready to do what he did from the very start. I think of the movie A Billion Dreams about Tendulkar's life and times, and I think of the films they will make when Messi retires for good.
I remember Pep Guardiola telling journalists, "Don't write about Leo. Don't try to describe him. Just watch him." And Guardiola, who helped train Messi in the Barca youth teams before he liberated him to be the fulcrum of the treble-winning side, will do everything in his power to see if Messi can be lured away from Catalonia, and to join Manchester City when Pep begins work there as manager this weekend.
Many, many tributes try to capture the essence of Barcelona's serial winner, and Argentina's perceived failure. And even his countrymen, such as Diego Simeone, the manager of Atletico Madrid, struggle with the Maradona/Messi debate. "Diego (Maradona) filled us with emotions," said Simeone. "But between the cracks, without a doubt, Messi is better than Maradona."
Those words, and opinions like them, clearly irk Maradona and make Argentines take sides. It is pointless, really, like comparing Tendulkar with M.S. Dhoni, because the passing of even a few years makes comparison odious and unhelpful.
When you hear players speak without an axe to grind, their admiration for Messi is unmistakable. "He reinvents the game," says Tostao, one of the finest ever Brazilians and contemporary of Pelé. "He is a mix of the real and the virtual."
"Messi is an alien who dedicates himself to playing with humans," observed Gianluigi Buffon, the veteran Italian goalkeeper who faced up to Messi in the 2015 Champions League final between Juventus and Barcelona.
And President Obama said in March, "My daughters know Pope Francis. Now they want to meet Messi. But I could not arrange that." Maybe, if Messi means it, and he retires from at least part of the demands on his time, his flights, his commitments to club and country, there will be a time for the Obama family.
Yet, it was on American soil that Messi felt so downhearted, so broken that he told reporters in what is called the 'mixed zone', through which journalists approach players after matches: "For me, the national team is over. I have done all I can. I have been in four finals and it hurts not to be a champion."
Unsaid, at that time, were reasons beyond the mere despair of a penalty kick ballooning high over the bar by the most famous left foot in the world. Going across from Houston to New York two days before the final, the players sat with nothing to do for four hours, while their charter plane was idle on the runway. Messi posted an Instagram of himself and his fellow player Sergio Aguero sitting on that plane. His message read: "Una vez mas esperando en un avion para intentar salir al destino .. Que desastre son los de AFA por dios !!!!" Once again waiting on a plane to leave for our destination. What a disaster the Argentine Football Association is. My God!
The AFA responded by publishing a message that acknowledged the flight suffered a delay because of bad weather and that the transport was organised by Copa officials. But other team members complained about a nine-hour flight in a plane "not fit for purpose", hotel rooms not ready on arrival, and a lack of access to gymnasiums.
These complaints hid a deeper malaise at the AFA. In two words, the body is corrupt and bankrupt. For 35 years, more than a third of its existence, Julio Grondona had presided over the organisation in Buenos Aires. He also headed FIFA's finance committee during many of the years when it conducted corrupt payouts among its own members. Grondona, who died in 2014, is one of the first men FIFA officials pointed to when the FBI started investigations into its endemic bribery and profiteering.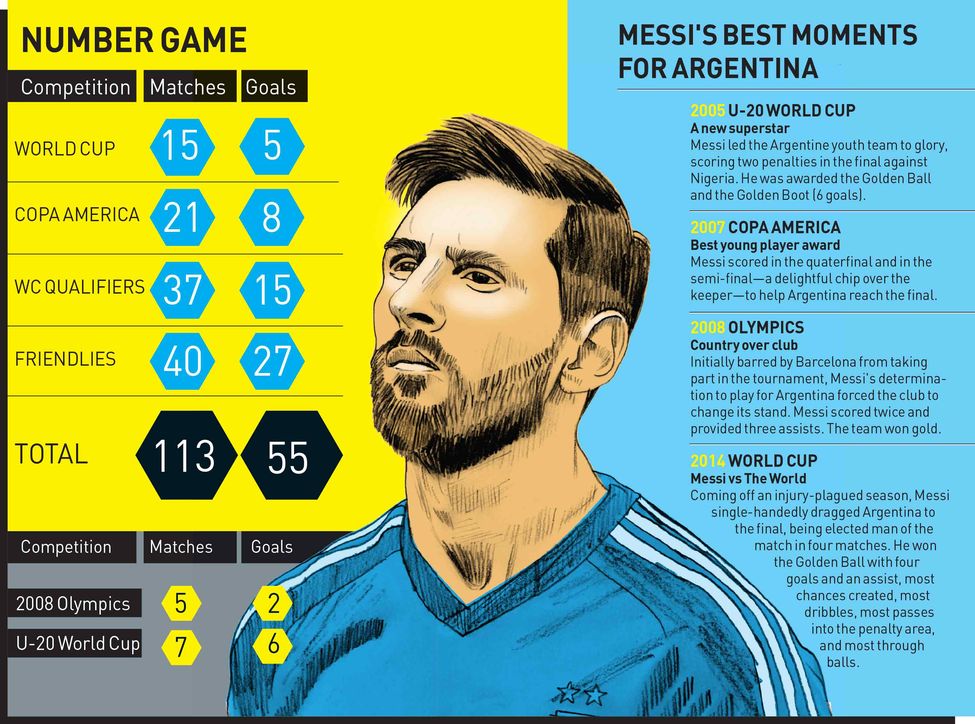 Yet, untouchable in Argentina, he could also be avuncular, and could convince Diego Maradona, and later Messi, to play for their country.
The AFA has had no real successor in the two years since Grondona's demise. Infighting over the president's chair in Buenos Aires has involved two men—one an apparent reformer, the other allegedly corrupt. Each received 38 votes in the ballot to fill Grondona's shoes. Right now, Luis Segura, who was installed as interim president but had to resign on June 28, faces a charge of fraudulent administration relating to TV rights payments.
The AFA offices were evacuated on June 27 after an anonymous phone call threatened that a bomb was placed inside the building. In this moral vacuum, how can there be meaningful leadership? How can anyone to put an arm around the disconsolate genius that is Messi?
I am biased because international sport has precious few talents I would call genius. Fewer still appear so vulnerable, so likeable, and so good for the game as Messi.
He is hurting because he lost another final he and his nation were expected to win. Give him room to calm down, give him some hope that his national federation is on the side of the angels, and maybe, just maybe, he will try again.
The South American qualifiers for the 2018 World Cup resume in September. At the last count, there were seven players reportedly considering whether to join Messi in retiring from the national side—Aguero, Gonzalo Higuain, Javier Mascherano, Angel Di Maria, Lucas Biglia, Ever Banega and Ezequiel Lavezzi.
That is a generation of men. They cannot all be accused of abandoning their country because of the riches they earn with European clubs. Argentina must hope that Messi, the leader, has second thoughts—and that the rest follow their leader.
But something, somebody, needs to start a revolution in the administration to bring them home.