Most Nagas believe they are going to be sovereign soon. They know that it is not going to be the sovereignty that Phizo and his generation had dreamt of, but what they have come to call "shared sovereignty".

The balance of power in the NSCN(IM) had always been tenuous, especially between the Nagas from Nagaland and the Nagas from Manipur. Isak, being from Nagaland, had been the balancing factor.

Everyone in Hebron can shoot. They learn to use firearms, are toughened by getting beaten with sticks, are taught to survive in the jungle on berries and leaves, and learn guerrilla warfare.

Most of the ordinary Nagas governed by the parallel government said they had no fight with India, they were just separate. There is no hatred; there is even love. But, they are separate.
General Phungting Shimrang sat behind an ancient wooden desk in his little office, arms within arm's reach. Guards with weapons stood menacingly outside, and a personal guard hovered around. The evening was dark; the jungle was wet after a drizzle.
He took a sip of green tea from a glass tumbler, and sang:
"If you know your history, then you would know where you are coming from.
Then you wouldn't have to ask me, who the heck do I think I am."
Then, all of a sudden, he threw a poser at me: "Have you heard of 'Buffalo Soldier, stolen from Africa brought to America? Fighting on arrival, fighting for survival?' This is what I tell the children. Know your history. That's what Bob Marley said."
Then, smiling, the commander-in-chief of the army of the National Socialist Council of Nagaland (Isak-Muivah) drew to his full height to welcome us to Hebron, his secret headquarters deep in the Naga jungle, 110km from Kohima. Named after the town mentioned in the Old Testament (most Nagas are Baptist Christians), Hebron has always been forbidden to outsiders. It is from here that Shimrang and his predecessors have been directing the operations of their 15,000-strong army, against an entire corps of the world's fourth largest army, in the world's longest running insurgency.
It is older than India's independence, by a day. The Naga rebellion was launched on August 14, 1947, by Angami Zapu Phizo. But, the bloodletting in these jungles is even older. It was in these jungles that the retreating British army, soldiered mostly by Indians, had taken the last stand against the Japanese, after the calamitous fall of Singapore, the rout from Malaya and the massacre in the Burmese jungles. Hardly had that war ended, and India become free, when the new war began. Since then, the international boundaries drawn by the departing British, or the provincial boundaries drawn and re-drawn by the rulers of India, have had no relevance for Shimrang, or for any Naga. They have been struggling for a sovereign Naga homeland comprising the entire state of Nagaland, the Naga hills of Manipur, and parts of Assam, Arunachal Pradesh and Myanmar. Phizo is gone; the fighters have since split into several groups. Nearly two years ago, the Isak and Muivah-led National Socialist Council of Nagaland, popularly known as NSCN(IM), signed a framework treaty with the Indian government.
Shimrang has been standing tall behind Thuingaleng Muivah, prime minister (atokilonser) of the Government of the People's Republic of Nagalim (GPRN) of NSCN(IM), a fully functional regime that flies its own flag, has its own parliament, makes its own laws and punishes those who break them. It exercises control over vast swathes of land covering entire Nagaland, parts of Manipur, Assam, Arunachal Pradesh and a million people inhabiting neighbouring Myanmar.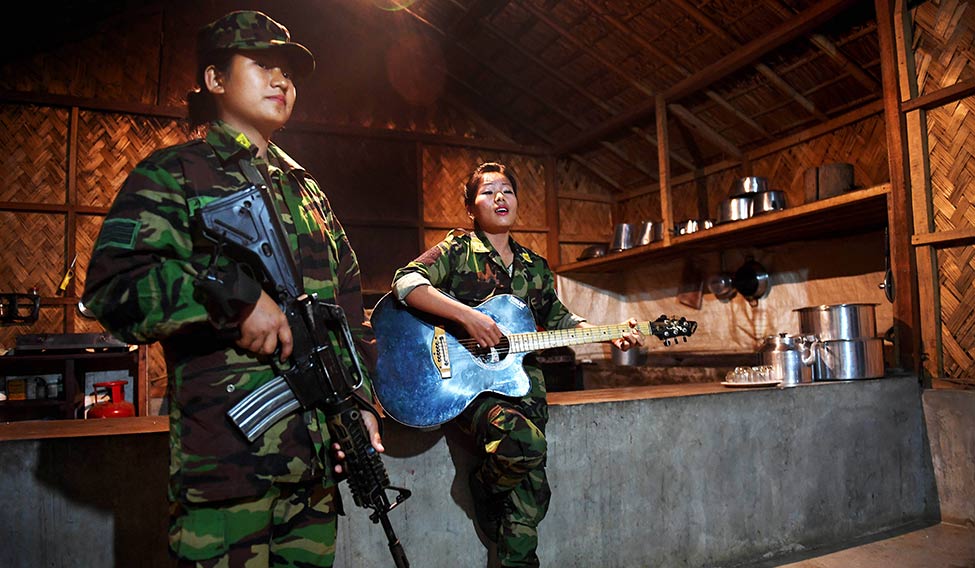 This vast territory is administered from Hebron. The capital camp is spread over 200 hectares, and is divided into four zones—civilian headquarters (CHQ), the army's general headquarters (GHQ), the wireless station and the training centre. One has to trek through the jungle for an hour and a half to reach the last two zones.
Muivah, Shimrang and their colleagues believe the struggle would end soon. They draw their confidence from the framework agreement they had signed on August 3, 2015, with R.N. Ravi, representative of the Narendra Modi government.
Most Nagas believe they are going to be sovereign soon. They also know that it is not going to be the sovereignty that Phizo and his generation had dreamt of, but what they have come to call "shared sovereignty". The contents of the treaty are still secret, but THE WEEK has been able to gather, from Naga and Indian government sources, its main points. The Indian government is mulling to propose, under the final settlement, autonomous district councils for four hill districts of Manipur, with financial autonomy. They will have a separate flag and control over their mineral wealth. There will also be a pan-Naga body for the preservation of cultural and traditional rights. Muivah would be its chairman.
Though talks are on and there is no war now, the military training has not stopped. Shimrang's army is 15,000 strong. About a thousand are women, commanded by 40-year-old Ami. Most of them joined without telling their families or were selected by the village heads during recruitment drives. Men and women undergo the same training in weapons and guerrilla warfare, spending days in jungles without food.
But, why women in war? "Man cannot live by himself," explained Shimrang. "When you have division of labour, you should not look down upon one another. A revolution is not complete if there are no women."
Kumthy, 30, completed her training and joined last year. She loves her job. "We are like a family. I am a national worker," she said, with a glint in the eye. "I love to wear the uniform. I look better in it than in ordinary clothes."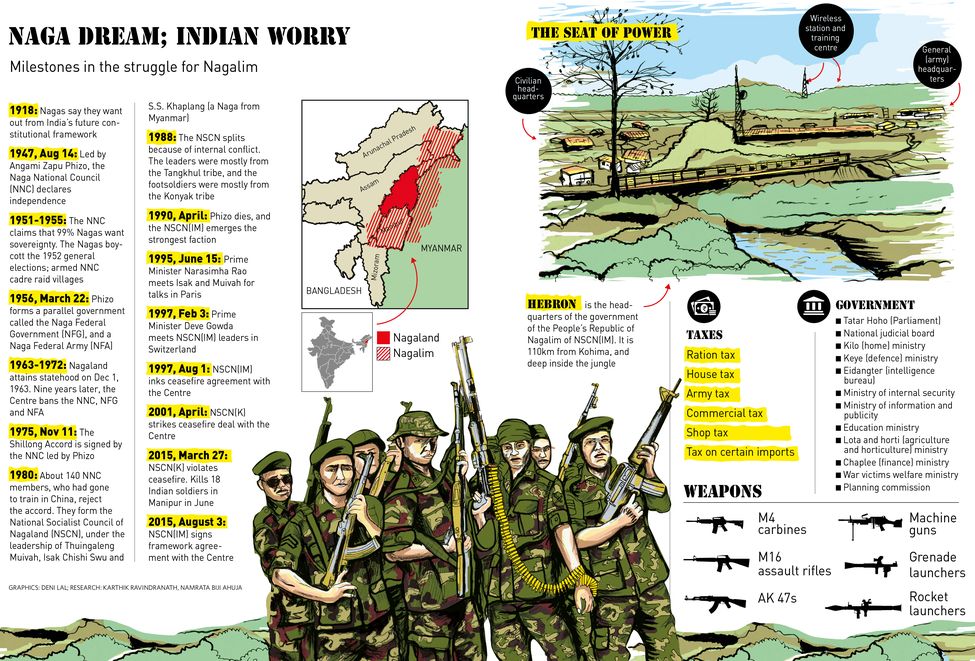 It is not all fighting and training. They have fun, too. When the lights went out at sunset, Aton, Tavi, Matha and Mary, all in their 20s, watched TV while cooking food in the mess. There are four messes for the women's corps. In one mess, 23-year-old Adon Palmei strummed the guitar, leaving her gun on the table. "Celebrate the victory of the Lord, He has done magic things yet again. God, He's good to me! Hallelujah!" she sang, as if trying to dispel the enveloping dark. Longti and Rishika, 20 and 21, were reading the Bible. They had enrolled last year.
"When we join, we swear by the Bible and the bullet that we won't betray the nation or compromise the security till the last drop of our blood," explained Kumthy. "What if there is a change of heart?" I asked. "No one leaves once they join," she said, with finality. "If anyone wants to leave, on grounds of marriage, sickness or some other serious reason, she signs a bond that binds her to secrecy till death. If anyone breaks it, they can be found. We have dossiers on all." The punishment for betrayal is death.
Apparently, Nagas are represented in their parliament, called Tatar Hoho, which is located in a church in the northwest part of Hebron. As we entered, we saw assembled members of parliament raising prayers for Naga unity.
The NSCN(IM) government is headed by a president. The post has been lying vacant since the death of Isak Swu, co-founder of NSCN. Then there is the vice-president, the octogenarian Khole Konyak, who left the rival faction of S.S. Khaplang to join Isak and Muivah last year. After Isak's death, the real power is wielded by prime minister Muivah, a Tangkhul Naga from Manipur, whose tribe dominates the NSCN(IM) leadership today.
Key officials running the government are the cabinet secretary and the kiokilonsers (ministers) running the kilo or home ministry, the finance ministry, the keye or defence ministry, the lota and horti ministry (agriculture and horticulture) and the eidangter (intelligence) bureau. Guarding these ministries, which function out of hutments scattered around the green and hilly campus of Hebron, is a security task force battalion (STF) stationed in CHQ.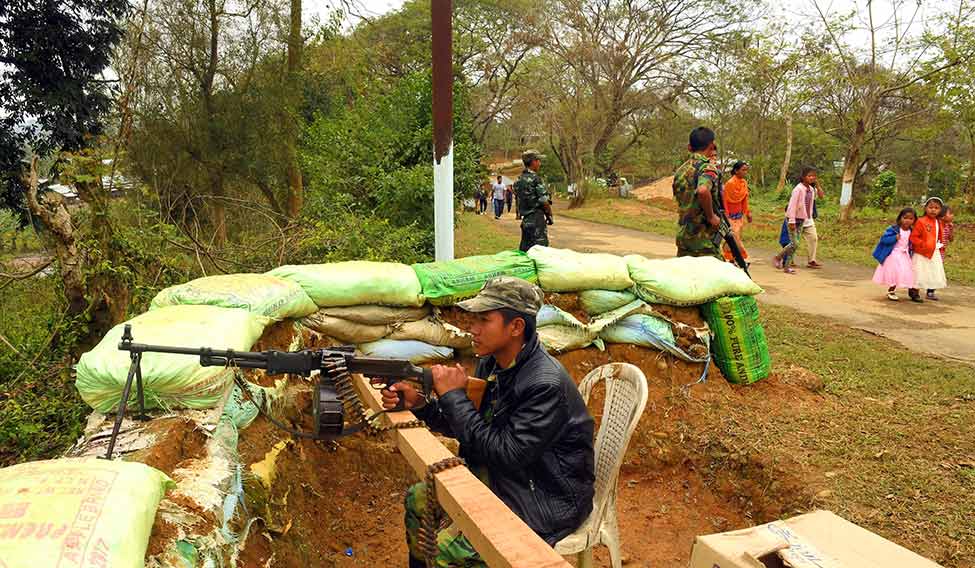 It was the home minister who had sent his men to receive us the previous evening at Hebron. From Dimapur airport, we had been driven through dirt tracks through thick tropical jungles. It had been drizzling, and we had been greeted by a group of ordinary-looking men, sitting on plastic chairs outside a hutment with a signboard that read 'Kilo Ministry'.
"My name is Akha Ho Asmi. I'm the home secretary," a tall, middle-aged man had said, welcoming us to Hebron. "I was calling you, you didn't take my call." Then he smiled, as if to make us feel at home. Kilo ministry is one of the 12 departments that make up the civilian headquarters of GPRN at Hebron.
Isak, it is said, had finally agreed to the terms set by the Indian government because he had realised his end was near and he wanted to see the dream of Phizo and the Nagas realised. But, that was not to be. Isak died on June 28, 2016, and, in deference to his memory, Muivah would not have another president till the dream of a sovereign Nagalim was realised.
The balance of power in the NSCN(IM) had always been tenuous, especially between the Nagas from Nagaland and the Nagas from Manipur. Isak, being from Nagaland, had been the balancing factor, and he had had an excellent working relationship with Muivah. But, as happens in most underground movements, factional and clannish feuds crept in. The Nagaland Nagas got suspicious of the Tangkhul Nagas from Manipur, who dominated the group. After Isak's death, the 17 tribes in Nagaland started feeling that if their voice was not heard at the right time, the Tangkhul Nagas would drive the peace accord in their favour.
The prayer for peace we heard in the parliament was heard everywhere on March 21. More than three decades ago, on the same day, Isak and Muivah had denounced the Shillong Accord of November 11, 1975, which said the Naga National Council would accept the Indian Constitution. Subsequently, the GPRN was formed on March 21, 1980. Their main aim was to establish a sovereign and independent Naga country by unifying all areas inhabited by Nagas in India and Burma, based on the Christian socialist spiritual outlook of 'Nagalim for Christ'. So, we were their republic day guests—sort of.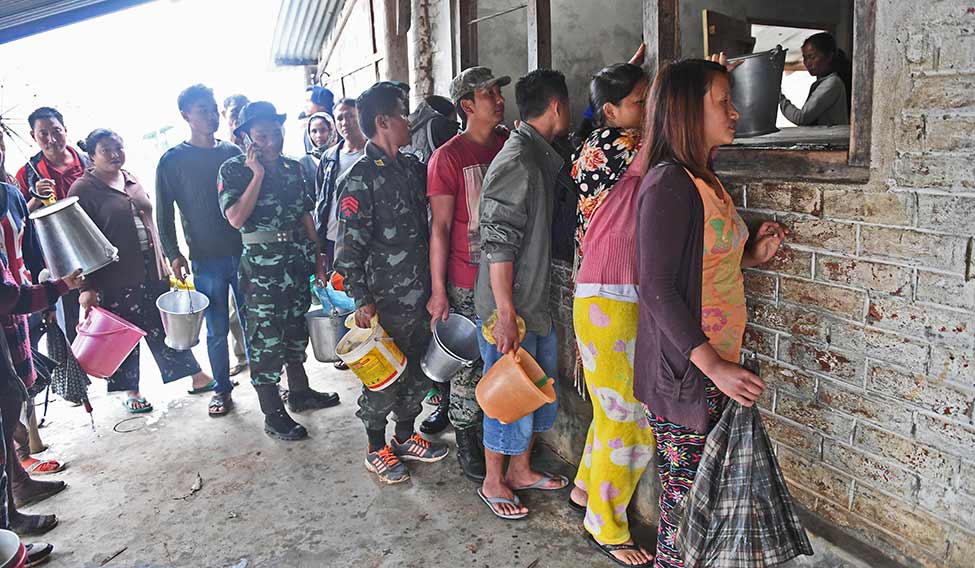 Nowadays, at every meeting, Muivah makes one plea—bridge the Manipur-Nagaland divide. In both open and closed-door forums, he warns the Nagas of self-destruction, of the NSCN unity blowing itself up almost like a suicide bomber minutes before he reaches his destination. As a gesture of peace and goodwill, the rulers of Hebron had invited all Naga groups to their republic day. Though the Khaplang faction boycotted the event, it did send a message of good luck and goodwill.
There are about 10,000 civilians in Hebron, and home secretary Asmi, who has been living here for 24 years, ensures that they get their daily ration—dal, rice and spices. Ration is distributed every day during fixed times in the morning and evening. Asmi's wife works at the health and family welfare department of the Nagaland government. "Don't you have differences at home?" I asked. "There are many like us. One member of the family works for the GPRN and another works for the Nagaland government, with the children studying in Mumbai, Delhi or Bengaluru," explained Asmi. "But all are committed to the Naga struggle. My daughter is doing MBBS in Bengaluru. She often asks me, 'Papa, why don't you retire?' I tell her I can't. My grandfather was the first general of the Naga National Army and I have spent my life serving the Naga nation. It is our life." I am reminded of Asmi's best friend, the education secretary, telling me about how they run schools and colleges to teach Naga history to the new generation.
In the camp, I was given a room in the girls hostel, which can be reached only after climbing rocks and crossing a dried stream bed. Aphi, 35, who had left home quietly to join the NSCN-IM 15 years ago, gave me her neat and tidy room. The wall sported two posters of Bollywood actor Katrina Kaif. "We have dinner at 6pm and lunch at 6am [there is no concept of breakfast; just two extremely heavy meals]. You can tell me your meal timings and preference. We eat rice and chicken or dal both times," Aphi told me as she went out to feed the chicken.
A young man with a rifle approached the brick-and-timber hut. He proceeded towards the chicken, which had hopped out of the bushes to peck at the grains that Aphi scattered. He crouched and took aim. There was blood on the wet ground. He picked up the bird by the neck and tossed it to the girls in the kitchen. "Will you have it with or without skin?" Aphi asked me.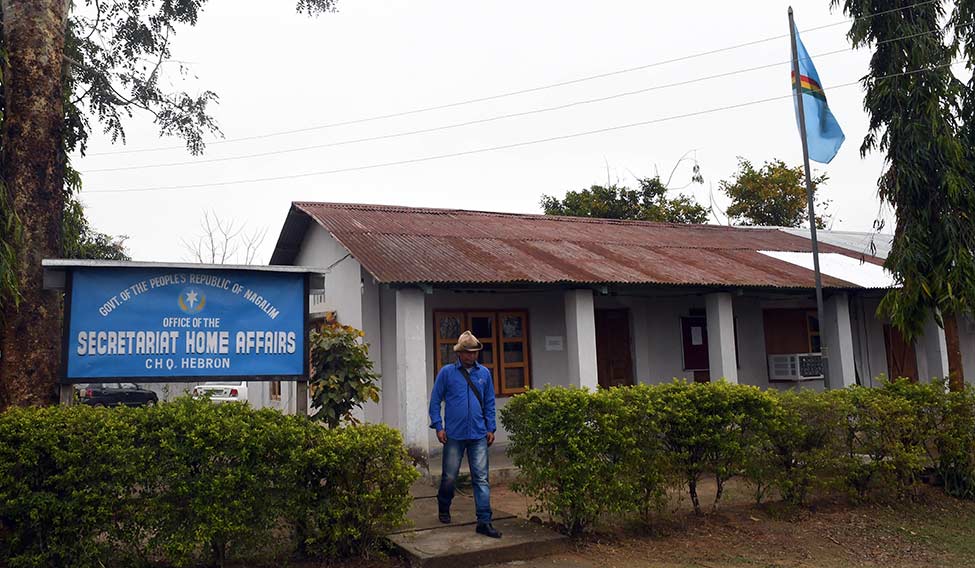 Everyone in Hebron can shoot. People who join Hebron, either as civilians or as part of the military, have to undergo a six-month training. They learn to use firearms, are toughened by getting beaten with sticks, are taught to survive in the jungle on berries and leaves, and learn guerrilla warfare before they choose between the CHQ or the GHQ. Every six months to one year, they have refresher classes.
We travelled 12 kilometres from the CHQ to reach the GHQ within Hebron, crossing a small village called Chandi. There were check-posts. The armed men apologised for checking my bag. "We didn't know a lady was coming. Our women soldiers are away," the sentry said, ushering us towards Anthony Shimray, an NSCN(IM) commander accused by the National Investigation Agency of being the chief arms and ammunition procurer for the group.
The NIA had arrested and charge-sheeted Shimray in 2010. The agency said he had struck deals with Chinese firms to secure sophisticated arms. In August, he was granted bail after the NIA chose not to oppose his plea, purportedly in the interest of the peace talks.
"Every now and then they arrest our cadres in the name of ceasefire violation," grumbled Shimray. Added General Shimrang: "We have not retaliated till date. When Jawaharlal Nehru said 'Even if the river turns red I will not give the Nagas independence', we decided we will continue fighting till the sun falls down. If the government of India think that its armed forces will bring about a solution, the Naga army is also ready. The Indian Army's human rights violations are horrific."
What about the GPRN's own human rights record? Did they have prisons? A civilian worker took me to the prison on a small hill. It had three cells secured with iron bars. There was a petty criminal inside. "He has been jailed for troubling the villagers and creating factionalism," said Aliza, the guard.
Yards from the jail, the Nagalim flag was to be hoisted for republic day. The camp was full of men, women and children. There weren't enough chairs. The local people had been allowed inside to attend the function amid heavy security. Many youngsters were seeing Muivah for the first time. Cooks had been brought from outside to give the crowd a grand feast of pork and rice.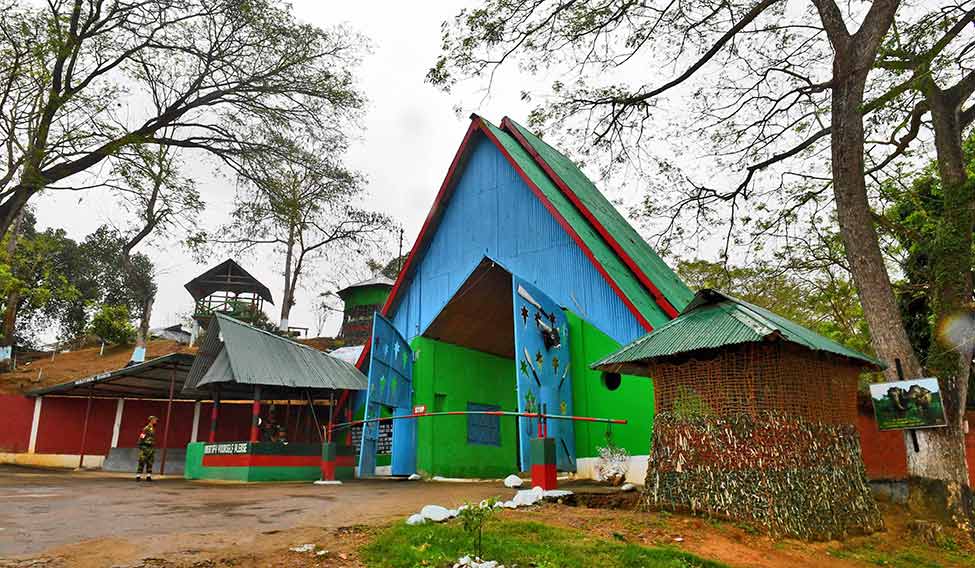 The air was thick with hope and expectation. Ikai Chishi, 18, had come all the way from Dimapur along with his pastor, 30-year-old Lovy Naga. Ikai's father is a trooper in the Indian Army. "I have a separate identity. I need freedom to express myself. I want to be free. Then we can all live as brothers and sisters," he said. "Are you a Naga or an Indian?" I asked. "I am both," he snapped. Most of the ordinary Nagas governed by the parallel government feel so. They said they had no fight with India, they were just separate. There is no hatred; there is even love. But, they are separate.
I realised this when I returned to Aphi's room the night before I left Hebron. She had just returned from a busy day at the finance ministry. The budget session was to commence soon and she had tonnes of paperwork. She took out some exotic leaves from a jar and made tea for me. "Where can I get these?" I asked her as the aroma filled the room. "These are not available here. My friend got these from Arunachal," she said. She then pushed the bottle towards me, and said, "These are yours".
Seeing my shoes were wet and dirty, she offered hers. They didn't fit. Then she quietly took away mine. Half an hour later, she returned with my shoes, cleaned and dried. "We dried them with our hair dryer," she said.
Aphi wasn't there when I was leaving the next day. I decided to leave a note. But, what to write? Wish her good luck in her mission? Could I, a patriotic Indian, wish good luck to a secessionist mission?
Finally, I did it. I wished her and her Nagas all success.