Uma Ganesan, 36, has been working in a garment factory in Tiruppur as an overlock tailor for the last 20 years. Her day begins at 4am. After completing her household chores, she goes to the knitwear factory where she works from 8am to 4pm―with only a 15-minute tea break in the morning and evening, and a 40-minute lunch break. Sitting at the sewing machine for hours is tiring, and sometimes she works overtime to help a colleague. "I used to get Rs45 per shift when I joined 20 years ago," Ganesan tells THE WEEK. "Now, I get Rs350." That day, she had stitched overlocks for 350 garments. "Even if I work very fast I can stitch for only 350 pieces a day," she says.
A few hundred kilometres away, Kalaiselvi Sundaram, 26, works at a spinning mill in Dindigul. Her routine is similar to that of Ganesan, but unlike her she earns only Rs4,000 per month. "There are more than 300 women who work with me. Only the supervisors here are men," says Sundaram.
Farther away, Valliamma, 56, is one of the 15,000 women employed in the salt pans of Thoothukudi. She earns Rs330 daily. Armed with her yellow pair of thick socks, Valliamma braves the elements every day to dry and pile the salt crystals, and then load them into a vehicle, along with her male co-workers.
Ganesan, Sundaram and Valliamma make up part of the largest women workforce in the country. According to data from the Annual Survey of Industries (2019-2020), Tamil Nadu accounts for 43 per cent of the 1.6 million women factory workers in India. These women work mostly in the manufacturing sectors―garments, knitwear, textiles, electronics, footwear and salt pans. Many of them are also in housekeeping. According to a study by the Diversity, Equity and Inclusion (DEI) firm, Avtar Group, which ranked 111 cities based on their social and industrial inclusion parameters towards nurturing a conducive ecosystem for women, Tamil Nadu ranks the best. Eight cities from the state― including Chennai, Coimbatore and Madurai―are among the safest places for women to work. "One of the reasons why Chennai has emerged as a gender-inclusive city traces back to the fact that the state has had very powerful women leaders driving the inclusion agenda through encouraging girls' education early on," says Dr Saundarya Rajesh, founder, Avtar Group. "Women's workforce participation in the state is 36.2 per cent, which is much higher than the national average. Chennai as an inclusive city is the culmination of years of effort by organisations, governments and women themselves, who have remained intentional in their pursuit of contributing to the country's GDP."
Dr M. Vijayabaskar, professor at the Madras Institute of Development Studies (MIDS) and a member of the State Planning Commission, adds that one of the reasons for the high participation of women in the workforce here is also the state's socio-economic status. "The social dimension in south India is completely different from the north," he says. "The education level of women in Tamil Nadu is relatively higher. We allow our women to go out to study and then to work. People live close to the factories which are decentralised. The transport infrastructure is also very good." He says the gender ratio in the manufacturing sector, particularly the garment industry, is unique to south India. Incidentally, the state also has the highest number of industries. As per the RBI's Handbook of Statistics on Indian States 2021-2022, Tamil Nadu has 38,837 factories, which are spread across various districts where mostly women work.
"The women are more accountable and responsible," says feminist writer Shalin Maria Lawrence. While women in the electronics sector are mostly between 18 and 24 years old, those in garment factories and leather industries are mostly middle-aged. Many of the women working in the salt pans of Tirunelveli and Thoothukudi are in their late 50s and 60s.
While safety, education and family conditions are major reasons for the women to work, the other important factor is the nature of the industry. In the weaving and spinning mills, for example, the atmosphere is very women-friendly. Another factor is that factories are spread across the state and there are women-friendly growth centres across all districts, even backward ones like Dharmapuri and Krishnagiri, says Vishnu Venugopal, CEO of Tamil Nadu's Guidance Bureau, which is the state government's nodal agency for investment promotion and facilitating single window approvals for industries.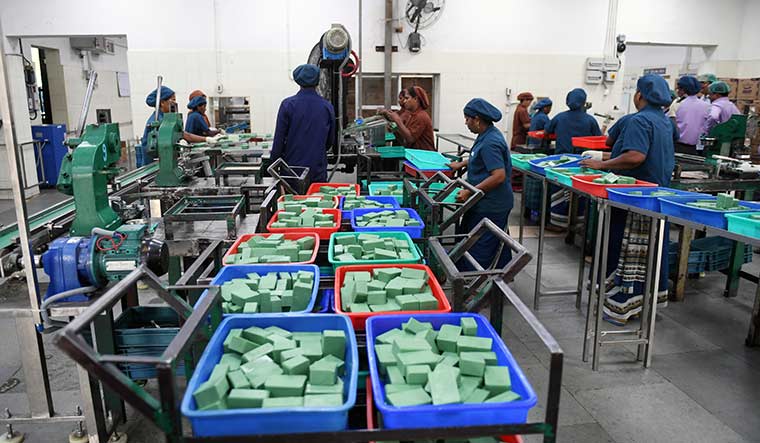 Apart from these, new-age factories in the technology, electronics and automobile sectors in the Sriperumbudur region―like Nokia, Foxconn and Hyundai―employ women in large numbers. "In the automobile sector, it is because of the women friendly set-up and the availability of transport and accommodation," says Vijayabaskar. For Jayasudha Raja, 22, who works in a mobile phone assembling unit in Sriperumbudur, the accommodation, food and transport provided by the company help her save money to send back home. "It is a very small amount. But it supports my family living in Tiruvallur and contributes to my brother's education," she says. "We are provided with hostel-like sheds to live in, but I am happy because of the money I am able to save."
The policy interventions by the state government have also helped the women. For instance, the free bus pass offered by the state government helps women like Muthumaari Saravanakumar, 41, who works in a leather factory in Madurai. Saravanakumar travels 35km daily by bus from Melavalavu to Madurai town for work. "My salary is just 06,000 per month," she says. "I was spending nearly 070 for commuting from home to work daily. But now the free bus ride helps me save this money, with which I can buy vegetables and groceries."
Until four years ago, Saravanakumar was happy as a homemaker taking care of her daughter. But everything changed overnight when her husband, a former cab driver, died in a road accident just days before the pandemic. There was no one in her family to help her. But now, her job is her lifeline. "I do many hard tasks," she says. "Actually, the men around me who do the same tasks earn more. But I don't want to fight, as I might lose this job if I do." She manages to make ends meet through loans from the self help group she is part of. The scheme that gives free bicycles to girl students, instituted during chief minister Jayalalithaa's tenure, also helps. "My daughter is in class 12," says Saravanakumar. "She still uses the cycle to go to school."
But these policy interventions and socio-economic indicators might only be the band-aid for a bigger problem, say experts―the huge pay disparity and gender discrimination. "This is universal and we cannot single out one particular industry or region," says Sujata Modi, president of the garment and fashion workers union. "This is because of an underlying patriarchy covertly prevalent at all levels of society." According to M. Chandra, the programme manager at Vizhuthugal, an NGO in Tiruppur that works among women workers in the garment factories, the pay gap is huge in the knitwear segment. The men get between Rs450 and Rs550 for 12 hours of work, while the women get only 0350. "They say the women are not capable. But the women can stitch 350 pieces in 12 hours, the same as a man," says Chandra.
In fact, many women like Renuka Palanichamy, 36, who used to work in a knitwear factory as an overlock tailor, quit their job because of the pay difference. "My husband and I were working in the same factory and doing the same work. I was paid a daily wage of Rs350, while he got Rs550. So, I quit the job and now I do piece checking at home, for which I get the same amount per day," says Palanichamy. She gets 400 to 500 finished garments every day from a nearby factory and she has to ensure the quality of stitching, check for damages, fold them neatly and then send them back to the factory. "I get 50 to 60 paisa per piece. If I check 600 pieces I get the same money I am paid in a factory. I need not do the hard tailoring job," she says.
Chandra is also concerned about the health of the women. She says that women in the textile industry who spend long hours standing or sitting could develop menstrual trouble, for which they do not get any help. She recalls the story of a 34-year-old woman who came to their NGO recently for help. "After the pandemic, she gets work only once or twice a week and gets paid a measly Rs700 per week. Her husband died recently. She has much debt. But now, because of menstrual issues, she is not able to sit or stand for long hours. She cannot afford treatment. This is the condition of most women. They won't get support from the factory management except for one day's leave," says Chandra.
The other aspect is that the number of women in vocational education programmes and training institutes is much less compared with men. These programmes should be integrated with secondary education so that the women are better skilled, says Lawrence. This can help them fight for their rights. Despite all their difficulties, these women are entering the workforce in large numbers, wanting independence and financial security for themselves and their families. Now, it is our job to ease the path for them.