Sharmili Kemprai can kill for food. One night at the rehabilitation camp at the Khadi Gram Udyog Vidyalaya in Assam's Tamulpur district, she and her two dozen friends―surrendered militants―were served vegetarian food. Sharmili, 23, caught hold of the cook. "If you serve me vegetarian food one more time, I will kill you right here,'' thundered the petite and strong girl who has been trained to wield AK-47 and M16 assault rifles.
Her younger brother and parents live in a poverty-stricken neighbourhood of Dima Hasao district, formerly North Cachar Hills. The hill district has been a hotbed of insurgency. Traders of blood like Etika Diphusa, leader of the Dimasa National Liberation Army, a relatively new militant group, had been using misguided youth to keep the pot boiling in the northeast.
Sharmili fit the bill perfectly. A class seven dropout, she was fiery and adventurous. She has no idea what she was fighting for; she was simply angry. She is among the hundreds of women militants who were being used by various small outfits like the DNLA, the People's Democratic Council of Karbi Longri, the National Democratic Front of Bodoland and the United Peoples Liberation Army to add to the headache of successive governments.
These groups recruited gullible women from villages by putting social and economic pressure on them. They were then trained in guerilla warfare. That way, any military retaliation could be projected as an assault on the vulnerable sections of society. This strategy―one of the lesser told stories of the northeast insurgency―has been aided and abetted by inimical cross-border elements.
But, these stories came to the fore thanks to the first batch of surrendered women militants. The DNLA announced a ceasefire in September 2021. This led to en masse surrenders, in batches. In December 2021, 67 DNLA militants surrendered with a large cache of arms and ammunitions―Sharmili was among them.
"I know I have to fight a war," she said. "Etika, our chairman, had asked us to join and we do what our leader asks us to do. I don't know why we are fighting, but I am good with weapons." She added with a smile that she had "killed 20''. Sharmili seemed unaware of the consequences of her claim. When asked why she surrendered, she retorted sharply: "I have not surrendered. This is only a cease-fire.''
She does not realise that a return to the jungles can cost her her life. At the Khadi centre―a symbol of peace and self-sufficiency―she has the opportunity to learn a trade. This is for the first time that the Assam government is focusing on rehabilitation of women militants by teaching them skills.
The more mature women at the centre appreciate this better than Sharmili. They are tired of battle and understand the real meaning of freedom. Priti Milickpi, 30, belongs to the UPLA and has handled weapons like AK-47, AK-56 and M16, while training in the jungles of Karbi Anglong. She surrendered with 476 other cadres in September 2021, after five insurgent groups―the PDCK, the UPLA, the Kuki Liberation Front, the Karbi Longi NC Hills Liberation Front and the Karbi Peoples Liberation Tigers―signed the historic, tripartite Karbi Anglong Agreement with the Centre and Assam. "We were living in the jungles, afraid of being killed by security forces," said Priti. "After coming over ground, I realise what true freedom is." She wants the violence to end. "I hope we all are convinced about this freedom,'' said Priti, whose husband died fighting for the UPLA, leaving her with four daughters and a son to raise.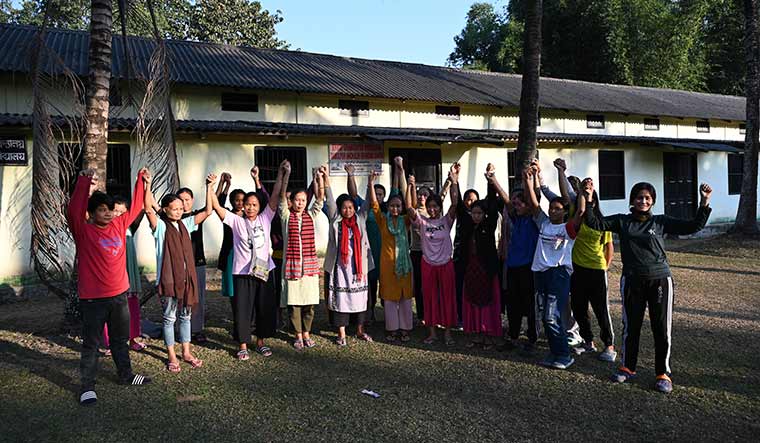 Lelima Terrangmi, 37, of the PDCK, understands why Priti picked up arms. "I joined PDCK in 2003, but I left it and got married," she said. "My husband is in the Assam Police and my daughter is in class nine. But, in 2018, the village elders told me to join PDCK again to help the cause. I felt threatened and joined, only to surrender in 2021. I want to go home after I finish this training.''
PDCK militants Bibieng Tipi, 21, Nohu Terrangmi, 20, and Jeuti Ronghangpi, 19, have found a mentor in Jeena Terangpi, 35. "I joined the group during Covid-19 because I needed money," said Jeena. "Former NDFB commander [I.K.] Songbijit started PDCK. We were promised money, but it wasn't given. Now, at least the government has given us a surrender package with skill-training.''
Dulal Kumar Saha, principal of the Khadi Gram Udyog Vidyalaya, said the Khadi and Village Industries Commission schemes and programmes have been designed for militants for the first time and it has become so popular that the Centre is considering expanding its reach.
Pankaj Yadav, SP, Tamulpur, said: "There is no violence in this region today as all the groups have either surrendered or are in cease-fire.'' In fact, Union Home Minister Amit Shah recently removed the "disturbed areas'' tag from West Karbi Anglong district, making 60 per cent of the state free from the draconian Armed Forces Special Powers Act.
It is a long road ahead for the surrendered women guerrillas. But, they will have money in their bank accounts and a new skill to make the journey easier.