Bhaskar Jyoti Mahanta was issued a death warrant by ULFA, a few years after he joined the Indian Police Service in 1988. Subsequently, the dreaded National Socialist Council of Nagaland (Khaplang) also issued one. Instead of deterring him, this made him vow to break the backbone of the outfits. Today, he has in his grip Drishti Rajkhowa, second in command of the banned ULFA (Independent) and close confidant of Paresh Baruah. In an interview with THE WEEK, Mahanta talks about Rajkhowa, the decline of ULFA and the new threats emerging in the northeast. Excerpts:
Q Why are militants in Assam surrendering en masse?
A combination of factors has led to the closing of terror shops. There has been tremendous pressure from security forces and the Assam Police have hit them where it hurts most, like cutting the economic supply chain from Myanmar. Our appeal to the cadres to come out and lead a better life has also attracted them a great deal. The rehabilitation policies of the Centre and the state have given hope to misguided youth. The political acumen of the current regime has also expedited the matter.
We liaised with an intersection of groups by holding secret meetings at undisclosed locations under the most trying circumstances. It finally led to a set of broad agreements and the government took a final call. Accords have been signed with the Bodo groups, including various factions of the National Democratic Front of Bodoland (NDFB), whose entire top leadership has either been arrested or has surrendered. This was unthinkable just a few years back. The ULFA threat is also almost over and whatever is remaining is being managed well. There are signs that ULFA will have to come on board sooner than later.
Q How big is the arrest of Rajkhowa?
ULFA has been dealt a mortal blow with Drishti Rajkhowa coming over. Its entire network in lower Assam, influence pockets in neighbouring states such as Meghalaya and the all-important route to Bangladesh have been wiped away with his surrender. It will never come back as Drishti used to secure the route to Bangladesh. Despite the current Bangladesh government not being friendly to ULFA, Drishti had friends in high places. That network has been dislodged now. Also, our humane treatment of Drishti and his family has sent a positive message to the rank and file of ULFA.
Q Do you have hopes of bringing Paresh Baruah back to India as well?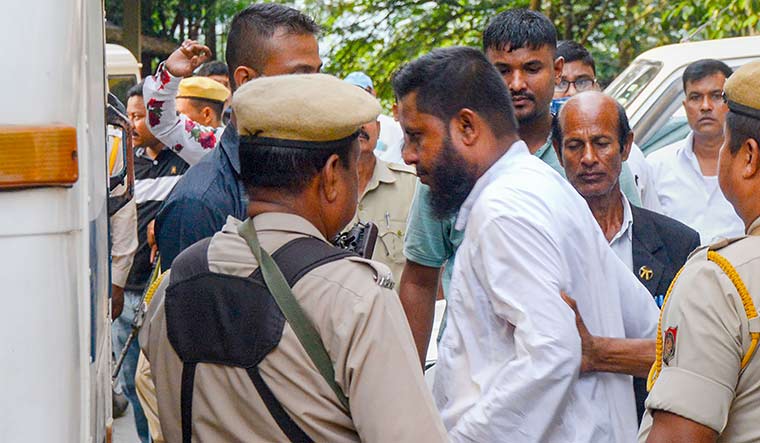 We always have hope. We never thought in our wildest dreams that Drishti will come over, but he has and so have a whole lot of others. So there could be a day when Paresh Baruah comes. He is welcome and I am sure we will treat him with the respect he deserves.
Q Has there been a forward movement with Paresh Baruah?
There has been both forward and backward movement. ULFA had declared unilateral ceasefire for some time, which is a solid positive; but then it broke the ceasefire, which is a solid negative. It has been good and bad. However, ULFA's strength has declined. It cannot strike the way it used to. If we gather information about ULFA gathering somewhere with weapons, we will not spare it. ULFA knows me quite well, but that is another story for another day.
Q What is more important―killing militants in encounters or rehabilitating them?
Surrender and rehabilitation are mostly the outcome of sustained aggressive counter-insurgency operations. You have to hunt them relentlessly... and not start negotiations right at the beginning. You want to negotiate from a position of strength. We have brought them to a position where they are not strong enough to carry out an armed struggle. [After that] we initiated discussions broadly resulting in three outcomes―surrender, ceasefire and peace talks.
Q How do you see the security situation in southeast Asia as far as national security is concerned?
The situation in Myanmar is a quagmire, to be honest. There are reports that some of the northeast insurgent groups are being used as cannon fodder in the ongoing fight between the Tatmadaw (Myanmar armed forces) and various ethnic armed organisations as well as the People's Defence Forces (armed forces against the junta). There is a refugee crisis brewing in states such as Mizoram, Manipur and Nagaland as people have crossed over to escape the violence. Myanmarese kingpins are known to have pacts with northeastern insurgent outfits and others to leverage the narco-terror nexus. Our neighbours (China and Pakistan) will be happy to keep India in a difficult position. The historic and cultural ties with Cambodia, Thailand, Malaysia and Indonesia need to be leveraged to further the already commendable soft power influence we have. Bangladesh is a great example.
Q What are the new threats to internal security in the northeast?
The busting of several modules of Ansarullah Bangla Team (ABT)―a banned terror organisation in Bangladesh―in Assam and other parts of the northeast and mainland India is indicative of Al Qaeda in the Indian subcontinent (AQIS) making much headway. From Daesh's (Islamic State) standpoint, its India chapter has started publishing its fortnightly periodical in Bengali. We are interfacing with religious leadership to bring reforms to the education system, especially in Qawmi madrassas. They also do not want terror groups in Assam.
Q Many Popular Front of India arrests were made in Assam with the Centre banning the outfit. How big is the threat?
The PFI leaders were very smart. They tried to create a secular facade and would try and stay on the brink of legality without actually tripping over to the other side, overtly. However, our intelligence folks managed to make some high-level ingresses into the covert side of PFI. We got actual details of their designs to establish Sharia (Islamic) rule by 2047.
Subsequently, we went for a crackdown―all the key leaders are now in jail. However, the PFI has initiated a large-scale radicalisation process in the state. We need to pursue our de-radicalisation programme with great zest to counter the longterm threat from the PFI and its sister concerns.
Q How big is the concern of illegal migration from Bangladesh and law and order problems caused by resistance to the National Register of Citizens?
We are fully in control. I do not think it is going to be a big problem.
ULFA(I) leadership
CHAIRMAN AND PRESIDENT OF SUPREME COUNCIL
Gen Paresh Baruah
SUPREME COUNCIL MEMBERS
Lt Gen Maikel Deka Phukan, Maj Gen Nayan Medhi
HIGH COUNCIL
Maj Gen Nayan Medhi (president), Brig A.Z. Hironam Asom, Brig Arunodoy Dahotiya
LOWER COUNCIL
Maj Gen Nayan Medhi (president and organising secretary), Brig A.Z. Hironam Asom (vice president), Brig Arunodoy Dahotiya (general secretary and finance secretary)
OTHER KEY LEADERS
Dr Amlan Asom (in charge of foreign affairs and publicity), Salim bhai (special handler of weapons)