Q Did you ever think you would surrender?
I have not left ULFA(I). I still belong to the organisation, but I have surrendered. I had never thought I would be disloyal to my organisation and quit the revolution midway to return to normal life. The circumstances left me with no choice.
I was hiding in no man's land between India and Bangladesh―neighbouring Meghalaya―after eight years of struggle to survive the tough operations of the Indian Army, Special Force 10 in Meghalaya (elite force created during the height of insurgency) and other agencies, and on the other side by Bangladesh special forces and border guards. I had several close shaves with security forces between 2011 and 2016, but I managed to escape.
One night, I was in one of the ULFA hideouts near the border pillar in no man's land (from where they used to infiltrate into India). I had not eaten for seven days and we got information that we had been spotted. For three days, the forces had tracked us intensively. Soon, we got information that many vehicles were coming as some senior Army commander was visiting. But I realised the deployment was for us. There were two choppers and around 15 vehicles; we were surrounded. I even thought of committing suicide as I felt the torture I might face was not worth it. But then I was told I could surrender.
Q What about your wife and children?
My wife, Lilla D Marak, is a trained ULFA militant. We got married as per the organisation's procedures, taking an oath that our first commitment would remain towards ULFA. Chief sir (Paresh Baruah) attended my wedding. Since then, my wife has been staying with chief sir's wife (Bobby Bhuyan Baruah) in Dhaka. She is like a mother to my family. In 2019, my wife fell sick and needed urgent treatment. She has family in Meghalaya. She crossed over to India on February 20, 2020, days after her biopsy report in Dhaka confirmed that she had cancer. Chief sir offered to arrange an Assamese doctor for her in Mumbai. But after she entered the country, ULFA pro-talks leader Anup Chetia received her and took her to Guwahati for treatment. My son and elder daughter remained in Bangladesh. They were going to school and she (Baruah's wife) was taking care of them. I knew I could never go back to Bangladesh, and for how long would I survive on the border? So, I conveyed to the Indian side that I was willing to surrender if the security forces would give me safe passage to meet my wife and care for her.
Q Did Paresh Baruah discuss other options before you surrendered?
When I suggested we shift base as it was becoming difficult to operate in the face of intensified operations, he said I could escape to China. The journey would take 15 days crossing land, water and mountains. But because of the Rohingya refugee crisis in 2015, the borders were sealed or heavily monitored. I crossed over into Meghalaya in 2018. Once again, I escaped being shot at in a close encounter with Indian forces and returned to Bangladeshi territory, where I got stuck in no man's land. The Bangladesh forces torture Indian militants who are caught. The conditions of jails is so bad that survival becomes difficult.
Q How many ULFA shelters are there in Bangladesh, Bhutan, Myanmar and China? What is the strength of ULFA today?
There were at least eight camps in Bangladesh and five in Myanmar. But, after my surrender many left Bangladesh; I do not know the current status. There were hideouts in Bhutan, too, but I do not know the present situation. I know that ULFA (I) has a base in Yunnan province of China; the main leadership is there. It also has camps in Myanmar and east Nagaland, where it has joined forces with other insurgent outfits (National Socialist Council of Nagaland factions) who have their base there. At the moment, more than 1,000 ULFA cadres are operating in the region.
There is recruitment happening every year from various places. Earlier, there was a system of physical recruitment only, but now there is online recruitment through WhatsApp and Facebook. I do not think it is very successful, but it has got some traction. It is possible that ULFA can start a new system of recruitment that intelligence agencies cannot detect.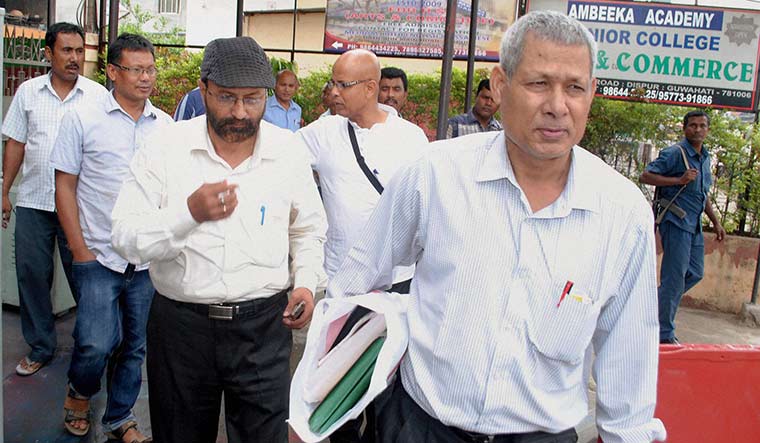 Q You belong to the first batch of ULFA members trained at the Afghanistan-Pakistan border. Can you share some details?
I first underwent basic training in weapons, demolition techniques and wireless operations in Burma in 1989, for around five years. Then I returned to Assam and went to Bangladesh in 1995, where S.S. Khaplang of the NSCN had a strong foothold. They gave ULFA its first training in using wireless equipment as they had some engineer cadres. In June 1995, I was sent to the Afghanistan-Pakistan border, where we trained for three months. We were a group of eight, including six from ULFA and two from All Tripura Tiger Force (ATTF).
From Bangladesh, we flew to Karachi and from there we were taken to a safe house of the Pakistan's Intelligence Bureau. We then went to Islamabad, from where it took us six to eight hours in a Land Cruiser to reach the training area close to Peshawar on the border. The chief instructor was Colonel Ayub Khan, a highly decorated officer, and there were lieutenants and second lieutenants and some non-commissioned officers of the Pakistan army. Turbaned Afghans and a Malaysian trained us.
Q What kind of training were you given in Pakistan?
We were trained in sophisticated weapons like the AK series, Chinese-made light machine guns, sniper rifles, 60mm mortars, rocket launchers, rocket-propelled grenades (RPG 7, RPG 2), and in aerial attacks. We were trained in different attack techniques like urban warfare. The aim was not only to attack security forces and vital installations, but to also create fear without using bullets. This included training in attacking thermal power plants, and cutting off electricity and water to make the lives of ordinary people difficult. It also included poisoning of water bodies, cutting off communication and ration supplies, and even smaller techniques like creating an accident to ensure there is a public gathering, and creating law and order disturbances at multiple locations. When the police forces would come, a few of them could be bumped off in an ambush. The training focused not just on attacking security forces.
Q You belong to ULFA (Independent), which has still not come forward for talks. Do you think there could be talks?
I cannot say for sure. The creation of ULFA and the revolution it has carried out for decades is not on baseless grounds. It has a social responsibility, a historical background and genuine concerns based on which the movement began.
The Centre's treatment of the northeastern people created a feeling of alienation and despair; they felt there was step-motherly treatment. Their rights were taken away and many senior politicians did not care about their development and problems. The people were forced to raise their voice against the atrocities and began peaceful political protests. It is only when they did not achieve anything and faced more torture and deaths that ULFA was created. The genesis of ULFA was not to fight the Indian government and security forces, but to defend the people and ensure their safety and security. We demanded our rights and did not want to be killed like animals.
Q So has ULFA not achieved its objective?
It is for the freedom of the people of Assam that ULFA was born. To have the freedom and power to run our lives is not a bad thing. But the youth is different from that of the 1980s and 1990s. From 2010 onwards, there has been a complete development thrust in the northeast and I do not aspire to sit separate from India. Instead, we can together improve the lives of the people in Assam. This is the predominant thought of the youth today. This is the reason the Centre, the state government and ULFA (pro-talks faction) are sitting together to find a solution.
Q You were second in command to Baruah. Has the government asked you to bring him on board for talks?
Paresh Baruah sir has never said that he will not come forward for talks. But the core reason for which ULFA was formed has to be on the table. Whether we get sovereignty or not is another matter, but it has to be brought to the table for talks to begin. This is important for us as an organisation because it is only for this reason that so many lives have been sacrificed.
Q But the government has made it clear that talks and terror do not go hand in hand. Is ULFA ready to give up violence?
This is the strategy of the government. Even the organisation has its own strategy. But if both find a meeting point, it will be fruitful.
Q Have you spoken to Baruah after you surrendered?
Yes. He asked me what the Indian security forces had asked about him and what I had told them. He wanted to know what the government was offering and whether I had gotten a house to stay. I told him honestly that no one spoke badly about him and that they had asked about his whereabouts and future plans. I told him that I had conveyed to the Indian establishment that if the core issue is discussed, he would be ready to talk. I have also conveyed to them his thinking―if we are able to convince our point of view on Assam's sovereignty, we can take it forward. If we have a weak argument, we can find a middle way. But, at least bring it to the table. There have been many revolutions in the world and solutions have been found. So, it is not impossible.
Q Has ULFA thought of a middle path?
Chief sir is aware that the government will not hold talks with ULFA outside the ambit of the Indian Constitution. On the other hand, ULFA cannot drop the core issue of sovereignty. This has created a stalemate. To break this, both sides need to have a re-look at their policies. It is a fact that amendments have been made to the Indian Constitution keeping in mind the aspirations of people from time to time. There have been instances when the government has sent its private emissaries to hold background talks in secret locations in Paris, Bangkok and Amsterdam with the NSCN(IM) leaders, away from the public eye. That is how most discussions are held before formally sitting face to face. Why can that not be done in this case?
Q Baruah is in China's Yunnan province. What kind of support is he getting?
It is not possible to operate in China without sovereign support. There must be some state support. I am not aware of the details today, but it must be fine. However, earlier, there was a lot of cross-border support; for example, in Bangladesh, where we used to operate freely. Now it has become difficult there. Similarly, the areas of operation have shrunk in China as ULFA's strength has reduced. The BJP government in Assam is assuring people that it is trying to find a solution and bring peace. This time, we hope the government is able to bring everyone on board and move towards long-lasting peace and develop a new Assam. Even chief sir has welcomed the move.