For journalists covering the Reserve Bank and its post-credit policy conferences for the past three years, it was always a certainty that, if not the policy itself, its author Raghuram 'Rockstar' Rajan would drop a gem or two worthy to make it to the front page next day. Another certainty at these conferences, though not many people noticed it, was whenever a question on the macroeconomic scenario popped up, the RBI governor would turn his head and his mic towards his left for Urjit R. Patel, deputy governor in charge of monetary policy, to field it.
What Patel said rarely, if ever, made it to the first few paragraphs of news reports. Never mind that his CV was just as impressive as Rajan's—a thick blend of academic and professional achievements.
The reason why not many people knew till recently what this doctorate-holder from Yale University looked like is simple. Patel does not make it easy for you.
Each time he fielded a question, he would stick to technical terminology, which sometimes reminded one that it was a complex mix of circumstances the RBI was dealing with, and, at others, simply reiterated that the Central bank was data-dependent (and so should you be).
It did not help that, in his 43-month stint as deputy governor, he gave just two speeches and one interview. But if that made you assume that Patel is a bland technocrat lacking the opinionated swagger of his boss, you would be misled.
Evidence of Patel's strong views on the economy is sprinkled throughout his written work. Sample this bit from Dynamics of Inflation Herding: Decoding India's Inflationary Process, co-written with Gangadhar Darbha: "A senior (and serious) official earlier this year described six per cent annual inflation as 'comfortable', and 'quiet [sic] acceptable'— comfortable and acceptable to whom? Is the suspension of long-standing sound, conservative, inflationary targets temporary, or, is this the new 'normal'?"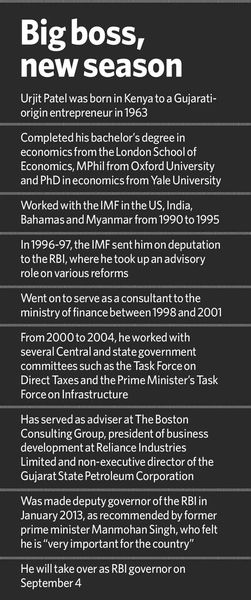 Coincidentally, 6 per cent is the upper limit for inflation the RBI will have to strive to maintain in the quarters ahead. It is also a mark the last consumer inflation reading has been dangerously close to.
With someone who has so unequivocally defined his stand on inflation coming to the helm at the RBI, the clamour for rate cuts is likely to be reduced to a whimper in the days ahead. In that sense, Patel's appointment attests continuity and the efficacy of Rajan's policy actions.
Inflation, however, will not be the only challenge for Patel. An ongoing task with which he has not directly been associated is the clean-up of the books of public sector banks, which have come under pressure of late because of bad loans.
"The good thing that has happened under Rajan is that banks have come out of denial mode, and we now at least know the size of the elephant in the room," says Abhishek Bhattacharya, director and co-head for financial institutions, India Ratings & Research, Mumbai. "The bigger challenge now is to deal with some big accounts on a going-concern basis, rather than the gone-concern approach which has so far been followed. These are accounts with viability and the cash flow may come in the next 15 years... and they will have to be approached accordingly."
Bhattacharya suggests that banks may need some hand-holding and the system will have to be made accommodative enough to allow haircuts, if required, at the borrowers' and lenders' ends.
There is also the issue of capital crunch and low credit growth at the banks. They will have to be reversed, without letting inflation spiral out of control. New-age enterprises such as payment companies and loan aggregators could help intensify the process of disruption in the financial services space. Here again, says Bhattacharya, the RBI will have to "walk the tightrope between being an enabler and a regulator".
"In the midst of all this, am sure the RBI will remain watchful of the global market context," says Ananth Narayan, regional head of financial markets (ASEAN & South Asia), Standard Chartered Bank. "Global growth continues to be a question mark, global yields are at historic lows, and vulnerabilities abound. While India's macroeconomics look relatively strong, we will unlikely be immune to global events."
A subject on which Patel seems to evoke some trepidation is that of liquidity. He is believed to lean towards a liquidity-deficient system, while the RBI has recently assured the markets that it will work to maintain neutral liquidity. The market players, however, are holding their horses for now.
What about the original question of communicativeness? While it is a fact that some of Rajan's statements had irked the government, communication is one of the important tools of policymakers the world over. You have the example of the US Federal Reserve's 2003 statement on maintaining the flow of cheap money for a "considerable period"—words that may forever be remembered as the harbinger to the crisis that blew in the world's face in 2008, and continues to haunt it.'
Not everyone is unduly bothered, though, about Patel on this count. "That's (communicativeness) got nothing to do with sound monetary policy, and has limited bearing on how effective he will be as a governor," opines Sunil Sharma, executive director and chief investment officer, Sanctum Wealth Management, Mumbai. "My experience has been that the manner in which the message is communicated is not as important as the content and strategy being communicated."
For now, people are waiting for the RBI's October credit policy statement, which may offer a glimpse of what to expect. That policy will be the first ever to be decided by a monetary policy committee, rather than by the governor alone. But continuity will be the name of the game here. As Narayan says, "After all, his own committee report laid down the new monetary policy framework, with its focus on CPI targeting. This continuity will comfort global investors and economists."