In the United States today, hardly a day goes by without Donald Trump blaming his indictments, in a total of 91 state and federal criminal counts, as "election interference." The way he puts it, "the criminal Biden administration is prosecuting me because they can't beat me in the polls." 
Americans are buying what he is selling. A Wall Street Journal poll shows Trump and Biden tied at 48 percent support. Trump may win again, and if he does, we might be witnessing the last days of American democracy.

Here's how: Trump would be unlikely to peacefully leave office if elected again as President. It is essential to acknowledge that Trump's bid for the presidency in 2016 and his subsequent reelection campaign in 2020 were punctuated by legal challenges, investigations, and allegations of wrongdoing. 
These included accusations of obstruction of justice, abuse of power, and financial improprieties. As his first term neared its end, it became increasingly clear that Trump's tenure in the White House provided him with a level of immunity from prosecution that he would not enjoy as a private citizen.

In that context, as the 2020 elections neared, Trump began an attempt to secure his reelection by cutting the legs off his most-likely and strongest challenger, Joe Biden.

It is the stuff that caused the first impeachment of Trump. He demanded that Ukrainian President Volodymyr Zelenski start an investigation into Biden's son Hunter and his lucrative contracts in the country. Trump went as far as withholding congressionally approved aid to Ukraine. But Trump did not stop there. He began to sow seeds of doubt about the legitimacy of upcoming election results without ever providing any evidence to support it. 

"Common sense," was what his then-Attorney General, now-critic Bill Barr told CNN's Wolf Blitzer, when asked about evidence of upcoming voter fraud. As the elections neared, Trump pumped up the volume on allegations that the election would be stolen. Claims that it was stolen began on election night, when it was evident he lost the election. 

Trump then began a desperate series of frantic trial-and-error searches to find a reason to void the election results, actions that devolved into stoking flames of violence and insurrection leading to the January 6, 2021, attack on the US Capitol, demanding that vice-president Mike Pence not certify the results.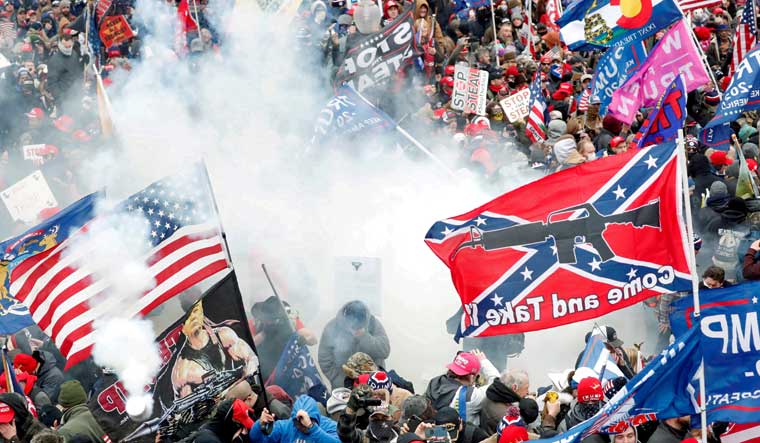 Trump put so much pressure on Pence without result that a frustrated Trump then turned Pence into the enemy. His supporters broke into the capitol "Hang Mike Pence!" and erected a gallows outside. It would later come out in testimony that when indicted co-conspirator John Eastman explained his legal theory to Trump lawyer Eric Herschmann, Eastman inadvertently revealed the ultimate goal of the maneuvers.

"Are you out of your effing mind?… You're going to turn around and tell 78-plus million people in this country … this is how you're going to invalidate their votes, because you think the election was stolen? And I said they're not going to tolerate that. I said you're going to cause riots in the streets." Herschmann said he told Eastman. 

He then related Eastman's reply: "There's been violence in the history of our country … to protect the democracy or protect the republic." 

Violence was the goal.
On Jan. 3, 2021, Trump offered environmental lawyer Jeffrey Clark the job of Attorney General, replacing Barr for his reluctance to follow illegal orders. 

According to court records, Clark was then told that "there had not been outcome-determinative fraud in the election and that if the Defendant remained in office nonetheless, there would be 'riots in every major city in the United States."

Trump indictment documents say that Clark responded, "Well... that's why there's an Insurrection Act."

That, there, is what is at the heart of what Trump wanted.

The Insurrection Act allows a sitting US president to deploy the military and National Guard units in states where there is unrest or rebellion as a response to civil disorder. With troops on the streets, Trump would then have been able to remain in power beyond the expiration of his term, on January 20, 2021. 

It was obvious at the time that Trump was aware that the presidency effectively granted him a temporary sanctuary from the legal scrutiny he faced. He collected a second impeachment but failed again to find a way to stay in power. Chagrined, he skipped the traditional ride to the capitol with the new president for a peaceful transfer of power.

Fast-forward to 2022. With gathering investigations and imminent indictments Trump then moved to upend the system and announced his candidacy earlier than any other presidential candidate ever on June 5, 2022 for the 2024 election. The move allowed him to claim all legal action against him to be "election interference."

In effect, Trump was throwing his criminal defense strategy into the presidential election, breaking the rules of what had been a 233-year-old orderly process.

But it backfired on him. US Attorney General Merrick Garland immediately distanced his department from any legal action against Trump by appointing the chief prosecutor at the International Court in The Hague Jack Smith as independent special counsel, making him independently responsible for overseeing two pre-existing Justice Department criminal investigations into Trump's actions.

In trying to escape prosecution -seeking the presidency as a way to avoid prison and accountability- Trump encountered prosecution in the very path where he sought refuge. His candidate status triggered action resulting in from investigations that may have otherwise dragged on for years. 

Whereas in Brazil former president Jair Bolsonaro has been banned from office for 8 years for similarly falsely claiming fraud in the elections, the American system guarantees everyone the right to lie and further allows a man so accused, indicted even, to run for the president.

If he wins, he will have the power to stop all federal investigations against him and even pardon himself, thus avoiding all accountability or legal peril while he is in office.

Now, the immunity offered by the presidency would once again expire with his departure from office. This means that as soon as he relinquished the presidency after his four-year term, Trump would once again be subject to prosecution for any alleged crimes. Trump has a long history of using legal maneuvers, executive orders, and legal challenges to his advantage. 

What would be the likelihood he might employ similar tactics, even deploying troops and declaring martial law, to delay or evade legal proceedings once out of office?

Trump has already rallied his loyal base and created a narrative of victimization and political persecution. He has convinced a large part of the electorate that is is not the law that is after him, but "a corrupt, power-hungry Biden using the law as a weapon against his leading opponent."

Lest you laugh, 83 percent of Republicans and 55% of Americans responding to an ABC News/Ipsos poll say the prosecutions are politically motivated. Asked by conservative talk show host Glenn Beck if he would prosecute his political enemies if elected, Trump last week responded. "They are doing it to us... so, yes."

This is not a prediction of such a scenario occurring but rather an analysis of the factors and motivations that could drive Trump's actions if reelected, including of the potential complexities and challenges that may arise in the event of a second Trump presidency. 

Though Democrats still chuckle at the thought of Trump being elected, it serves to remember that it was that dismissal of Trump's strength with the voters that led to his surprise win in the 2016 elections. It would stand that American voters have the right to see legal cases involving their presidential candidates resolved transparently and impartially before they vote. Yet the Republican party is in near unanimous support of postponing the Trump trials until after the election.

The American politization of the courts could now have the largely Trump-appointed Supreme Court decide the timing and course of the trials and their broadcast. If they delay long enough there may never be a trial as a President Trump would have every power to stop legal action against himself.

The ramifications, including the erosion of public trust in democratic institutions and the risk of a peaceful transition of power being jeopardised mean that if Trump were to attain power and regain office, future fair and free elections in America might be threatened. Trump's previous actions suggest that he may not willingly submit himself to accountability. 

Only time will tell whether American democracy can withstand these challenges. But it is not a stretch that we may be living through the last days of American democracy.