The fire onboard the MT New Diamond supertanker located off the Sri Lankan coast has been extinguished, the country's navy said on Sunday, after three days of fire-fighting operations involving the Indian Coast Guard and Indian Navy.

According to Sri Lanka Navy Spokesman Captain Indika De Silva, the fire has been completely doused, but they are still spraying water in case it reignites.

"#FireFighting With efforts of #ICG and SL Ships, Tugs and Aircraft fire appears to be doused. No flame & smoke visible on #MTNewDiamond. Situation being monitored for further action. Continuous boundary cooling in progress with use of AFFF & water spraying," the Indian Coast Guard tweeted.

The Panama-flagged ship, chartered by the Indian Oil Corporation, was carrying 2 million barrels of crude oil, had a fire that started in the engine room on Thursday morning that later spread to the bridge of the ship. A Filipino sailor perished in the boiler room explosion that started the fire.

Five Greek and 18 Philippine nationals were among the crew. 22 of the 23 member crew had been safely rescued off the tanker.
It was en route from Mina Al Ahmadi in Kuwait to the port of Paradip India when the incident happened. Fears of a repeat of the Yemen oil tanker and Mauritius oil spills adde urgency when the fire was first reported. However, the Sri Lankan Navy on Friday said there was no risk of an oil spill.
The Navy said on Saturday that they were assisted by the Air Force and the Ports Authority as well as the Indian Navy and the Indian Coast Guard who were working jointly.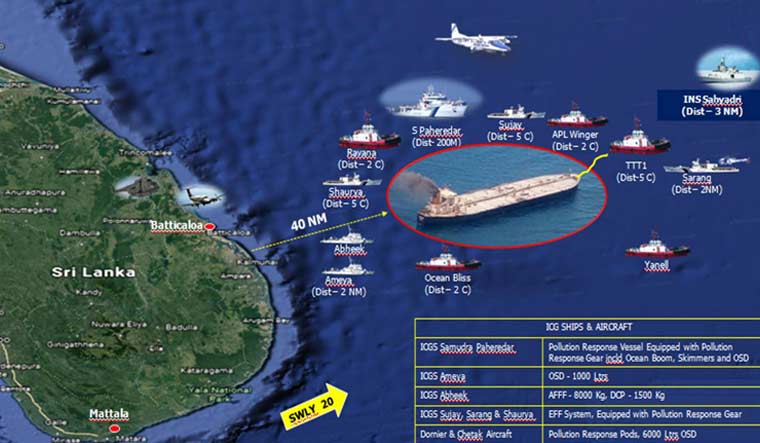 The disaster relief operation was joined by Indian Coast Guard Ship (ICGS) Sarang, ICGS Sujay, TTT One—a tug equipped with firefighting equipment and professional firefighters, and 2 Dornier aircraft of Indian Coast Guard since the previous night, it said in a statement.
A team of experts from a Singapore-based company also joined the efforts, with the the commercial owners of the tanker having appointed an international Singapore-based company as its salvage expert. Two large tugboats capable of handling crude oil tankers have already left Singapore and Mauritius to join the salvage operations.
With inputs from PTI