Indian captain Rohit Sharma and star batter Virat Kohli made crucial contributions after India was asked to bat by Pat Cummins in the ICC ODI World Cup 2023 on Sunday. While Rohit Sharma made a quickfire 31-ball 47, Virat Kohli was dismissed for a well-made 54 from 63 deliveries at Ahmedabad.
It is likely that Kohli and Sharma, two modern greats of the game, have batted in an ICC World Cup for the last time. 36-year-old Rohit and 35-year-old Virat are unlikely to feature in the next edition of the quadrennial event. 
The duo, however, had a memorable tournament at home and remain the two leading run-getters. While the half-century helped Virat Kohli to further cement his place as the top scorer of the tournament (765 runs), Rohit finished his campaign three runs short of 600.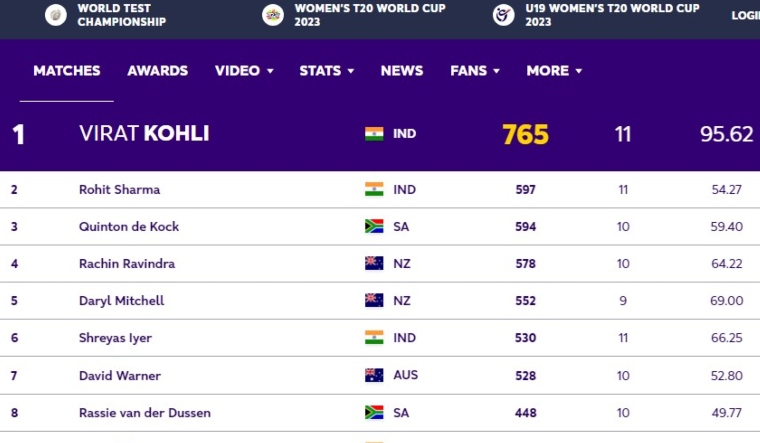 The Indian captain had bagged 550 runs in the 2023 edition of the tournament and scored 648 runs in 2019. He could have surpassed his own milestone for most runs in a single ODI World Cup, had he made 99 runs in the final. 
Shreyas Iyer being dismissed for just 4 runs means, only Australian opener David Warner, who has 528 runs to his credit, got a realistic chance to topple Rohit from the second spot. As things stand Shreyas Iyer is one place above Warner at sixth with 530 runs.
Virat Kohli's tally of 765 runs, meanwhile, is the most by a batter in any edition of the World Cup. 'King Kohli' reportedly scored three centuries and six fifties en route to his journey to become the tournament's top scorer. His journey also included a historic 50th ODI hundred - surpassing Sachin Tendulkar (49) to become the player with the most centuries in the format.