When 26-year-old Rahkeem Cornwall was announced for the West Indies Test squad against India, one of the first things that stood out about him was his size.

At 6 foot six inches (1.98 metres) tall and weighing in at 140 kgs, he is among the heaviest cricketers ever in international cricket. He may well be the heaviest of all time, in fact. But, that has not stopped the Antiguan all-rounder from amassing a sizeable tally of runs and wickets alike.

Rahkeem, a right-hand batsman, has scored 2224 runs in 55 matches in his five-year first class cricket career. In those matches, he has also taken 260 wickets and maintained an economy of 2.86 — which is the reason why fans of the player have been waiting for his turn to come onto the pitch for the Windies Test side. He is right-arm off break bowler.

Robert Haynes, the head of Cricket West Indies interim selection panel, explained why Rahkeem made the cut. "Rahkeem has been performing consistently over a long period of time and has proven to be a match-winner, so we believe his elevation to the Test squad is merited at this time."

He added, "We believe he can provide an attacking option to our bowling attack with his sharp turn and extra bounce. He can also lend a bit of depth to the batting, so we are looking forward to him coming into the squad and making a valuable contribution."

Rahkeem first played against India in a warm-up match as part of the Indian tour of the West Indies 2016. In one match, he was the top scorer with 41 runs, taking five wickets as well.

His performance in the Caribbean Premier League (CPL) season of 2017 was noteworthy, with the second-highest batting average as well as the lowest bowling average in the Lucia Stars team.

The next year, playing for the Leeward Islands in the Super50 Cup, he had the highest batting average of his side and the second-lowest bowling average.

Since then, he performed well in the unofficial test series of the West Indies A team versus Sri Lanka, taking a series-high 23 wickets but scoring poorly with the bat.

In the unofficial test against India during this season, he scored 53-not-out but took no wickets when it was his turn to bowl.

Whether Cornwall will become a regular feature of the Windies side will depend upon how well he can play against India in the remaining ODIs.

The West Indies squad will comprise Jason Holder (Capt.), Kraigg Brathwaite, Darren Bravo, Shamarh Brooks, John Campbell, Roston Chase, Rahkeem Cornwall, Shane Dowrich (wk), Shannon Gabriel, Shimron Hetmyer, Shai Hope, Keemo Paul and Kemar Roach.

Cricket's heavyweight champions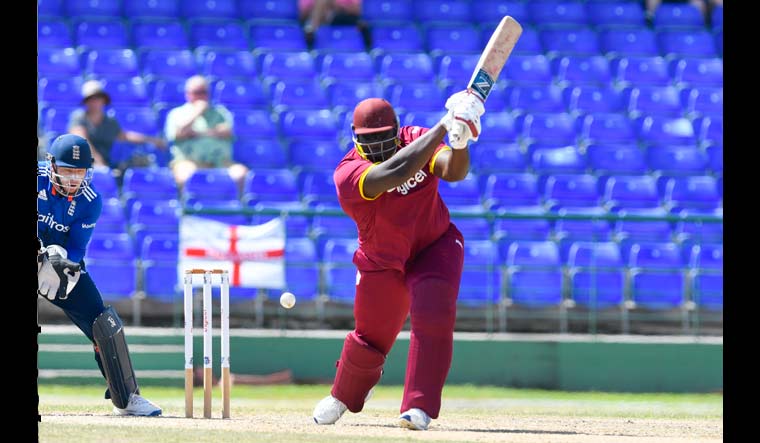 Besides Rahkeem, the heaviest player in recent times would be Dwayne Leverock of Bermuda, who weighed 127 kgs during the 2007 World Cup. Jim Pipe, author of Cricket, A Very Peculiar History, writes that the heaviest ever would be the Australian Warwick Armstrong, who played between 1902 and 1921 and who weighed in at 22 stones (139 kgs) towards the end of his career — a kg less than Rahkeem.

Players who have weighed far less than these have been made the subject of jokes by their team's otherwise loyal fans — Inzamam Ul-Haq and Ramesh Powar come to mind. But, for the largest on the record, size truly did not matter. Warwick Armstrong is the only captain besides Ricky Ponting and Michael Clarke to have led a clean sweep of the Ashes, winning 5-0 against England in the 1920-21 series.

Dwayne Leverock might have attracted the odd smirk and chuckle from the crowd when he came on to the field at the 2007 World Cup — but his diving-catch dismissal of Robin Uthappa proved that he was not wanting for agility or dexterity.

Does size matter in cricket? The argument that is usually made in this regard concerns the weight of the bat and the ability of the batsman to swing it. In an article published by the University of Syndey's Physics department, the argument is made that a heavier bat adds only one per cent more power to the shot given the loss in speed with which it can be swung, but that this is contingent upon whether the batsman finds the bat heavy or not. There, weight — and strength — might play a role.

Speaking about his fitness to the Antigua Observer in June, Rahkeem said, "There are many ways in terms of fitness — you have cricket fitness, and physical fitness...People may use that as an excuse, but that doesn't affect me in any way. I just have to keep pushing."
His performance notwithstanding, Rahkeem underwent a fitness regime by the West Indies Cricket Board in order to improve his fitness. The team's Twitter handle shared a video of part of this training. If Rahkeem can triumph against India, he will prove once and for all that size is no handicap to playing good cricket.
With inputs from PTI