Through a project called 'Basic Responders', Kerala-based medical research firm Brain Wire Medi has developed a CPR technique that uses artificial intelligence and virtual reality technologies. The training for it is done on Training Oriented Feedback Unit (TOFU), a high-fidelity AI-based mannequin developed by the company, which claims it is the first of its kind in the world.

The training module will use VR to create a real-time scenario by simulating an emergency situation which will make them understand the significance of giving CPR and saving a life. TOFU will record each movement and give live feedback, enabling them to feel the impact of their actions on the body, thereby self-analysing if they have learned the technique correctly.
The five-step process starts with shifting the patient to a safe place, checking their responsiveness and their carotid pulse rate for 10 seconds, performing 30 compressions on the breastbone and finally giving mouth-to-mouth resuscitation.
"This realistic training will help a person, even a child as young as nine, and make them confident enough to perform the technique on a person," said Kiran N.M., founder and director of Brain Wire Medi Technologies.
Kiran had a desire to provide CPR training for his fellow Malayalis, and the project was developed and honed over time to maximise its utility. This system was developed under the supervision of Dr Mohammed Hanif, who holds an MD in emergency medicine.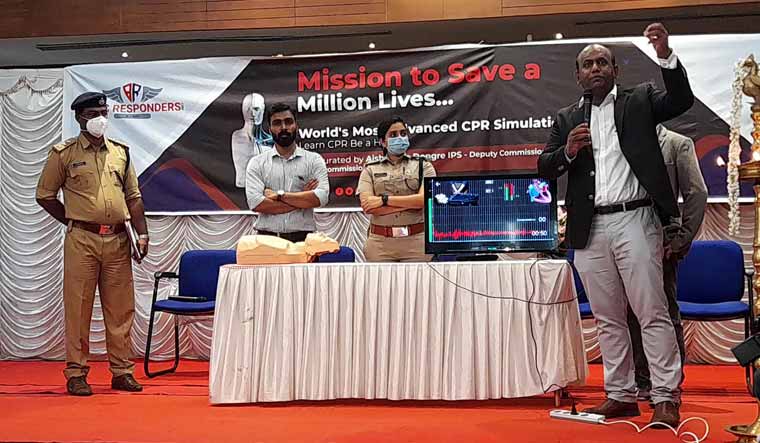 The project is also timely as fans of celebrities like Kannada actor Puneeth Rajkumar and Bollywood actor Sidharth Shukla have been left astounded by their sudden death due to cardiac arrest.
Kiran, who similarly lost a friend, gave up his high-paying job in Singapore to come up with something that could instil confidence in everyone to perform CPR.
His primary focus is the police force as they are the first to reach an emergency spot. After already training the entire traffic police force of Thiruvananthapuram with his high-tech CPR biofeedback mannequin system, he is on course to equip the police of Ernakulam to become 'basic responders'.
Talking about the training, ACP Sajan Xavier said, "This was one of the most advanced and practical training I have ever attended. Within a short span of time, you can learn how to do CPR in an innovative way."
The inaugural function of this awareness program was conducted at the Town Hall in Kochi, where the tie-up between Kerala Police and Brain Wire Medi was officially initiated.
IPS officer Aishwarya Dongre, who inaugurated the programme, was the first to try her hands on the biofeedback mannequin.