Crops on about 45,000 hectare area have been damaged due to unseasonal rainfall and hailstorm that lashed various parts of Madhya Pradesh in two phases from March 6 to 9 and March 17 to 19 impacting about 55,000 farmers, a preliminary survey conducted by the state government has shown. Also, 22 persons died in lightning strikes in 12 districts between March 17 and 19.
A government note said that according to preliminary information, crops in about 38,000 hectares were damaged due to the rain and hailstorm between March 17 and 19 in 520 villages in 51 tehsils of 20 districts. This has impacted 33,758 farmers.
Principal Secretary of revenue department, Manish Rastogi confirmed these figures to THE WEEK and added that the survey indicated that crops were damaged in another about 11,000 hectare area in four districts between March 6 and 9, impacting around 16,000 farmers.
Chief Minister Shivraj Singh Chouhan held a review meeting at his residential office on Monday and directed that the survey should be completed in a week and relief distribution start immediately thereafter.
The CM said that joint teams of revenue, agriculture and panchayat departments should conduct the survey with utmost sincerity and transparency and the lists of affected people should be put up at panchayat offices for any objections. Chouhan also said that all efforts should be made for providing relief under revenue book code (RBC) norms and through claims of crop insurance.
He also said that compensation for deaths of cattle and other domesticated animals (goats, chickens) was hiked recently and the farmers should get benefit of this, too.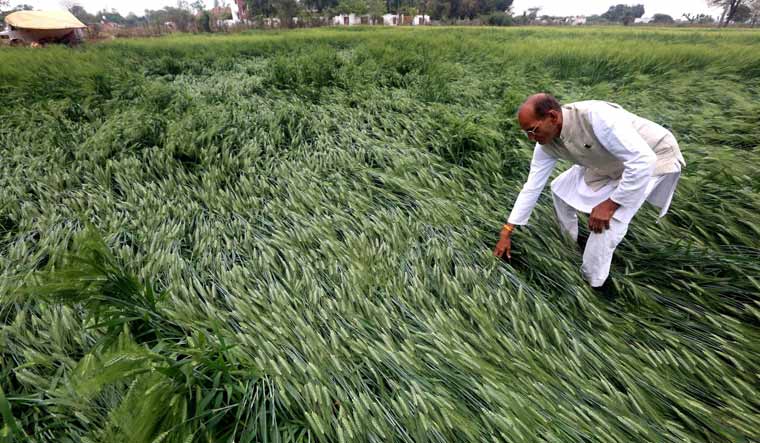 The opposition Congress has, however, attacked the government over delay in relief distribution. Former chief minister Kamal Nath said that not a single farmer had received relief and the government is just talking about conducting surveys for the past fortnight.
CM Chouhan had directed on March 9 (following the first phase of damages) that the survey should be completed in a week and relief distribution started in 10 days. However, this has not happened even as the second phase of inclement weather wreaked havoc in the state.
Nath first tweeted on the issue on the Monday, expressing apprehension that the strike called by revenue department field officials (tehsildars and their deputies) will have a grave impact on the crop/other damage surveys and questioned the government and the CM for "failing" to prevent the strike at a crucial time, although it was pre-declared. Calling the impending administrative chaos "a serious crime on the part of CM", Nath asked Chouhan to get the strike called off by fulfilling the "justified demands" of the officials.
Later in the day, Nath shot a letter to the chief minister saying that if surveys cannot be completed and relief not distributed even after 15 days (of the first phase of rain and hailstorm), then the RBC provisions were meaningless. He also said that the farmers were facing multiple issues due to insensitivity of the government and demanded that the recovery of electricity bills' dues and farm loan installments be immediately stopped considering the crisis that the farmers are facing. 
The two phases of unseasonal rain, accompanied by thunderstorm, lightning and hailstorm, have caused extensive damage across many areas of the state especially in Bhopal, Narmadapuram, Shahdol, Jabalpur, Chambal, Ujjain, Sagar, Indore, Gwalior and Rewa divisions. The inclement weather is expected to continue in several parts on Monday night, too, but a relief is expected from Tuesday onwards.