Nothing screams extravaganza and exuberance quite like OmegaPro's recently concluded cascade of events, each more magnificent, more splendid, more awe-inspiring than the last - crafted to express, experiment and exhibit the finest experiences that the industry has to offer.
The art of Networking is often considered to be one of the oldest and finest forms of Marketing that has aged over centuries, quite like some of the exquisite blends of wine. Honing the intrinsic hues of this craft has an array of outlets - stunner, larger-than-life events are definitely one of them. OmegaPro, being one of the most preferred and widely chosen marketing platforms across the globe in over 170 countries, is renowned for such events that make you notice, get out of your comfort zone, and turn your life upside down.
2022 so far has been hardly a big enough ballpark for the OmegaPro Community with a blitz of an events' spree that has managed to hit a home run at every single moment while persistently celebrating the virtues of unstoppable growth, definitive hard-work and stupendous dedication towards this glorious paradigm of the marketing business. Be it the Global Conventions that challenge you to 'Rise' above your usual self to an extraordinary upgrade or a 'Legends Cup' that sets exemplary standards of networking excellence on the top tier - this has been and out and about year for the OmegaPro Tribe, that's fast turning into a global movement.
In a matter of months this year, OmegaPro has hosted three such jaw dropping, thought-provoking occasions in almost no time, each one bigger, better, and grander than the last. The year kicked off with The Global Convention Rise in the magnificent Coca-Cola Arena in the heart of Downtown Dubai followed by a once-in-a-lifetime evening dedicated to The OmegaPro Legends Cup and most recently, dropping its anchor on the sunny shores of Panama for the second edition of The Global Convention - Rise Latam.
In this article, we look back at the inspiration and the education, the glitz and the glam that encapsulates the aura of OmegaPro as a global leader in the industry.
The 'Rise' of a Phoenix - OmegaPro Global Convention 1 & 2
The OmegaPro Calendar embarked on its Mission 2K22 with the first edition of Rise, its Global Convention, aptly titled so, hosted in ever so glimmering, home of glamor - Dubai. Headlined and highlighted by international, regional and immensely influential keynote speakers, artists and performers – 'Rise' flourished as the biggest event of its kind with more than 7500 guests gracing the occasion in over two days.
In the months that followed, Rise went on to travel to the shores of Panama as Rise Latam became one of the biggest events ever hosted in the history of the Nation, within the premises of the suave Panama Convention Center.
Yet again, with two days packed with premium education in becoming a champion businessperson from the premiers of the industry, OmegaPro ensured it's community of the very best lessons up on offer, in a grand Panamanian fashion to a beaming audience that happily traveled the globe to be a part of something this ingeniously memorable. Power-packed with marvelous modes of traditional and trendy elements of entertainment and invaluable speeches from the biggest leaders, speakers and entrepreneurs - Rise Latam marked a higher niche for all OmegaPro Events to come.
Have you ever heard of the mystic phoenix that's reborn from its own ashes? The OmegaPro events are founded primarily on a motto that echoes the same tune - it provides its community, its family with a platform that can be leveraged for rediscovering a new you with a new purpose where you work towards 'finding your why'.
Unparalleled Occasions - Through The OmegaPro Lens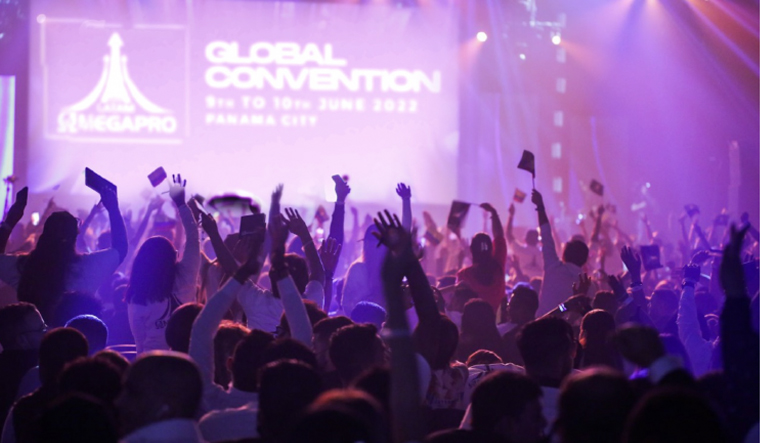 With an already 1.8 million strong, and counting community, OmegaPro has asserted prominence on its journey to transform people's lives away from the conventional 40-hour work week to a life of true financial freedom. After building a strong foundation in Latin America, OmegaPro has established a firm footing, with members strewn across the globe – India, Australia, Italy, Japan, South Korea and plenty more. Their ever so elusive dream of becoming financially free has been realized and is in full effect. Now, tales of their tremendous success have reached far and wide, enveloping many nations, inspiring people from all walks of life, along the way.
Looking Back - OmegaPro Legends Cup, The Origins
With an avid belief in delivering its community with something unfathomable, OmegaPro carved out an exquisite football experience bundled with Business, Bollywood and Bliss.
We all have had that familiar feeling of reliving certain events over and over again. Have you ever had one of them become a reality? This was the one that did. While we were still reeling from the Global Convention: Rise from January, OmegaPro managed to pull up its sleeves and served a delectable feast, yet again. Only this time, it was a perfect amalgamation of networking and football. It was an absolute belter! We witnessed football legends join hands and come together in an epic Avengers-like, once-in-a-lifetime crossover event. This was an epic tale of old rivalries being renewed, new rivalries being seeded, friendships being made, and others 'fortified'.
The 'Legends' That Made it The Legends Cup
A star-studded line-up with the likes of Brazil's World Cup winners Ronaldinho and Kaka, Portuguese superstar Luis Figo, fellow World Cup winners Marco Materazzi from Italy, Youri Djorkaeff from France, Spaniard Iker Casillas, ex-Colombian midfielder Carlos Valderrama, Holland great Wesley Sneijder, former England captain John Terry and many others took Dubai by storm, taking part in what culminated into an epic showdown. It was a celebration.
The list didn't just end there. A full parade of A-list Bollywood celebrities, influencers, sports personalities and internet stars graced the event to make it more spectacular. In attendance were: Bollywood superstars Suniel Shetty & Sonu Sood, former Indian cricketers & OmegaPro Brand Ambassador Suresh Raina, dapper Yuvraj Singh, Emirati Youtuber and Comedian Khalid Al Ameri, Turkish TikTok artist Ayda, Lebanese celebrity entrepreneur Joelle Mardinian, just to name a few.
A Prodigious Press Conference - A Dream Team
To remind the world about the significance of press conferences and to re-emphasize the symbolic relationship shared between sports and the Media, as it is influential in marketing sports events, preceding the extravaganza, there was a traditional, typical football-style pre-game press conference organized by OmegaPro, in the palatial Armani Ballroom of the Armani Hotel, to kick off the event.
The two captains – Ronaldinho and Luis Figo – presided over and set the floor on fire. Former Brazilian superstar Ronaldinho, representing OmegaPro Stars, was up against his counterpart, former Portuguese Winger Luis Figo, representing OmegaPro Champions. The behemoths of the game engaged in an unforgettable – friendly, yet fierce – verbal battle. It was incredibly nostalgic – a glorious evening true football fans will reminisce about for years. It certainly added spice, and anticipation for the game grew ten-fold. It did not end there. Once the OmegaPro Legends Cup, made completely out of gold, was revealed, the floor was open to 200+ media personalities in attendance to interact with the stars.
Game - Set - Match
Legends – geared up, boots – laced up, atmosphere – lit up, people – pumped up.
Here's the breakdown of the game - two teams, 5-a-side; three halves, 20 minutes each. The OmegaPro Stars took the lead in the first game, 7-5. OmegaPro Champions fought back in the second game, leading 5-3; equalling the score, 10-10. 'Goals aplenty' was the third and final face-off, as the Stars clawed their way back into the fixture, scoring 8 colossal goals, sending the Champions packing. The Champions managed to score only 6 goals, taking the total tally to 18-16. OmegaPro Stars took the gold.
The showrunners stated that this event will take place every year. The expectations are unsurmountable. Until the time comes, let us relish what transpired in Dubai.
The Invaluable OmegaPro Message
Widely acclaimed, understood and championed as 'The People's Business', there's one mark almost everyone misses. The key deliverable of OmegaPro's champion showmanship is graciously resting on one singular agenda - finding its own why as it helps millions of people across the planet find their own why-s. Two contrasting types of events, one goal – the betterment of people.
With the OmegaPro legends Cup, it was all about sports, movies, glamor, celebration, elegance and luxury – giving the community something to look forward to and remember the joy of equality that sports has to offer.
With the Rise event, it was all about education, motivation, training, opportunity, success, recognition – giving them a system, strategy and structure to ensure effective business models.
It all boils down to the 3Ps - Prospect, Persistence and Progress which wildly enough mirrors OmegaPro's invaluable core beliefs reflecting upon the one reason that makes these events what they truly are - faith in its community without a singular hint of complacent energy.
Become a part of The OmegaPro Journey today on their official OmegaPro Website , Omegapro Network website, Official Instagram and Official Facebook.