Competition to sell over 100 aircraft to the Indian Air Force continues to remain intense, despite massive delays in procurement, and companies are often ready to use any means to promote their wares. And also pull down rival offerings!
On Wednesday, US manufacturer Lockheed Martin stole the headlines at the Aero India air show by unveiling the F-21 fighter as its customised offering for the Indian Air Force. The F-21 offering provoked both excitement and debate, with some aviation experts calling it a 'rebranded' version of the venerable F-16, with more emphasis on its industrial cooperation package than design advances.
Not surprisingly, US giant Boeing on Thursday took a dig at the F-21. In a tweet, Boeing India promoted its F/A-18 Super Hornet fighter, also on offer to the Indian Air Force. Boeing tweeted, "Combat Proven, Future Ready, and still called the F/A-18 Super Hornet."
Lockheed Martin and Boeing, which have been rivals on the US and global fighter markets for decades, have been eyeing the Indian aircraft requirements for years.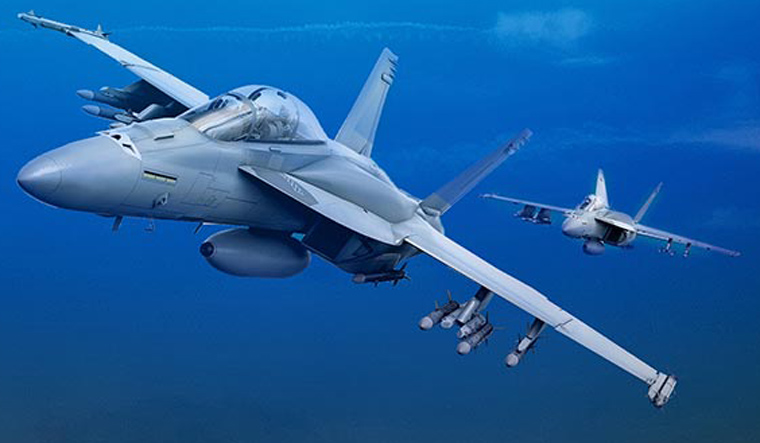 Both the Super Hornet and F-16 were offered for the Indian Air Force contract to buy 126 medium multi-role combat aircraft (MMRCA), launched in the previous decade. While neither fighter was short-listed, the contract itself was junked by the Narendra Modi government in 2015. Both Boeing and Lockheed Martin are vying to supply 114 fighters to the Indian Air Force in a new contest, announced in 2018.
During the 2011 Aero India show, Boeing had unveiled a Super Hornet featuring advanced options for the Indian Air Force. These included conformal fuel tanks mounted atop the aircraft's wings, an infra-red sensor to detect aerial targets and a large-area cockpit display screen, which replaces multiple such screens. Boeing has continued to promote many of these enhancements, with the US Navy planning to buy the large-area cockpit display system and conformal fuel tanks for its fleet of Super Hornets. However, the F/A-18 designation has remained.
Interestingly, the F-21 offered to the Indian Air Force has a large-area cockpit display and also conformal fuel tanks, which the F-16 has had since the 1990s.
That Boeing and Lockheed Martin are serious about fighter orders from India is evident from the fact that both firms have brought aircraft to Aero India, unlike some European and Russian rivals.
To promote the Super Hornet in India, Boeing has partnered with HAL and Mahindra, while Lockheed Martin is promoting the F-21 with Tata Advanced Systems.