The #MeToo moment is continuing to gather momentum in India with women from various walks of life—movies, media and literature among others—coming out to name and and shame their harassers. What began as a small phrase became a hashtag that symbolised the solidarity and support of thousands who have said "enough is enough" to men who misused their privilege and power to sexually harass women.
#MeToo is today one of the most globally recognised, game-changing movements of 2018. It is, in a sense, a life changing revolution for many women who had, so far, tolerated abuse and harassment meted out to them by men in power.
The movement made its mark in the Hollywood, exposing the sexual misconducts of several famous directors, actors and musicians. When the moment finally reached India, several top names, from journalist-turned-politician M.J. Akabr to the man who was the face of Indian culture and values on small screen, Alok Nath, faced the heat. It all began when actor Tanushree Dutta recalled an unpleasant episode with actor Nana Patekar a few years ago.
With a number of women coming out to recount their experiences of harassment, Meltwater, a global media intelligence firm which monitors both media and social media, tracked and analysed mentions of the hashtag and movement. It found that there were 17,500 mentions of #MeToo in editorial news in the last month, of which 95 per cent was in the last seven days.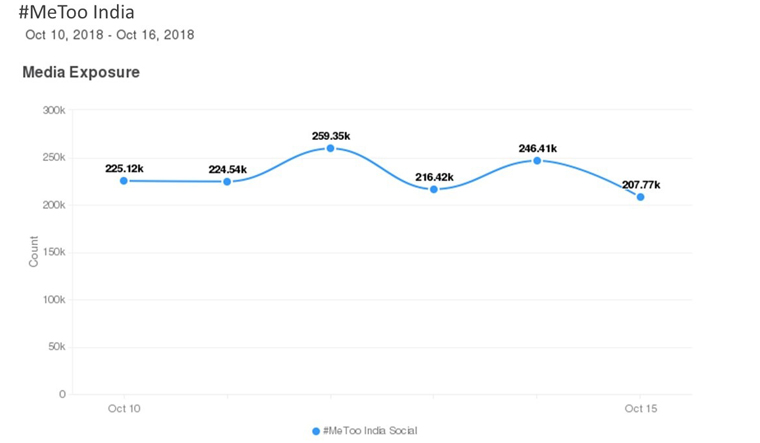 On the social media front, there are no signs of the movement slowing down as there have been over two-and-a-half million mentions of the hashtag across the globe in the last one week. The firm found that the movement is making a wave in India as of the millions of mentions worldwide, the word 'India' trended along with #MeToo with 46,000 mentions.
Other topics that were trending along with the MeToo hashtag include 'sexual assault' with 29,000 mentions and 'sexual harassment' with 27,000 mentions.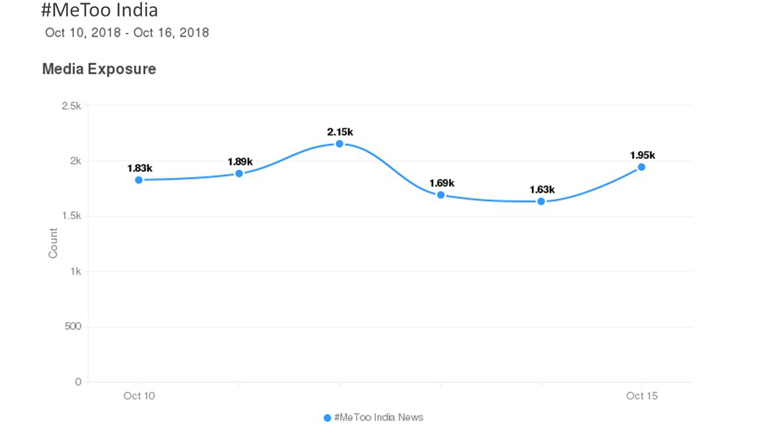 It was also found that globally, India has been the most vocal about the #MeToo movement with 25 per cent of the chatter stemming from India. Following closely behind, the USA was responsible for 22 per cent of the #MeToo conversations. China is in the third position and Canada the fourth.

The word 'vote' has been mentioned in relation to #MeToo moment 66,000 times on social media and 25,000 times in the news around the world. According to the data collected by Meltwater, this was because of the upcoming USA general elections on November 8.

#TimesUp, is another movement stemming from the #MeToo, where abuse survivors demand that "Time's Up" for abusers and sexual harassment, in any form, will not be tolerated anymore.