Days after the MeToo movement began rocking various industries, starting with Bollywood and spreading to TV entertainment and media, allegations of sexual harassment have now been levelled against a minister in the Narendra Modi government.
Minister of State for External Affairs M.J. Akbar has been accused on social media by multiple journalists of improper behaviour during his time as an editor.

The first direct allegation against Akbar was made by journalist Priya Ramani, who tweeted on Monday evening about an article she wrote on the MeToo movement for Vogue in October 2017. On Monday, Ramani revealed that the article was about Akbar, tweeting, "I began this piece with my MJ Akbar story. Never named him because he didn't "do" anything. Lots of women have worse stories about this predator—maybe they'll share."
The article describes how an unnamed editor tried to misbehave with Ramani during a job interview in his room at the Oberoi Hotel in Mumbai when she was just 23 and he was 43. In the article, Ramani claims the editor wanted her to sit close to him in the hotel room; she also accuses him of sending obscene messages to women staff.

Soon enough, Shuma Raha, another journalist, replied to Ramani on Twitter that she had an unpleasant experience with Akbar during an interview at his room at the Taj Bengal in Kolkata in 1995. Raha claimed Akbar invited her for drinks after the interview.
On Monday, Prerna Singh Bindra, a journalist-turned-wildlife conservationist, tweeted about a "brilliant,flamboyant #editor who dabbled in politics," who called "me-my 1st job- to his hotel room to 'discuss work', after i put the edition to bed-read midnight, & made life at work hell when i refused".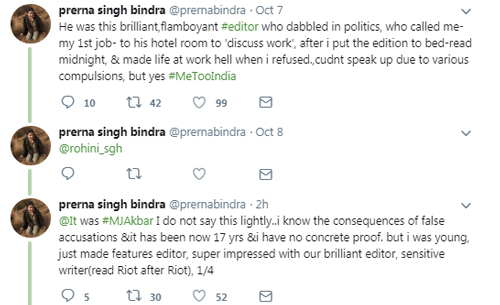 Bindra, who had worked with the Asian Age, revealed on Tuesday she was referring to Akbar, adding in another tweet that he once made lewd comments in a meeting of the "entire features team" at the newspaper.
Akbar has been a formidable name in English journalism in the country, who has worked with multiple major publications including Times of India and India Today and was also founder-editor of The Telegraph, Asian Age and Sunday Guardian.
Akbar, a reputed author, had dabbled in politics in the 1980s, briefly joining the Congress. He joined the BJP in 2014 and the party also sent him to the Rajya Sabha.