It appears the Congress's relationship with the holy cow has come full circle in Madhya Pradesh, at least.
Fifteen years after then Congress chief minister Digvijaya Singh called for a Central law to ban cow slaughter ahead of the state polls in 2003, the party's Madhya Pradesh unit tweeted on Wednesday that a Congress government would construct over 23,000 gaushalas (cow shelters) if voted back to power in the coming Assembly elections.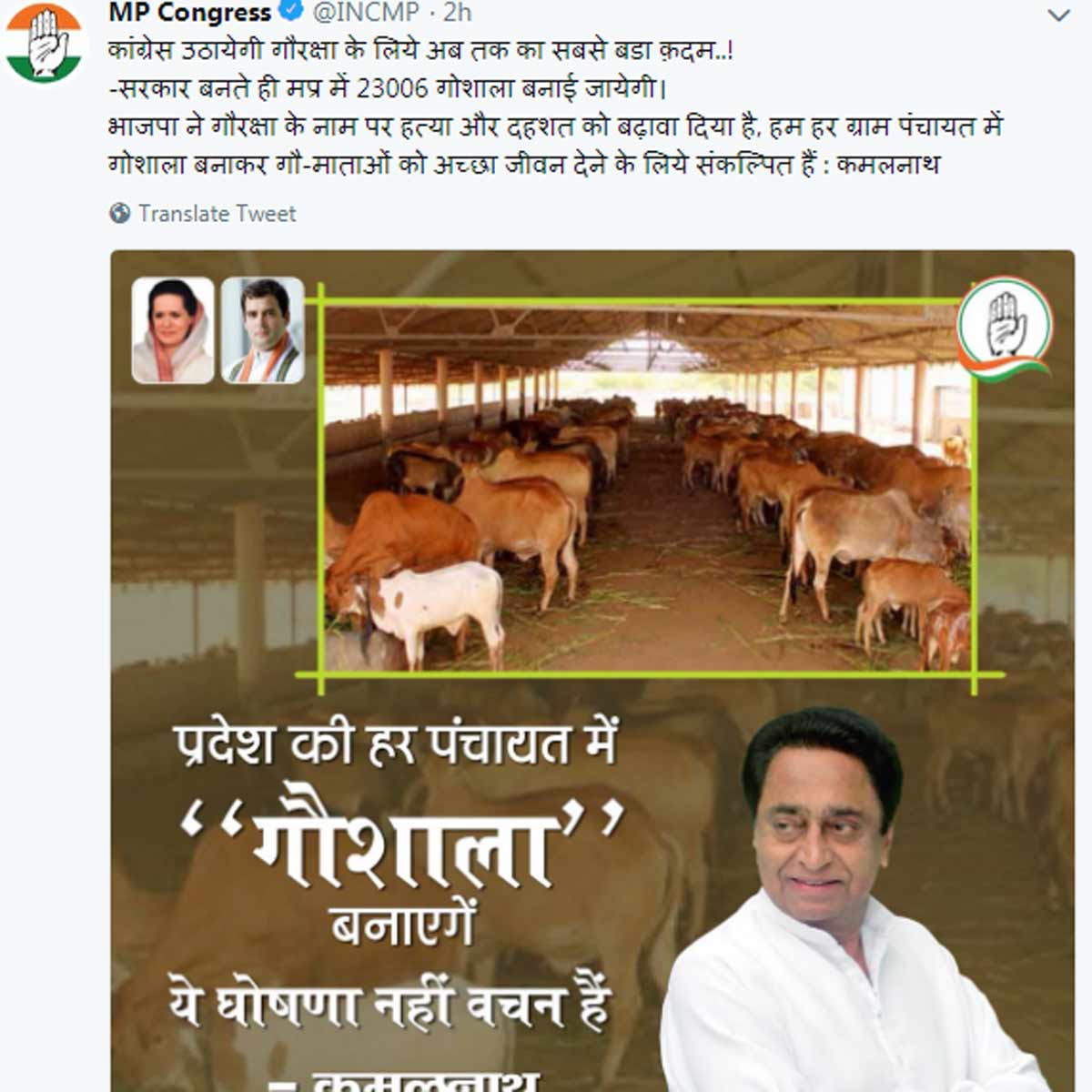 The Madhya Pradesh Congress unit's tweet, in Hindi, echoes a promise made by state unit chief Kamal Nath on building gaushalas in every panchayat if the Congress won the next elections. There are 23,006 panchayats in Madhya Pradesh. The Madhya Pradesh Congress unit's tweet describes the party's proposal as the "biggest step" for gauraksha and slams the BJP's approach to cow protection, which it describes as involving murder.
Kamal Nath, speaking at an election rally in Vidisha on Sunday, had slammed the BJP's approach to cow protection, alleging that the condition of gaushalas in the state was pathetic, despite the saffron party's avowed commitment to cow protection.
A tweet by Kamal Nath on Monday, reiterating his promise of building gaushalas, was criticised by BJP supporters on social media as political opportunism, while others claimed the Congress was indulging in 'soft Hindutva'.
The Madhya Pradesh Congress unit's espousal of cow protection will fuel claims the Congress is trying to project an image identifying itself as more sympathetic to Hindu issues. This was evident in 'temple runs' by party chief Rahul Gandhi in the Gujarat polls last year and Karnataka elections earlier this year. In an interview in the latest edition of THE WEEK, Sam Pitroda, a close adviser of Gandhi, lauded the Congress chief's interest in meditation and knowledge of Hinduism.
Interestingly, Singh's 2003 re-election campaign was associated with the 'soft Hindutva' tag as he sought to ward off a challenge from Uma Bharti. Despite Singh's open espousal of cow protection and protection of Hindu shrines, Bharti won a decisive victory.