In a remark that is bound to generate controversy, JNU student rights activist Shehla Rashid tweeted on Saturday that the RSS and Union Minister Nitin Gadkari were planning to assassinate Prime Minister Narendra Modi. Rashid's tweet was in the context of claims in a letter, allegedly written by Maoists, that carried details of plans by the ultras to launch a 'Rajiv Gandhi type incident' to target Modi.
Rashid tweeted, "Looks like RSS/Gadkari is planning to assassinate Modi, and then blame it upon Muslims/Communists and then lynch Muslims #RajivGandhiStyle".
Rashid, who had shot to prominence with her activism following the sedition charges against JNU students and the suicide of Rohit Vemula in 2016, has been a trenchant critic of Modi and rightwing groups. In recent months, she was part of a group of activists who had launched a crowdfunding campaign to raise funds for the families of the Unnao and Kathua rape victims; the BJP was accused of being lax in prosecuting the suspects in the cases.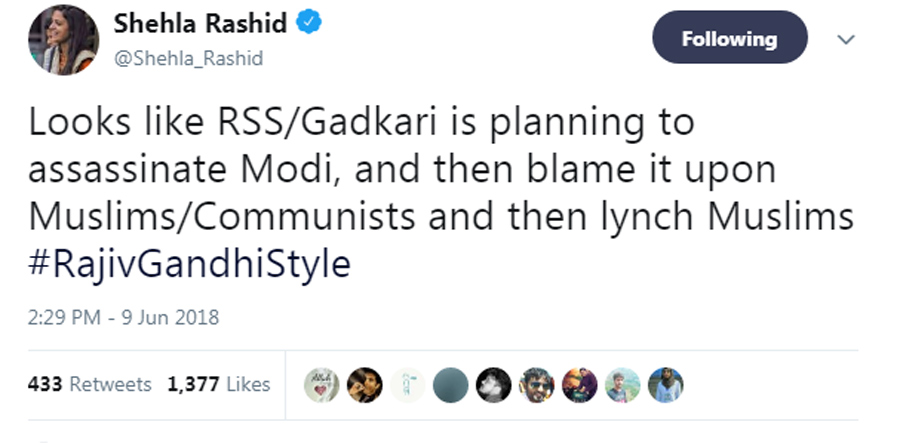 Rashid recently declared she would campaign against Modi in the next Lok Sabha elections.
While Rashid's tweet will likely trigger outrage, others have also raised questions about the authenticity of the assassination 'plot' against Modi. The letter was found in the laptop of an activist who was arrested for alleged links to the Maoists.
Congress leader Sanjay Nirupam on Friday demanded an inquiry into the letter's authenticity and claimed, "I am not saying this is completely untrue but it has been PM Modi's old tactic, since he was CM, whenever his popularity declines, news of an assassination plot is planted."
Some news reports quoted retired police officials who were sceptical about the assassination claims. They said the Maoists typically used coded language, unlike the letter in question. A Maoist ideologue, Varavara Rao, also termed the letter fake and called it an attempt by the BJP to generate sympathy for Modi.
(With ANI inputs)