A strenuous audition!"— this is what actor Mrunal Thakur thought when film director Nikkhil Advani handed her the script of Batla House. But no. He gave her the script because it was already decided that she will play the female lead, opposite John Abraham, in the film that released earlier this year. She was shocked, but also happy. The director had seen her work in Love Sonia—an endearing and heart-breaking film on human trafficking—and he was sure that Mrunal was a perfect fit.
Her recognition in Hindi films hasn't been a thing of luck, but of constant hard work and a "lot of unlearning"—as she puts it. Slowly but steadily, she has climbed the ladder in the last two years and currently, she has some plum projects in her kitty. But the only thing she wants right now is to do justice to every character she plays.
She was born in Dhulia, Maharashtra, which is a city now, but was once considered an obscure village. Growing up, Mrunal got the opportunity to live in many places—thanks to her father's regular transfers. After living in Nashik, Jalgaon and Shrirampur, her family finally moved to Thane, near Mumbai.
"It was July 26, 2005, when the city was immersed in water," she says as she recalls the first day of school in Mumbai. Her classmates thought that she was from a vernacular medium school since she moved from Shrirampur. "They asked me if I was taught history-geography-science in English," she says. Apart from the questions, she struggled with French—it was a new subject for her. To top it all she had to sit for the mid-semester exams four days after she joined the new school—the transition wasn't easy. But she managed top scores in some of the subjects which established her as a student of merit.
"These were smaller things that I went through and it made me ready to deal with the bigger issues," she says, as she sips on her watermelon juice at the upscale Soho House in Juhu. Despite a busy day, with three back-to-back shoots for promotional videos and another meeting lined-up right after the interview, she is at ease. She is starving, but will do without a meal and just the juice. She does not shy away from laughing—sometimes at the silliness of the moment she recalls and sometimes because the incident is simply funny.
There was no moving for Mrunal after she got to Mumbai—she made the city her home. Her parents continued relocating, but she stayed back. And, while in college (studying mass media at K.C. College), she realised acting was her calling. "With all that I was witnessing in life, moving from one place to another and observing life in different hues, I think my acting training started quite early," she says.
In her sophomore year of college, she had gone for an audition. That time, her parents weren't convinced with the idea of her taking the path of acting. But they came around, and have since been her support system. "During my first show, my parents came all the way from Kerala to take a picture under the hoarding," she says. She made her debut in the show, Mujhse Kuch Kehti Hain Ye…Khamoshiyaan. Although the show didn't do too well on the ratings chart and went off air too soon, it gave Mrunal a path—the one she wanted to tread on.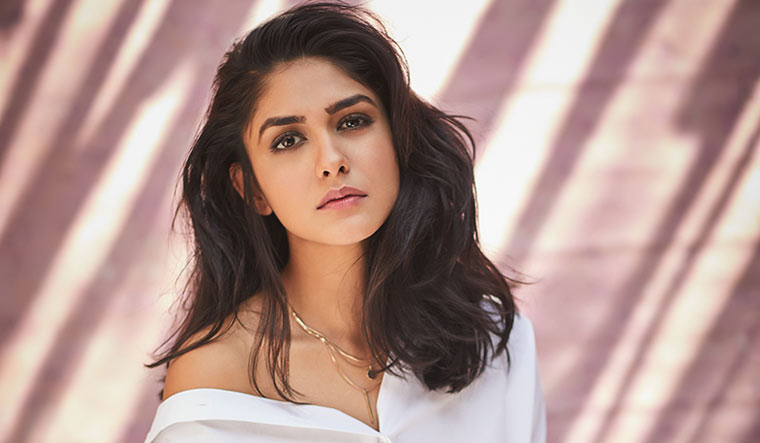 Through the years, it has helped her evolve—both, as a person and as an actor. She remembers how she was an introvert before she unlocked the art of cracking auditions. But once she did that, she found her voice.
"Every audition has been a learning," she says as she recalls the time when she wanted to do films after a successful stint on television with Kumkum Bhagya. She attended a couple of acting workshops with Pramod Ghosh and Vidur. "Vidur sir helped me get rid of my Marathi accent—it was very profound."
She also learned that with no godfather, the only way to enter films was to do television commercials. She talks about Preity Zinta's Liril advertisement, which gave her an entry into films. She wanted to follow that path. "I think TV commercials are the best way to get noticed. Filmmakers don't watch TV shows, but they watch commercials," she says and laughs. However, she agrees that it is completely her assumption and not an advice from any expert.
After doing television shows for almost four years, she went to the sets of a commercial for Red Label directed by Vinil Mathew (Hasee Toh Phasee).
Mrunal was cast by casting director Mukesh Chhabra. But she had a major roadblock. It was a lovely concept, but she couldn't give what the makers wanted. Forget anything else, she was perturbed by the clapper. "There is no clap system in television. One would just go for the shot. Here, the claps continued. Clap one, two, three…clap 70, 80, 90—it shook me," she recalls with a twitch. It made her think if she was that bad. "Vinil came to me, calmed me down and said—whatever you learnt, just unlearn! He asked me to do nothing special, but be comfortable in my skin," she says.
According to her, television makes an actor mechanical. "It is probably because the audience wants that—it is a different world. I am proud to begin with TV because that is where the best grooming and grilling happens," she says. A commercial that is dear to her is the one along with Kajol for Joyalukkas; it was played in movie theatres for a long time. "A lot of people and directors watched it and wanted to meet me. I think I took a leaf out of Preity Zinta's life really well," she laughs and adds, "It also helped in [removing] the TV actor image that was stuck to me."
The first break in films came with Tabrez Noorani's Love Sonia, who at the time of the release of the film, had mentioned how the rawness that Mrunal brought to the character impressed him. "She is really convincing in the role," he had said about the actor, who was cast after auditioning hundreds of girls.
At the time, she was selected to play Aarfa in Sultan, a role that later went to Anushka Sharma. In the process of preparing for the role, she had lost too much weight and was rejected. But that turned out to be a boon while auditioning for Love Sonia. "I looked like a 17-year-old at 24," she says with a laugh.
It was a tough role for Mrunal to pull off. She, like Sonia, had experienced a village life—making cow dung cakes, living in a hut, walking through the fields. But, she was heartbroken to learn of the ordeal that trafficked girls go through. A scene in the film sees her being exploited by a man. She wanted to do it, but her mother wasn't too convinced. She said no to Noorani, only to come around again when her father thought it was an important story that had to be told and gave her a go ahead. After that there has been no looking back.
Her strong performance in the film helped her get more projects. Having worked in Ekta Kapoor's TV show ensured that she developed a bond with the queen of entertainment in India. She could look up to her for advice when she wanted to make the switch and it continues to be so. She has been a huge support in the industry, Mrunal says, as she recalls the time when she told Ekta that she wanted to do films. "You can do that, but it will take time," Ekta had told her.
It has taken time for sure. But she has done a couple of big-budget films with some heavyweight names associated with them. Earlier this year, she starred opposite Hrithik Roshan in Super 30 and was delighted to be a part of the film. Both Hrithik and Anand Kumar inspire her. The film, however, got brickbats for giving direction credit to Vikas Bahl, who was called out during the #Metoo wave last year.
"We don't talk about Vikas directly, but we talk about the #Metoo wave because girls have to go through a lot in the film industry, that remains dominated by men and masculinity. #Metoo should exist," she says. According to Mrunal, it has happened for a good reason. "Whatever a person has done, it is his personal life. I don't have any right to not work with him or her. I think professional and personal lives are different. Yes, I do get angry. But, I don't know how to see it—a very confused state. The problem is that in India we are finding the problems, but there are no solutions. There should be strict rules and regulations, and not flexible ones," she says.
Over time, she realised that Karan Johar also appreciated her work. In fact, for Batla House, she had called Karan to check whether she should go ahead with the film. And, he had responded in affirmation. The nepotism debate seems pointless to her when she witnesses such warmth from a person accused, every now and then, for being nepotistic. Now, she is starring in one of his short films in the anthology Ghost Stories. The earlier one in the anthology series, Lust Stories, had made a star out of Kiara Advani. "I call Karan for advice often," she says.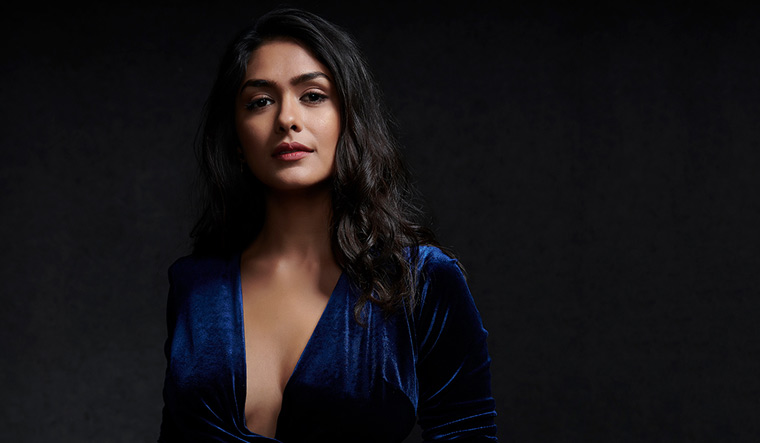 Besides, she has a big Netflix show, Baahubali: Before The Beginning, which charts the early life of the matriarch Sivagami in the Baahubali films—Mrunal plays Sivagami in the show.
Right now, she feels secure about what is happening in her career. But it hasn't come very easy. One of the biggest learnings, she says, is to be comfortable with who you are. "Acting is easy, the difficult part is to portray a picture-perfect image of yourself," she says, recalling how she didn't have enough money to hire a stylist or a make-up artist during the promotions of Love Sonia. "I struggled with it, but then thought why not do it on my own. I know a lot of my friends who don't go for events because they don't have designer dresses. But events are an important part of the business and I can't rely on others," she says. For now, she continues to do what she wants and how she wants, hoping it will keep her steady on the path she has chosen. But in the film industry, does the walker choose the path, or the path the walker?
AT A GLANCE
Your current state of mind
Calm and peaceful.
The current state of the film industry
It is evolving. Bollywood is changing in terms of concept, filmmaking and casting. More and more casting directors are giving opportunities to new talents and even television actors. We have Mouni Roy, Kritika Kamra and so many others venturing into films.
What is your weakness?
My family.
What is your strength?
My family.
What has been your biggest learning experience?
Sitting in front of the monitor.
Do you have any regrets?
I am not a person who regrets. I move on.
What is a cause that is important to you?
Cleaning up the beach.
And, awareness about
sex-trafficking.
When are you most inspired?
When a person is authentic, without any kind of pretence.
What is the best advice you have got?
Absorb, first.
One thing that you notice about someone when you first meet them?
The vibe.
What book did you finish recently?
I finished reading Becoming by Michelle Obama and I am currently reading Of Human Bondage by W. Somerset Maugham.
What is the best thing that has happened this year?
I think it is working with Karan Johar.