With the ongoing Kochi-Muziris Biennale, a wide array of artworks are being acknowledged and appreciated—some for the unique concepts they convey, and others for the innovative techniques used.
The world of flora and fauna is not new to humans. But artist Anju Acharya's works look at nature and ecosystems from a fresh perspective. In her series of paintings titled 'Lull', on display at the Aspinwall House, Acharya portrays the connection between human beings and other living organisms. Dripping with natural elements, her paintings reflect her concern for the impact of human activities on nature.
Hailing from Kerala, Acharya is known for her distinct style of art which incorporates dyes from flower extracts, human hair, blood, beetle wings, threads, rice paper, and other natural elements.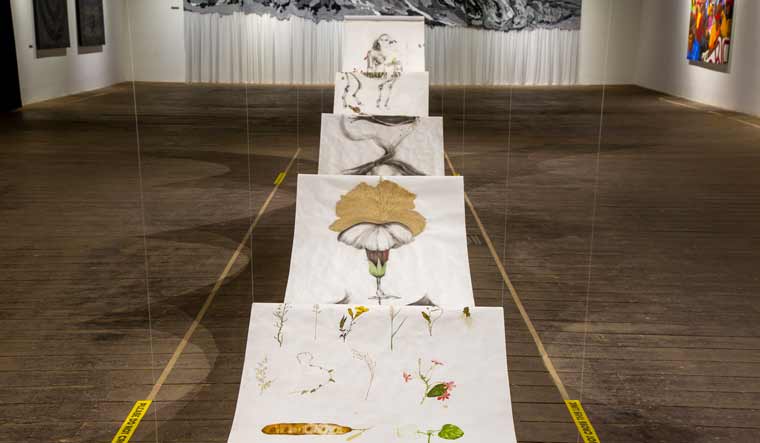 "According to my mom, I used to scribble in mud and books from the age of one," says Acharya, "and the power of my drawings is all acquired from my father's designs of machine engines." Her family has never been the stereotypical one that doesn't let a child pursue the arts professionally and has always supported her decision to become an artist. She says she was also deeply influenced by her biology classes in high school. When I started taking drawing and art more seriously, I got inspired and found myself deeply influenced by the artworks of Japanese artist Fuyuko Matsui, German-American artist Kiki Smith, and the famous German artist Albrecht Durer," she adds.
Acharya is focused more on satisfying the artist in her than pleasing the audience. She says: "I never visualise my audience. My prime focus is always on the self-satisfaction the particular work gives me." Acharya, whose works capture the themes of birth, death, and decay, says her university life in Hyderabad, with its natural atmosphere, helped her connect deeply with nature and observe life around her. Beyond the central theme, her works portray the physical and emotional changes in organisms. Her entire body of work serves as a window into her emotionality and sensitivity to the world around her. "Initially, even though my subjects were mostly nature and its emotions, I preferred acrylic for drawing," says Acharya. But the realisation that her actions and choice of medium did not sync together made her turn to nature to source materials for her artworks.
Some of her famous exhibitions include the Kerala Lalithakala Akademi Grand Exhibition which featured Acharya's debut solo exhibition, 'Unborn', in 2019. She exhibited her work, titled 'Fantasy of Having a Trailer Wagon All to Myself', in a group exhibition curated by Tatiana De Stempel in London in 2021. Her works that were exhibited at Lokame Tharavaadu, a group exhibition curated by artist Bose Krishnamachari in 2021, grabbed eyeballs.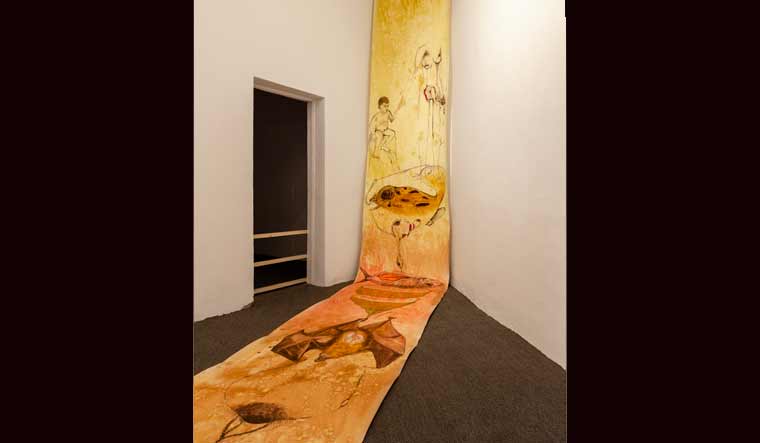 As an extension of her works displayed at the Kochi Biennale, she also led a workshop titled 'Memory Book'. Guided by the aroma of leaves, fruits, buds, and flowers, the workshop allowed participants to take a trip down memory lane. They were also introduced to Tataki Zome, a Japanese technique for applying botanical dyes to cloth or paper by pounding flowers and leaves. In addition to bringing up the use of natural elements in art, this serves as a way to preserve our memories.
The Biennale, in Acharya's words, is the only place where "even people who are not into the arts are also speaking, sharing, and experiencing my works."
Acharya's 'Lull' will be on display until April 10