A slice of Kolkata in Europe! That's how Indians in the Netherlands are going to celebrate Durga Puja.
This is the sixth year 'Anandadhara', a Bengali club in the north European country, is celebrating Durga Puja. The theme selected for this year is 'Ek tukdo Kolkata'—the depiction of Kolkata and its surroundings. A wooden Howrah Bridge over the Hooghly river, created using lights, along with greenery of the City of Joy would be the main attractions. 
Not only Bengalis, but all Indians settled in the country would be part of the grand celebration, the organisers say.
The celebration is organised at a big ground in Amstelveen. Flowers and banana tree leaves are being flown to the city by air. The idols of Duga and her sons and daughters have already been sent by Kumartuli's famous idol maker Prashanta Paul.
"The finishing touch for the celebration is going on. We, mostly IT job holders, will be on leave for five days during Durga Puja and are going to engage ourselves totally in the grand celebration," said Sudipta Laskar, an IT professional and one of the organisers. 
Laskar hails from Hooghly, a neighbouring district of Kolkata. The river Hooghly flows through most part of his district.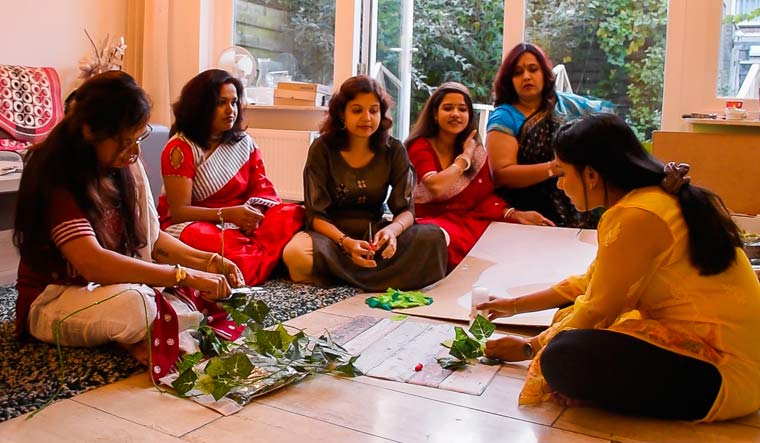 There will be cultural programmes in the evening of each day of Durga Puja. "The highlight of this year's cultural performances is Rabindra Nath Tagore's dance-drama Chitrangada, which will be performed by our in-house dance troupe Ananda Taranga," said Laskar.
Dinpanwita Mukherjee, who is in-charge of the show, also shared her excitement. "Our troupe performing in front of over 500 audiences makes me both nervous and excited. We do rehearsals every alternate day despite our busy schedule with family and office. During Durga Puja, we are endowed with additional energy to make it all happen. Looking forward to the D-day," she said.
Other performances include classical dances like Kathak, Odissi and Bharatanatyam by professional dancers, besides folk and cinematic dances. Musical shows, including vocals and instrument recitals, as well as recitation of Bengali poems have also been included. 
Various games and contests have also been arranged targeting the youth. There will also be a contest to find out the best dressed couple—Shriman-Srimati—which was a hit last time, say the organisers.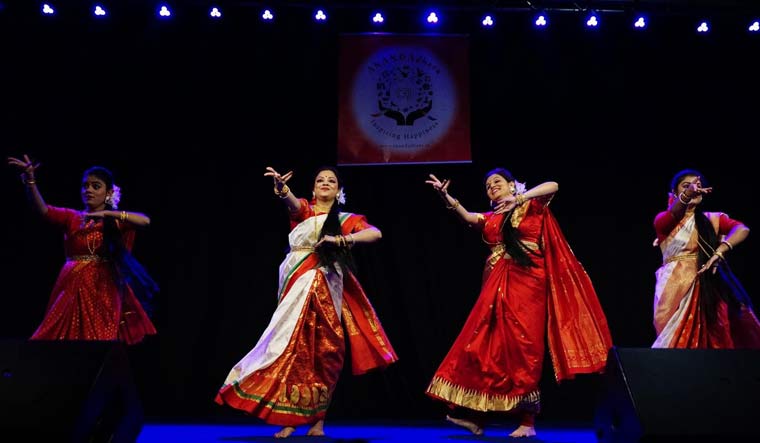 Covid-19 will have nominal impact this time with almost all restrictions being lifted. "Nevertheless, we have ensured that there will be no overcrowding and safe distance can be maintained," says Nabanita Sarkar, who hails from Asansol.
"But yes, finally we don't have to wear masks with our saris! Covid has lost its importance as it has become just a glorified 'cold'," she says.
Sujit Mondal, who hails from Durgapur, is the theme artist this year. He is engaged in creating the gigantic replication of Howrah Bridge.