When Frieda Kahlo and Diego Rivera married in 1929, her parents reportedly called the couple "the elephant" and "the dove." Rivera, one of the most consequential figures in Mexican mural art, was 20 years Kahlo's senior and weighed at least three times her size.
Both the artists painted each other and it is widely accepted that their tempestuous relationship—with its string of extramarital affairs and miscarriages, divorce and remarriage—is more than easily mirrored in their haunting portraits.
The Embassy of Mexico in India, in association with the National Institute of Fine Arts and Literature (INBAL) of Mexico and Museo Casa Estudio Diego Rivera y Frida Kahlo have curated a photo exhibition titled 'Diego & Frida: Life Chronicles'. The exhibition of 60 photo reprints is being displayed for the first time in India. The original photographs from this collection are on permanent display at the Museo Casa Estudio Diego Rivera y Frida Kahlo in Mexico. The prints will be on view at Bengaluru's gallery g until October 10.
Both Kahlo and Rivera helped to establish a movement which would have a definitive influence on the cultural life of 20th century Mexico. Together for almost 25 years (from their marriage until Frida's death), their relationship was defined by a myriad of events and failed encounters which transcended the realm of the private to become part of the public domain.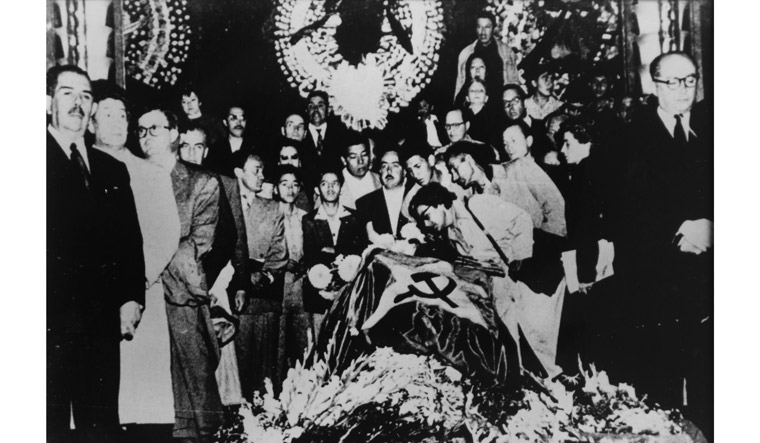 The all-consuming nature of their union brought together intellectuals, politicians, and celebrities. Their home was a place of gatherings, deliberations, and intrigue within the social and political life of Mexico. The intermittent periods during which they lived in the United States, due to commissions Rivera received, helped to shape their views on capitalism, progress, and revolution, but it was also a breaking point in their personal relationship.
Their return to Mexico marked another turning point: the couple separated towards the end of 1939 only to marry again one year later in San Francisco. This was a time of great activity and enthusiasm: Rivera was instrumental in the Mexican government's decision to grant León Trotsky's final asylum. Furthermore, the time both spent with André Breton, the founder of Surrealism, resulted in the promise of an exhibition which would take Frida Kahlo to Paris in 1939. Over the years, they created a network of artists and intellectuals who would become part of the modernising forces of the country.
The photo exhibition is a collection of photographs of famous artists who were friends and colleagues of the couple, among them, Guillermo Kahlo, Guillermo Zamora, Vicente Contreras, and Ernesto Reyes. The images depict important moments in the lives of Frida Kahlo and Diego Rivera. They also reflect the pain and physical deterioration of Kahlo, her political activism, including the last photograph taken of her in a politic demonstration, days before her death in July 1954.