Maternity is a period that is to be cherished, celebrated and marked with profound moments of joy. And what better way to register these moments than capturing the baby bump in all its beauty and glory—with right prop, settings, mood, lighting et al.
Mom-to-be and dad-to-be Amrut Baba and Jan documented their journey with an outdoor nude maternity photoshoot, set against a picturesque river in Kerala's Kozhikode district. The woman behind the lens was Athira Joy, a 28-year-old photographer from Kerala.
A nude photoshoot is the dream of every photographer, says Athira to THE WEEK. She wanted to have her own unique stamp on the photos when she decided to capture the moments for the French couple.
Athira says though there have been nude maternity photoshoots earlier but all of them were done indoor (at least in Kerala). She was, in fact, on the lookout for a model for such a photoshoot when Amrut Baba and Jan came her way. They were friends of her husband, and when she shared the idea of a nude maternity photoshoot and showed them a few samples from the internet, they came onboard.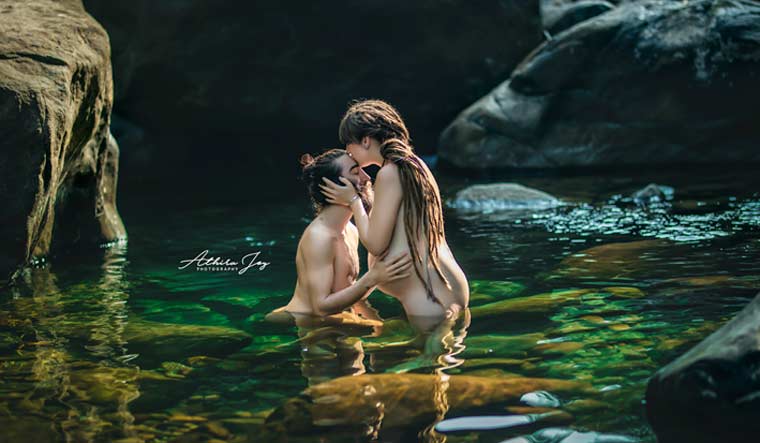 The plan was set, models were ready, but it wasn't easy to find a location. Though she approached resorts and home-stays, they were unable to assure her the privacy and security required for the shoot.
Athira was worried that her dream project would not take shape, but destiny had other plans. Her mom came up with the idea of shooting at a river in Kodenchery in Kozhikode. The necessary permission was obtained, and the shooting was completed as planned. Amrut and Jan were impressed.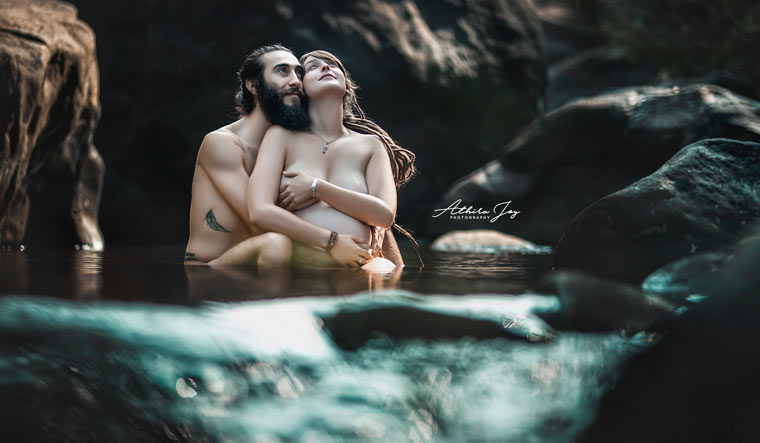 After she posted the photos on her Facebook page, there were a few who found the shoot objectionable. Facebook banned the photos after some people raised objections. Athira says she does not want to reveal who were the ones behind the move to get the photos banned.
But words of encouragement and appreciation were aplenty. She says many people messaged her personally, some called her up, telling her that they were impressed by the idea and photos. A few of them even came to my house to appreciate my work, says Athira.
"I haven't reacted to any negative criticism so far," says Athira, who completed her photography studies from IIP, Delhi. She says she was prepared to face the criticism.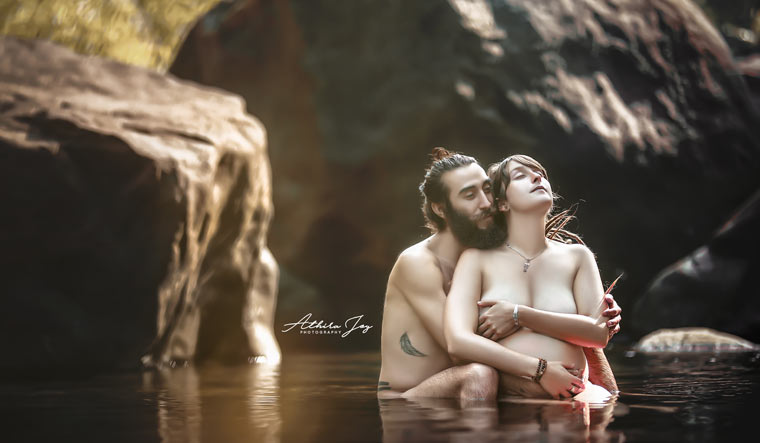 She says she had another unique project that she shot a few months ago—a campaign against the use of plastic. However, it went unnoticed.
Athira, who hails from Wayanad and is now settled in Vaikom in Kottayam with her husband and child, is only too eager to replicate the success of her first nude maternity photoshoot, if more people are open to the idea.