No, it's not yet another 'Save the Date' photoshoot. Instead, it's a love story in frames.
When Thiruvananthapuram-native Soorya S.V. approached city-based photographer M.S. Mahesh through her cousin Anoop for the shoot for her wedding with Liju L.J., little did she know that a pleasant surprise was in store for the couple.
While Soorya is a final year B.A. English student, Liju is part of the Madras Engineer Group—an engineer group of the Corps of Engineers of the Indian Army—and is currently posted in Srinagar.
Liju and Soorya studied in the same school. They fell in love soon after. After some initial hiccups, they managed to convince their families to agree to their relationship. But even after their marriage was fixed, they had to wait for another 8-9 months, since Liju did not get leave.
Finally, the two got hitched on September 5 last year.
Mahesh, who did their wedding and post-wedding photoshoot, came to know about this adorable love story only the day before the wedding! He had made an elaborate post-wedding photoshoot plan for another Army man earlier, which ultimately did not work out. He tweaked the 'script' for Liju and Soorya, and decided to showcase how they fell in love, the pain of being miles apart while Liju was on duty, the wedding and the joy of being together, finally.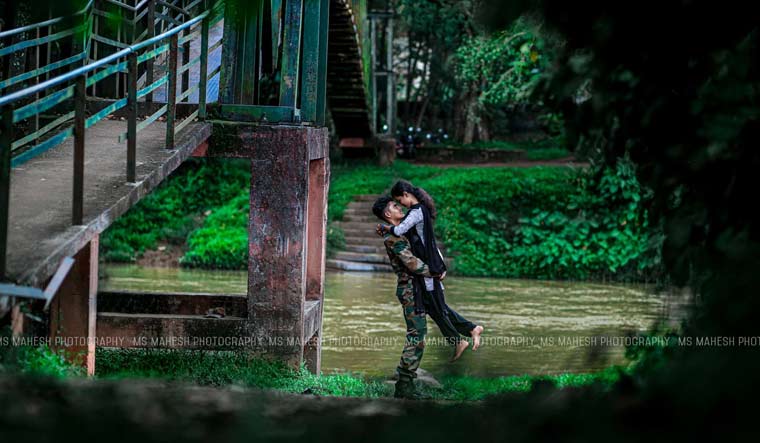 "It was a coincidence that Liju was also an Army man. After the wedding, I discussed the post-wedding shoot with Liju, and briefed him about the plan I had. I met his family and got more details of his love story," said Mahesh to THE WEEK.
"I would plan the shoot in the evening when Soorya would be back from college. The next challenge was to choose the appropriate locations, so that the continuity would not be lost."
Mahesh also factored in the maramadi festival—a bull race in the paddy field that takes place in post-harvest season—in the photoshoot.
Interestingly, Mahesh did not reveal the 'script' completely to Liju and Soorya. "Mahesh etan (brother) would ask us to come to the locations in certain costumes. We had no idea how he would be putting it all together. But, when we finally saw it, we loved it," said Liju.
Mahesh posted the album on Facebook on January 25. Since then, it has been shared more than 9,000 times, and has got more than a thousand comments.
"I had no clue that the pictures had gone viral because of connectivity issues in Srinagar," said Liju. "It was only when Soorya told me, that I came to know. It feels nice that so many people loved it."
Mahesh, who has worked as an assistant photographer in Malayalam films such as Mammootty-starrer Uncle and Captain, which was based on former India football captain V.P. Sathyan, paid attention to details, too. "Mahesh etan wanted to use an inland letter for the shoot. We had a tough time arranging it!" said Liju.