There was a time when tobacco advertising featured a sensuous Indian woman in a sleeveless blouse, single-handedly flaunting a cigarette with oodles of self-assurance. This one image arrests your attention at the exhibition, 'Image Journeys: The Conquest of the World as Picture', curated by renowned Indian art and cultural historian and museologist Jyotindra Jain for the fourth edition of Serendipity Arts Festival which concluded on December 22 in Panjim.
A fascinating romp of a journey across popular Indian imagery at the turn of the 20th century, the smoking lady appears in the section dedicated to commodity aesthetics which offers a panoramic view into the world of early Indian advertising and publicity. A 1930s calendar image of Bombay Special Cigarettes, shows a big-city woman in a saree, casually holding a cigarette in one hand, and a can of 'Best Virginia Bombay Special' in the other. American and European consumer goods companies in the 1930s would often issue Gregorian calendars as part of their promotional strategy after they started operating out of Bombay. Multinational tobacco companies too relied on artistically produced product labels, advertisements, collectible cards and calendars to get people to buy cigarettes at the time. "In colonial India, [as in the West], women became the prime target in cigarette ads, as glamorous temptresses in one context and as a part of the newly emergent affluent, educated, fashionable, modern urban class of smokers in another," says Jain in an email interview on cigarette cards, calendars and ads from the exhibition.
A 1912 calendar for the brand "Maharaja Cigarettes" published by the City Tobacco Company in Bangalore is considered one of the earliest surviving cigarette advertisements produced in India. This single-sheet calendar features the Maharaja of Mysore decked out in complete insignias of royalty, prominently displaying the brand and assuring the quality of its contents right next to the Maharaja's head and shoulder: pure Indian tobacco and best rice paper. Jain points out that cigarette, cigar or pipe smoking in the West might be more about individual taste, but in undivided India, they were strident indicators of social class. "In India, the urbane and elite cigarette smokers stood apart and distanced themselves from birri-smoking villagers. As cigarettes became the insignia of the urban elite and birris a sign of backwardness, smoking habits became markers of social distinctions and thereby instruments of power of the elite over illiterate farmers and workers."
But the most interesting gimmick employed to attract nicotine consumers were nifty little trade cards, originally deployed to tighten frail cigarette packs. These tobacco cards, when they first appeared in the 1870s, were blank until American businessmen started advertising on them via images of actors, sportspeople, Indian chiefs and animals. And collectible tobacco trade cards were thus born.
As for Indian colonial cigarette advertising campaigns, Western manufacturers overdosed on Orientalism—supplying images of "Indian ethnic types" on picture cards in cigarette packets. "Several cigarette companies began to supply miniature picture cards as oriental beauties, Indian occupations (sweeper, water carrier, soldier, etc.), nautch girls, film stars and white women in seductive poses," says Jain "These cards had apparently been issued in India between the 1890s and 1920s by Tiger Cigarettes and Pedro Cigarettes, both brands of the British-American Tobacco Company Ltd. Around the same time, Universal Tobacco Company, Madras, and Scissors Cigarette of W.D. & H.O. Wills supplied similar picture cards in their cigarette packets," he says. Manufacturers like Peninsular Tobacco Co. Ltd even used images of Hindu deities and mythological scenes on cards of a popular brand like Hawagarri Cigarette.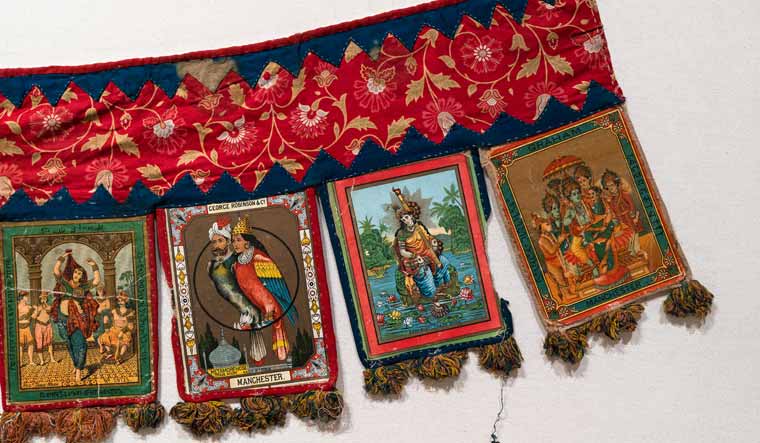 The walls of Adil Shah palace, Paniji's oldest surviving building, where the exhibition Image Journeys was held, also shows a 1920s fragment of a curtain which is a lace patchwork of playing cards depicting "oriental beauties (Indian, Thai, Burmese)" drawn from cigarette packets. "The image on each card was printed from a painted sepia photograph in which the clothing of the figure was brightly coloured while the face and limbs were lightly tinted, a device that added to the physical and individual presence of the model," says Jain.
Today, one will be hard-pressed to find examples of Indian collectors who actively sought out picturesque tobacco trade cards. But according to Jain, collection and creation of albums of cigarette cards was undertaken with much gusto in the Europe of 1930s—often organised into series like 'German history', 'German artists', or 'Flags of Nations of the World' as knowledge-building exercises. In America, these picture cards captivated the public—many illiterate---with pictures of baseball players. In the transatlantic history of cigarette cards, the most expensive is in fact that of an American baseball player called Honus Wagner who was a non-smoker and strongly disapproved of his picture being used by tobacco companies as advertisement. Hence, very few cards with Wagner's picture were printed, and the ones that did manage to slip out in the market are now considered the most precious find amongst trade card collectors. Another auction-favourite is a well-known collection from an centuries-old English "seller of tobacco" called Taddy & Co which produced an untitled series called "Clowns and Circus Artistes."
In India, painter S.M. Pandit (1916-91) and many other local artists have worked on cigarette cards and calendars, including Ravi Varma. Printers like the Ravi Varma Fine Arts & Litho Press, apart from commercial printing presses in Shivakashi in Tamil Nadu employed regional artists to create art for cigarette cards and calendars. While no museums in India have housed such ephemera from colonial popular culture, archives and collections—Swaraj Archives, the Priya Paul Collection, Civil Visual Archives in New Delhi, Abhishek Poddar collections in Bangalore—have preserved pieces of this beguiling printing history.