Baltistan was in the news recently when PM Modi signalled that India would no more stay oblivious to the plight of the people in Balochistan, PoK and Gilgit-Baltistan.

With their blue eyes and sharp features, Baltis say they belong to the Aryan stock with Central Asian and Tibetan influences.

"We became a part of India only in 1971, almost overnight. So, why not a special package for us, like a special Army recruitment drive?" - Mansoor Ul Hassan, government engineer

Tourism and agriculture form the mainstay of Balti economy. Buckwheat and apricot are the main crops. Walnuts, almonds and berries are also grown.

Within a week of Modi's speech at the Red Fort, the Army opened up Tyakshi, making the LoC almost within reach for Indian tourists.

Bread made from buckwheat or barley, and yoghurt made from yak milk, flavoured with a herb called tsamik, are the staple food of Indian Baltis.
On September 4, the 57th consecutive day of turbulence in the Kashmir valley, an all-party delegation led by Union Home Minister Rajnath Singh touched down in Srinagar, in an attempt to find a solution to the crisis. The overture met with a quick rebuff from the protesters. Separatist leaders did not even let in a group of opposition leaders who tried to meet them at their residences. A day later, violent protests erupted once again across the valley, and the delegation returned to Delhi empty handed.
Yet, despite the seemingly unending waves of protest, it would be a folly to paint the Kashmiri attitudes towards India in monochrome. THE WEEK recently travelled to one of Kashmir's remotest corners—more than 600km northeast of Srinagar—right on the Line of Control. Here, nestled in the lap of the mighty Karakoram ranges, lies a tiny sliver of Baltistan. These five villages—Chalunka, Turtuk, Tyakshi, Panchathang and Thang—which India annexed in 1971, remain to this day an integral part of India, socially, politically and culturally, despite being ruled by Pakistan for nearly a quarter of a century.
Baltistan was historically a part of the Ladakh wazarat (district) of the princely state of Kashmir. But after Maharaja Hari Singh chose to accede to India in October 1947, his representative to the region was overthrown in a coup on November 2, by a handful of British officers, aided by Pakistani soldiers. And, to date, the region remains in an administrative limbo, devoid of the formal status of a province within Pakistan, while India considers it a part of undivided Jammu and Kashmir. More than 95 per cent of the Baltis are Muslims, belonging to Shia, Sunni and Noorbakshia sects.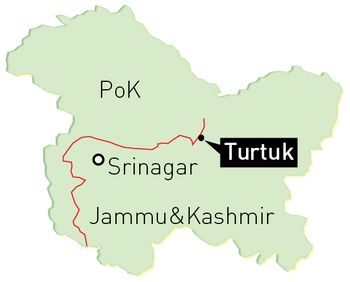 Baltistan was in the news recently when Prime Minister Narendra Modi, in his Independence Day address, signalled that India would no more stay oblivious to the plight of the people in Balochistan, Pakistan-occupied Kashmir and Gilgit-Baltistan. For the current BJP dispensation, reclaiming PoK is a key unfinished agenda. Close on the heels of Modi's address, several BJP leaders came out with calls to support freedom movements in Balochistan, Gilgit-Baltistan and PoK. There were reports that the Union government was exploring the option of inviting the diaspora from Gilgit-Baltistan for the next Pravasi Bharatiya Diwas, to be held in Bengaluru in January. The message was not lost on the Indian Baltis, too. As the valley continues to burn, they are keeping a close watch over the developments.
"Many of the protesters in the valley are misguided by the agenda of their leaders, although both sides are to be blamed for the ongoing crisis," said Shabbir Ahmed, a postgraduate student of political science at the University of Kashmir in Srinagar. The 24-year-old was at home in Turtuk—the biggest and most populous among the villages—for more than a month as the university was shut down because of the unrest in the valley. "Both sides have certain grievances. But I find it wrong to oppose India blindly," said Shabbir, whom we found on the wayside reading a book on the Prophet Mohammed in English a couple of kilometres before Turtuk.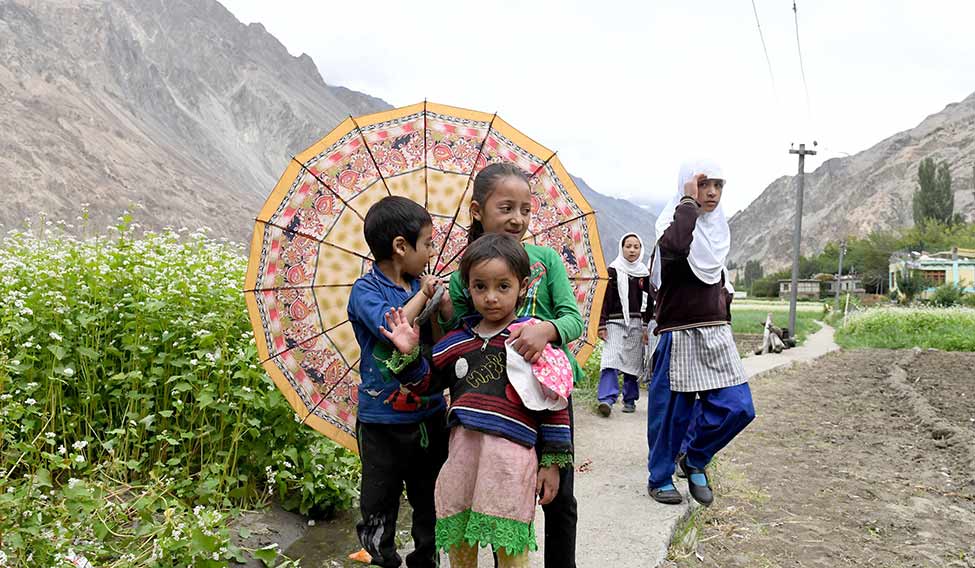 A visit to Turtuk is not for the fainthearted. Many tourists finish their journey in Leh, the biggest city in Ladakh. A few brave souls take the arduous trip to the Khardungla pass, which, according to the Border Roads Organisation, is the highest motorable road in the world. Enamoured by the charms of the Nubra valley, some dare to proceed to the Buddhist wonders in Diskit and the cold desert of Hunder. Turtuk lies another seven to eight hours away, beyond one of the most imposingly desolate landscapes one can imagine. Sometimes, the only company that you are likely to find on the way are the double-humped Bactrian camels, which were the mainstay of the caravans that once plied the Silk Route. Munching on the sparse wild shrubs, these beasts are too lazy even to acknowledge your presence.
The only human presence on the way belongs to the Army and the Air Force. There are miles and miles of barracks and even an airbase, protected by barbed wires and rugged men, who may occasionally give you a smile or a wave. The Shyok River is another engaging company along the route. Muddy from the crumbling rocks and heady from the melting snow, it sets a furious pace on its course towards the LoC, negotiating the bumpy ride with wild abandon, under the benign gaze of the snow-clad peaks of the Karakoram that stand tall like wizened old men with sparkling white mops.
Although summer is the best season to visit these Balti villages, the sun causes the glaciers to melt, filling up the brooks and streams on the route, making the journey challenging, especially if you are on a two-wheeler, like us. When we were stuck in one such stream in Bogdang, a village close to Turtuk, two women asked us where we were headed to. When we said Turtuk, they said we were on the wrong route and asked us to go back. We pushed ahead nevertheless, seeing no other tracks. "The women were trying to stop you from reaching Turtuk," said Shabbir. There is a long-running feud between Bogdang and Turtuk, it seems. Till Turtuk became a part of India, Bogdang was the last Indian village on the LoC, enjoying special status and privileges. "They are yet to come to terms with their loss and have even dragged us to court," he said.
In Turtuk, we found that most locals expected the government to grant them special status. "We became a part of India only in 1971, almost overnight. So, why not a special package for us, like a special Army recruitment drive?" asked Mansoor Ul Hassan, a government engineer.
Turtuk and the neighbouring villages were annexed by the Army in December 1971, during the Bangladesh war. "Many people say it was an overnight operation, but it wasn't," said Mohammed Hussain, a sub-inspector with the J&K Police. Hussain, 57, was then working in a tea stall in Skardu in PoK, but he was home the night the Indian Army started moving in. "It really wasn't that dramatic. The Pak detachment in Turtuk was led by a Bangladeshi captain. He was a little less enthusiastic as he knew what was going on in the eastern sector. Subsequently, the Indian Army, led by Major Chewang Rinchen, overran the Pak defences and annexed more than 800sq.km of territory," he said.
Mohammed Moosa, who runs a public call office, said grievances of Turtuk residents were no different from those of any other Indian village. "We need better roads, hospitals, electricity, phones and internet. We want better living conditions," said Moosa, whose family moved here from PoK in 1964.
So, what about azadi? "Do you think it will make our lives better?" asked Mansoor. "No sir, we are happy to be a part of India. But please let the country know that we are a neglected lot," he said.
Mansoor is right. The region has only basic health facilities. The nearest hospital is eight hours away. The road network is poor. Electricity is available for only four hours, from 7pm to 11pm. "Across LoC, there is 24x7 power supply. Our grandfathers say when we became part of India, we were in a better position. We never had to go hungry even in winters because the Army fed us. It was not the case in PoK. Now, they have caught up and have gone ahead," he said.
Telecommunication, too, is an issue. Phone connections are bad and the internet is almost non-existent. "It can take a few hours to share a photo on WhatsApp. Sometimes I feel it would be easy to go to Srinagar and show it to my friends," said Shabbir.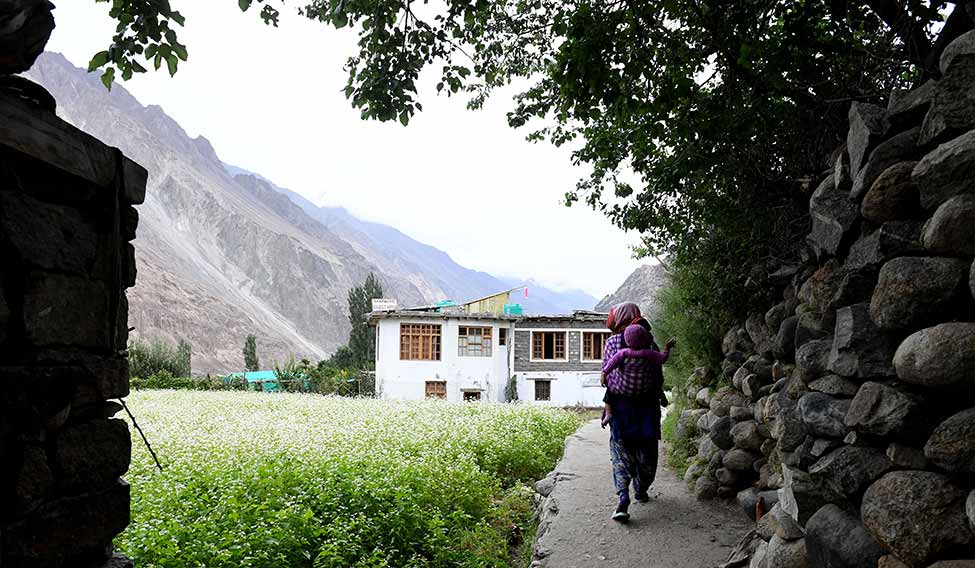 Mansoor and Shabbir also expressed concern about the lack of schools and trained teachers. In the higher secondary division in the local government school, there are no teachers, especially for certain subjects. When the MLA and other officials came visiting recently, Mansoor said the students were literally begging for help. But nothing happened. "Politicians are the same everywhere. They promise the moon, but will come to us only for the next elections, said Shabbir.
Mansoor let us in on another secret. The locals seem to have a grouse against the Ladakhis, who dominate the district. They are not happy about having to rely on Leh, the district headquarters, for everything. For instance, there is a road linking Turtuk to Srinagar, bypassing Leh, which could reduce the distance by more than 100km. But a 12-km stretch on this route is yet to be constructed. The Army, which uses the route extensively, relies on ponies and porters to negotiate the stretch. "It will provide us a direct route to Srinagar. But our MP and MLA are not really trying to make it happen," said Mansoor.
While all these render a sense of tedium to life in these border villages, life is anything but ordinary here. The villages, without exception, carry the scars of the forced separation that took place in 1971. There is hardly a family that remains unaffected. Mansoor himself is a victim. The youngest of seven siblings, he said he never had a chance to meet his eldest brother, Abdul Kareem. Kareem was studying in Skardu when India annexed Turtuk. Stranded in PoK, he moved to Karachi. For a very long time, Mansoor had no contact with Kareem and his family. Of late, the brothers are in touch through internet. But the pain of not being able to meet his elder brother still rankles Mansoor.
Mohammed Ali from Thang was luckier. He was barely six months old when his village became a part of India. His parents had gone to a neighbouring village when the Army moved in. By the next morning, Ali had become an Indian citizen but his parents were stuck in PoK. It took him 45 years and a circuitous route via Delhi and Islamabad to go to his parent's village (see box on page 33). "We can see where our dear and near ones live. But to actually go and meet them, one has to travel several thousand kilometres. It is heartbreaking," said Ali. Mansoor said as a humanitarian gesture, both governments should think of setting up a meeting point on the LoC for divided families. Right now, it is forbidden territory, heavily guarded and dangerously mined. Locals readily narrate the apocryphal account of a yak that wandered into the no-man's land on the LoC. A mine blew off its forelegs and the poor beast died an agonising death.
Yet, one of the major attractions of Turtuk is its proximity to the LoC, which brings in tourists, especially from the west. Sanaullah, a policeman, however, said the villagers preferred domestic tourists. "We are a conservative lot. Our elders are appalled to see scantily-clad foreigners and their public display of affection." Shabbir said the influx of tourists had changed the region for better. "It is lucrative. It has also resulted in an improvement of our dressing habits and, more importantly, sanitation," he said. Most Balti houses—basic structures built of stone, logs and mud—have primitive toilets, which are nothing more than smelly indoor pits. With the arrival of tourists, they are building new houses, complete with modern toilets, to rent out as home-stays.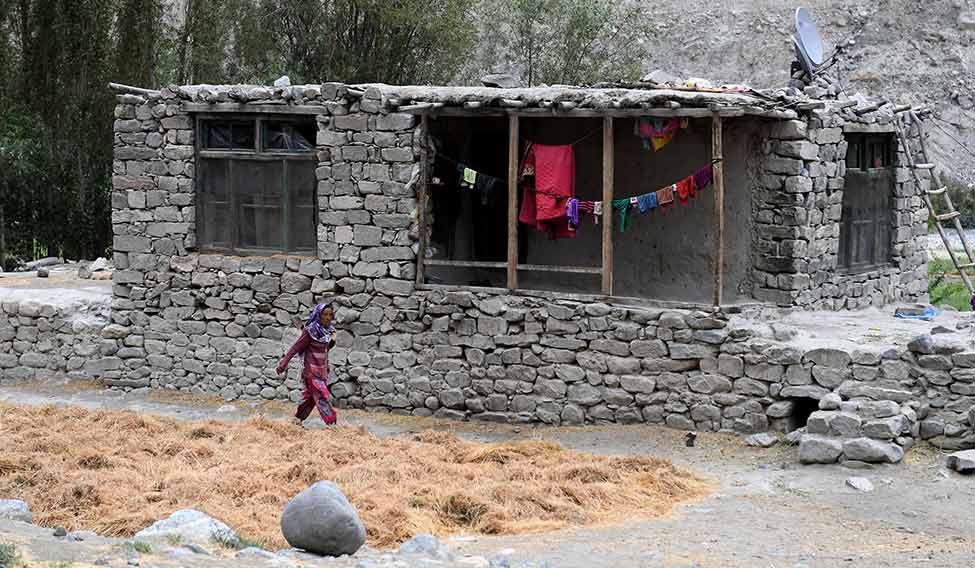 But tourism also has its unintended costs. Turtuk, which was opened for tourists in 2010, had seen a drop in the number of college students, said Shabbir. Tyakshi, the village next to Turtuk, has stolen a march over Turtuk. People from Tyakshi, however, have been pestering authorities for a long time to open up their village for tourism. Within a week of Modi's speech at the Red Fort, the Army okayed the demand, making the LoC almost within reach for Indian tourists. With its location on the LoC and because of its proximity to Siachen, Turtuk has a major military presence in the form of Ladakh Scouts and Gorkha Rifles. At the final checkpoint in Tyakshi, soldiers informed us that we could proceed further a day later, once the Army repositioned the barricades. Photography was initially discouraged, but then came little Vaima and her mother from Thang, and we were allowed to take a quick snap.
Although these border villages do not have a big population to boast—their combined strength is not more than 6,000—their desire to stay with India stands in direct contrast to the turbulent politics of the valley. Yet there used to be a time when this region was also under a cloud. During the first few years after it was annexed, there was palpable doubt among the administration that the locals were still loyal to Pakistan. When the valley erupted in the late 1980s, separatism found some support in Turtuk as well. A few locals were arrested for a plot to blow up a bridge across the Shyok that linked the region to the rest of Ladakh. The plot was foiled, a few were arrested and the rest of the plotters fled to Pakistan. Turtuk last saw turbulence during the Kargil war when indiscriminate Pakistani shelling from the heights across the LoC resulted in many deaths. Many locals were interned in Hunder during the war. But subsequently, the Army launched Operation Sadbhavana, opening schools, vocational training centres and cooperative societies, in an attempt to win hearts and minds. The initiative, to a large extent, seems to be a success. "Yet, this is Kashmir. And, Pakistan is next door. Anything can happen here," said a Tyakshi resident we met outside a restaurant.
After Tyakshi, Thang, the last village on the LoC, wants to welcome Indian tourists. "I told the CO (commanding officer) sahib if he can allow Nepali porters and his own friends in Thang, then there should not be any restriction on people from Hindustan," said Ali. "Let them come and see the life here. Let us learn from them, how they live and how India lives. There is no better exercise to promote national integration than getting our people to meet each other."