Ravi Shankar and Ramdev will play crucial roles for their companies in this marketing game, just like they played them to perfection in the yoga business.
Sri Sri Ravi Shankar has 1.36 million followers on Twitter, though he follows no one. The spiritual leader, who founded the Art of Living Foundation in 1981, now has some catching up to do. His Sri Sri Ayurveda, an Ayurvedic products manufacturer, is pitted against the fellow yoga guru Baba Ramdev's Patanjali Ayurved, which has been growing like Topsy in the past few years.
In fact, Sri Sri Ayurveda has long been a reluctant competitor. It started working in 2003 (three years before Patanjali Ayurved started), and served mostly the requirements of the Art of Living community. Patanjali, on the other hand, never shied away from locking horns with competitors, especially the multinationals. Ramdev abhors his multinational competitors. In an interview with THE WEEK in 2005, he even alleged that some MNCs had threatened to eliminate him.
Patanjali, which is based in Haridwar, Uttarakhand, has grown manifold since. The past five years have been dazzling—revenues grew from Rs 453 crore in 2011-12 to an estimated Rs 5,000 crore in 2015-16. Now it sells some 450 food, personal care and wellness products, and more than 300 medicines for treating common cold to paralysis. And, Ramdev is not yet done. He is planning to open Patanjali mega stores across India and is set to launch a premium cosmetic brand, called Soundarya, to take on the likes of L'Oreal and Maybelline.
Analysts see a bright future for the company. Brokerage firm IIFL Associates predicts Patanjali's revenues to touch Rs 20,000 crore in 2020. According to Arvind Singhal, chairman of the consumer market consultancy Technopak Advisors, established FMCG companies are facing a stiff competition across multiple product categories. "Having said this, I believe that Patanjali will contribute in expanding the market for FMCG products in India, and this would help all the companies," he said.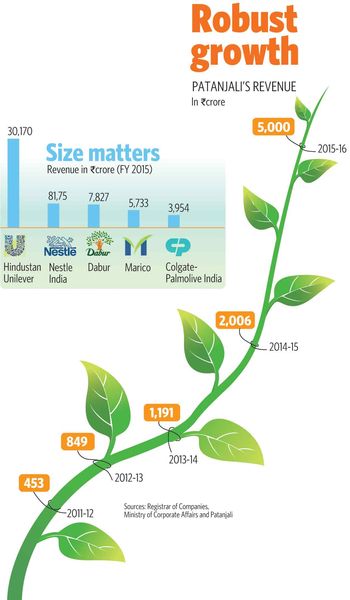 The competitors know they have met their match in Patanjali. Food and beverages giant Nestle India was the first to feel the heat. When it had to pull out its Maggi brand of instant noodles last year after a controversy broke out on the product's quality, Ramdev stormed the market with Patanjali atta noodles. Nestle's sales fell from Rs 9,854 crore in 2014 to Rs 8,175 crore in 2015.
Many experts believe the actual fight is in the fast-growing oral care sector. Patanjali's Dant Kanti toothpaste posted sales of Rs 450 crore in the last fiscal, garnering about 5 per cent of the market. Market leader Colgate-Palmolive lost 0.6 per cent share in the same period. More importantly, some brokerage houses have cut Colgate's earnings estimates for the next year citing the threat from Patanjali.
Sri Sri Ayurveda remained a spectator for most part when Patanjali took the market by storm. That, however, might be a thing of the past, as last month it gave clear intentions of its plans with a full-page advertisement of Ojasvita, a malt drink, in a national newspaper. In fact, the groundwork has been on for a while. In addition to the two manufacturing facilities it has, it is getting a third one ready. "We plan to have 2,500 stores across India by 2017, carrying an extended range of modern, daily consumption products," said Tej Katpitia, chief marketing officer of Sri Sri Ayurveda. "Over the next two quarters, we are extending our range of food products to include breakfast cereals, cookies, atta, oils, spices, masalas, ready-to-cook items and a range of organic staples for select markets."
Many of the food products sold by Art of Living are made by Sumeru Ayurveda. Ravi Shankar's nephew Arvind Varchaswi runs this company. Sumeru Holidays, a sister concern which has an office at the Art of Living headquarters on the Bengaluru-Kanakapura road, makes travel arrangements for guests and volunteers of Art of Living programmes.
Ravi Shankar has always been an advocate of Ayurveda. Sri Sri Ayurveda was started to cater to his hospital near the Art of Living headquarters. Later it expanded to wellness and personal care products. "People deserve quality products," said Ravi Shankar in an interview with THE WEEK. "We are not for profit. So we do not need to compromise on quality."
It also helps that it has the backing of the deep pockets of Art of Living. The foundation's main source of income is the course fees from its many wellness programmes. It has been steadily expanding to new geographies and regularly introducing new courses—like the ones for those with diabetes, depression or asthma. Its corporate clients include Google, JP Morgan and Reliance Industries.
At any point of time, some 1,000 people stay at Art of Living's Bengaluru ashram for its residential programmes. And, it does not take a second look to figure out the typical client profile—urban middle class. It is exactly the spending power of this following which makes Sri Sri Ayurveda a potential force in the FMCG market.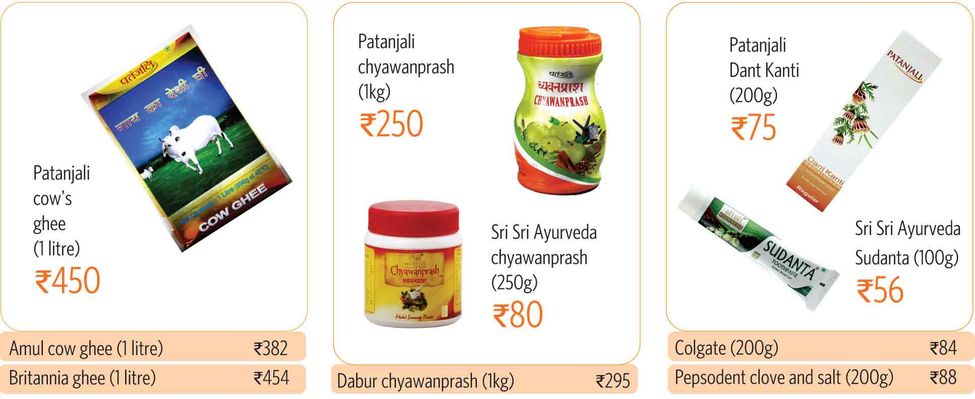 Evidently, both Patanjali and Sri Sri Ayurveda are counting on the mass appeal of its patrons. But it is not just that. "They are both promoted by charismatic gurus and offer holistic products that claim a close connect to nature. That is an unbeatable combination," said Harish Bijoor, brand expert and founder of Harish Bijoor Consults Inc. "These brands seem to resonate well with consumer expectations. It is all about being relevant to consumer wants, needs, desires and aspirations at the right point of time."
Consumers, for sure, are happy about the newer options, and there is the added appeal of Ayurveda and a lower price point. Chetan Macwan, 29, of Nadiad near Ahmedabad, Gujarat, has been using Patanjali's neem soap for six months and vouches for its quality. "It is better than most other soaps," he said. Most Patanjali products are competitively priced. For instance, its 500g honey bottle is sold at Rs 135, while Dabur India's 500g bottle is sold at Rs 199.
Dabur was expected to be the first casualty of the onslaught of Patanjali and Sri Sri Ayurveda. However, despite losing market share in a few categories, the company's revenues jumped 8 per cent in the last fiscal, from Rs 7,827 crore to Rs 8,454 crore. This could well be attributed to the expanding market of Ayurvedic products. There are reports that many big players, including Hindustan Unilever and Colgate-Palmolive, have started focusing on 'natural' products. "There have also been efforts by companies such as Dabur and Marico to improve distribution in chemist stores, which indicate that they are looking to position their products more conspicuously among wellness-oriented consumers," said Ritwik Rai, vice president (private client group research), Kotak Securities.
Standing out in this crowd would be a challenge for every player. And, most companies have a plan to face that challenge. Dabur, for instance, is banking on its heritage and strong research and development. "Dabur has highly differentiated brands in the market," said Lalit Malik, chief financial officer, Dabur India.
Ravi Shankar and Ramdev will play crucial roles for their companies in this marketing game, just like they played them to perfection in the yoga business. Ramdev successfully used every media platform—books, cassettes, CDs, cable, internet—to take yoga to millions of people. He did the same with Patanjali Ayurved—its products are everywhere, from exclusive kiosks in Big Bazaar to the shelves of the neighbourhood stores. And, he is among the biggest ad spenders in the industry. Patanjali is said to have a Rs 300 crore budget for advertisement this year.
Ravi Shankar, on the other hand, has been discreet. He carefully cultivated a following for his wellness programmes—most of them based on his patented breathing technique called Sudarshan Kriya. Similarly, Sri Sri Ayurveda has been slow but steady. Its products have been a hit among Art of Living members. Delhi-based finance professional Arun Padmanabhan, 45, for instance, has been using Sri Sri Ayurveda's products since he attended a meditation camp by Art of Living five years ago. "I use their honey, tooth paste, incense sticks and many syrups and drops," he said. Sri Sri Ayurveda sells a significant chunk of its products through its online store Sattvastore and e-tailer Amazon.
Despite lending his honorific title to the company, Ravi Shankar stays away from the day-to-day business of Sri Sri Ayurveda. Ramdev, however, has a hands-on approach. Though he does not own the company or hold a position in it, he is involved in everything it does. His close associate Acharya Balkrishna is chairman and managing director of Patanjali.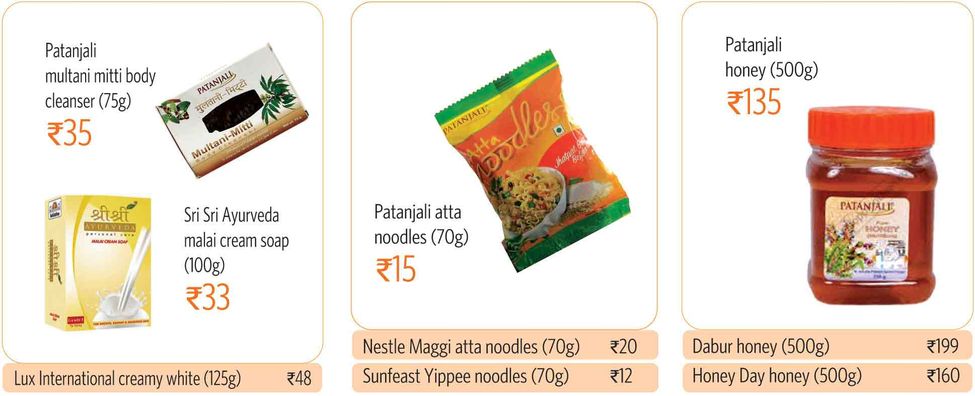 Ramdev and Balkrishna go back a long way. They started their efforts to revive yoga in 1995, along with Acharya Karamveer, who was a master in yoga and the Vedas. Karamveer later parted ways with the duo owing to some differences. While Balkrishna has a degree in Ayurveda, Ramdev attended some gurukuls after studying up to class 8 in Shahjadpur. He is said to have travelled the Himalayas after that and settled in Haridwar. He honed his yoga skills and discovered many medicinal plants during the Himalayan odyssey.
Balkrishna owns 94 per cent stake in Patanjali Ayurved, but resembles an ascetic rather than a corporate honcho. He rarely uses a computer or the English language. Both Ramdev and Balkrishna do not draw salaries.
Patanjali's dream run is nothing short of a miracle. It took just 10 years to hit Rs 5,000 crore in revenues. Dabur took 70 years to reach the milestone. And, ITC's FMCG business, with all its financial muscle, took 13 years. Patanjali is planning to raise Rs 1,000 crore from banks to fund its ambitious expansion. ICICI Bank and HDFC Bank have offered to provide the loan. It currently has a loan of Rs 320 crore from Punjab National Bank.
Sri Sri Ayurveda, on the other hand, does not intend to borrow to meet capital requirements. It is funding the expansion with its own money. "The sales growth itself supports expansion plans," said Katpitia. "We do not have any immediate funding needs." THE WEEK could not verify Sri Sri Ayurveda's revenues.
Funds, anyway, have seldom been a problem ever since Ravi Shankar devised Sudarshan Kriya in 1982. A science graduate, he was inspired by Maharishi Mahesh Yogi and his Transcendental Meditation. Ravi Shankar held the first Art of Living course in 1983. Now the foundation, which operates as a charitable organisation, has presence in 156 countries.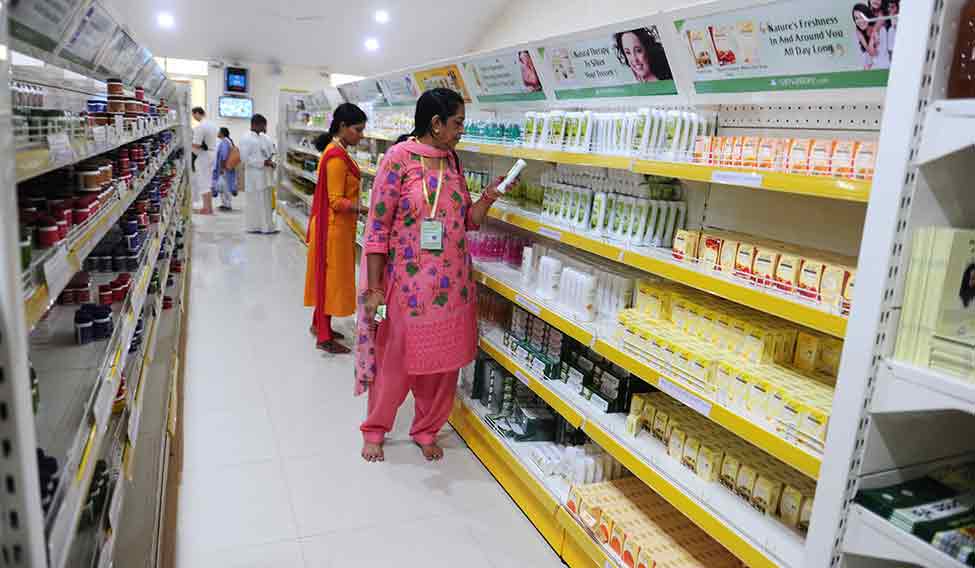 While both Patanjali and Sri Sri Ayurveda intend to beat multinationals in their own game, there is the inevitability of competing with each other. "They will fight one another for sure," said Bijoor. In fact, they compete in almost every category, though at slightly different price points. They will also fight for the precious raw materials. Both Patanjali and Sri Sri Ayurveda have captive facilities to grow medicinal plants and herbs. But they can meet only a fraction of the requirements. Both companies have arrangements with various states to buy forest produces collected by tribals and medicinal plants cultivated by farmers.
Then there is the common strategy of leveraging the resurgent national pride. While Ramdev wears it on his saffron shawl, Ravi Shankar is subtler. Though it is unlikely to be a decider in the long run, the momentum it gives is important for the companies, and both men know it. Ramdev recently gave a cryptic answer when journalists asked what his advice was to Ravi Shankar. "He wants people to always smile," said Ramdev. "My advice to him is to keep smiling." It remains to be seen who will have the last laugh.
WITH SHRITAMA BOSE, ABHINAV SINGH AND NANDINI OZA