THE 'SHINY LOLLIPOP' was for years the top prize in Test cricket. Since 2003, to be precise. But only when the ICC repackaged it as the World Test Championship did the mace start to evade India. Virat Kohli's men held the mace for three years―2017-19―before losing it to New Zealand in the inaugural final at Southampton in 2021.
Yet, there is something about a trophy or a medal that gives a sense of finality to the sporting brain. Which is why, when India―this time Rohit Sharma's men―lost the second final to Australia at the Oval, there were calls to overhaul the system. Overreactions, yes. Fair? Perhaps. The Board of Control for Cricket in India, to put it mildly, controls more geography than its name suggests. It runs the richest and the best T20 league in the world, is more prolific in money-making than Sachin Tendulkar was with runs, and is projected to corner 38.5 per cent of the International Cricket Council's net surplus earnings for the next four years. England and Australia, part of the supposed "big three", get around 7 per cent and 6 per cent each.
So, an Indian fan has every right to ask for that trophy, across all three formats; it was, after all, the fan that made this behemoth. The last piece of silverware India lifted was almost exactly a decade ago―the 2013 Champions Trophy in England. Under Mahendra Singh Dhoni. Since then, it has been a parade of possibilities―multiple semifinals and finals, but never the big one.
There seem to be a handful of reasons for these failures. Faulty selections, imperfect temperament, lack of preparation, inability to play the swinging ball and top-order collapses. Most of these, though, are offered in the glow of hindsight.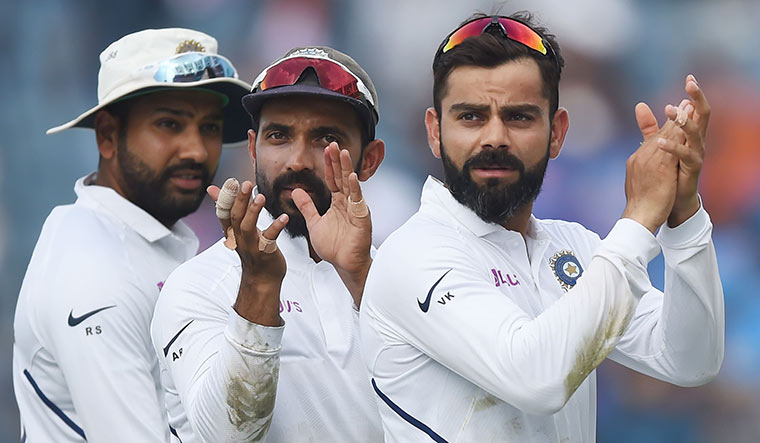 There are also the memes proclaiming that India have now taken over the tag of "chokers" from South Africa. How you see this depends on how you define "chokers". If it is a team that goes into most tournaments as favourites and does not win, then perhaps yes. The Indians are chokers. But if it means a team that bottles it from a winning position in a match, then perhaps not. In most of their ICC finals since 2013, the team was never in such a strong position that it choked.
There is no single solid reason that explains why India falter in knockouts. But chalking it up to luck, or lack of it, is plain lazy.
What could be done is to assess where the team stands now.
That a transition is coming is obvious. Rohit, Virat, Cheteshwar Pujara, Ajinkya Rahane, Ravichandran Ashwin, Ravindra Jadeja and Umesh Yadav are in their near-to-mid-30s. Mohammed Shami is 32.
How the young blood is infused will determine if Indian cricket haemorrhages or gains strength. Shubman Gill is a good example of someone who has jumped levels quickly to become 'the prince' of Indian cricket. Prithvi Shaw, who had his stumps rattled on 0 and 4 in Australia in 2020, is yet to realise his prodigious potential.
India will host the 50-over World Cup this year, and calls for this impending transition will only get stronger if the team does anything but win. The past three editions have been won by the hosts; a trend India started in 2011. During Rahul Dravid's tenure as coach, the current ODI team has won 21, lost 10 and found no result in two matches. This includes losses in South Africa (0-3), against Australia at home (1-2) and in Bangladesh (1-2). There were also series wins in England (2-1), and at home against South Africa (2-1) and New Zealand (3-0). It has been a mixed bag, no doubt. Dravid, though, has said that they have narrowed it down to 17-18 players and are "in a good space". The Asia Cup in late August will be crucial to build form. Batters Kohli, Rohit and Rahul are better suited to the ODI format than the shorter one, and the imminent return of Jasprit Bumrah and Rishabh Pant would boost morale and hopefully results. The problem with ODIs, though, is that the format does not really create much debate anymore. It is stuck between the Test purists and T20 evangelists, and seems to be in freefall. Talking points come when there is talk. Sure, you remember the spectacular World Cup final between England and New Zealand in 2019, but what of other "moments" in 50-over cricket since?
Perhaps India winning could reignite interest in the tournament, though it most likely will not. The sharpening of knives will wait till the next World Cup. "There are only two ways for the ODI game to still ride the wave," commentator and former Hampshire captain Mark Nicholas wrote in a column last year. "The first is to drop bilateral T20 cricket altogether, which won't happen…. [or] to drop all bilateral ODIs, and only play 50-over international cricket on special occasions, at World Cups…. Make something scarce and demand often increases."
A commodity for which there seems to be unlimited demand for is T20. There seem to be enough outstretched hands asking the master, like Oliver Twist, "Please sir, I want some more." This year itself has seen two big domestic T20 leagues inaugurated―the SA20 in South Africa and the ILT20 in the UAE.
And it is seeing this proliferation of leagues, inspired by the IPL, that the Indian fan must feel most aggrieved. Not at the growth of the game, no, but at the emptiness of his own team's cabinet. If there is one ICC trophy that this Indian team should win―what with the success of the IPL―it's the T20 World Cup. It is baffling that the only one India has won predates the IPL.
After India failed to qualify for the knockouts of the 2021 edition, Dravid and Rohit had said that their batters would, going ahead, be more aggressive. And they did. Till the 2022 World Cup. There, in six games, the Indian batters crossed 40 runs only once in the powerplay, that too against Zimbabwe.
It could be a temperament issue. Or it could be that the Indian national side has, over the years, played a brand of T20I cricket that is more traditional than what the IPL throws up. And the result shows.
Compared with that, the Test team looks golden. Under Dravid's coaching, the team beat New Zealand at home 1-0, lost a close series to South Africa away 1-2, dominated Sri Lanka at home 2-0, lost the postponed final Test in England to draw the series 2-2, won 2-0 in a tricky tour of Bangladesh, and defeated Australia at home 2-1. And then came the World Test Championship loss against Australia, which was a lot closer than the 209-run margin implied.
Their predicament is linked directly to that upcoming transition. There are players on the wrong side of 30 and the reserves, at least in the bowling department, don't look as ready as they were a few years ago. This could be because the India A team is not touring as much. "The 2020/21 triumph in Australia was possible because the Indian reserve bench had match-ready reserve cricketers who had honed their skills in alien conditions," writes Wisden India's Abhishek Mukherjee. "It has been nearly three years since cricket resumed after the pandemic. Even if one deducts six months, or even a year, from that to make allowances for post-pandemic regrouping, India A have played a meagre eight unofficial Tests over the same time―fewer than what they used to in a year."
Another headache, though not specific to the Test squad, is the other aches the bowlers are accruing. India's best bowler―Bumrah―is out. Deepak Chahar and Mohsin Khan only recently returned from injury breaks, and Prasidh Krishna is still recovering. The reason for these breakdowns could well be workload mismanagement. It might not be fashionable to say this, but maybe it is time to pull the plug on the concept of an all-format player. Or at least not make it a primary inspiration among budding bowlers. There might be those exceptional ones who can maintain their bodies and skill levels across formats, but there are those who might be better suited to two or even one.
Then again, all this might not matter. The way T20 leagues are expanding their footprint on the cricketing calendar, the international game could see the walls closing in on it. Last August, Kiwi pacer Trent Boult took a leap. Not off the ground during his run-up, but one of faith. One of the mainstays of a successful New Zealand team and one of its best bowlers ever, the 32-year-old requested his release from New Zealand Cricket's central contract. He wanted to be with his wife and three children, and said he preferred playing in T20 leagues around the world. NZC reluctantly agreed. Boult, however, is likely to bowl in the ODI World Cup as part of a casual playing agreement with the board.
Jofra Archer's case might not be as flexible. Earlier this year, there were reports that Mumbai Indians was going to offer a multi-million-dollar, year-long contract to the English quick, which would mean that he would be part of the franchise's teams across the world―MI, MI Cape Town, MI Emirates and MI New York in Major League Cricket―and would need to ask the Ambanis for permission to play for England. If that deal is on the table and if Archer agrees, cricket―not to be alarmist―could look wildly different going forward.
Oh, and the Saudis also seem to be interested in setting up their own league. We know how that goes.