Cartoonist-turned-politician and founder of Shiv Sena, Balasaheb Thackeray, was a phenomenon. One either loved him or hated him. There was no middle ground. He owned everything that he did, occasionally even things that he did not do or ordered them done. A complex and no-nonsense personality, Thackeray was once, reportedly, asked by eminent editor Shekhar Gupta whether he was a 'Mafioso'. The Shiv Sena supremo replied: "You wouldn't be sitting in front of me if I were one." Thackeray was an essential and much needed intervention in Maharashtra politics. It is hard to imagine the state's political landscape without Thackeray or Shiv Sena.
So, a biopic on such a personality, revered by lakhs even today seven years after his demise, is a herculean task. Filmmaker Abhijit Panse has shouldered the responsibility in an excellent manner and given us a film, which, most importantly, does not deny anything—be it Shiv Sena's active participation in the Mumbai riots or its part in the demolition of the disputed structure of Babri Masjid. A biopic need not always be a critical analysis of a personality or a glorified account of the person. It should show us the personality as he or she was, a bundle of contradictions and emotions. Thackeray does that. Panse does not hesitate in showing how Shiv Sena was lampooned as 'Vasant Sena' (an outfit sponsored by then Maharashtra chief minister Vasantrao Naik). He also does not hesitate in showing how Mumbai police tacitly supported Shiv Sainiks in the riots in the aftermath of the Babri Masjid demolition.
Nawazuddin Siddiqui as Thackeray and Amrita Rao as his wife Meena Tai have delivered superb performances. The scene where Thackeray is undergoing dental treatment at Dr Shroff's clinic is brilliant because of the way Siddiqui captures Thackeray's devil-may-care attitude: A politician brings to Thackeray a proposal to merge Shiv Sena with the Congress or face ban. It is the Emergency era. The message has come from then Mumbai Congress boss Rajni Patel. Thackeray listens patiently and then tells the politician to convey to Patel that he will pay a heavy price for coming up with such a proposal. The very next moment, as if nothing has happened, Thackeray tells Dr Shroff to get on with his business.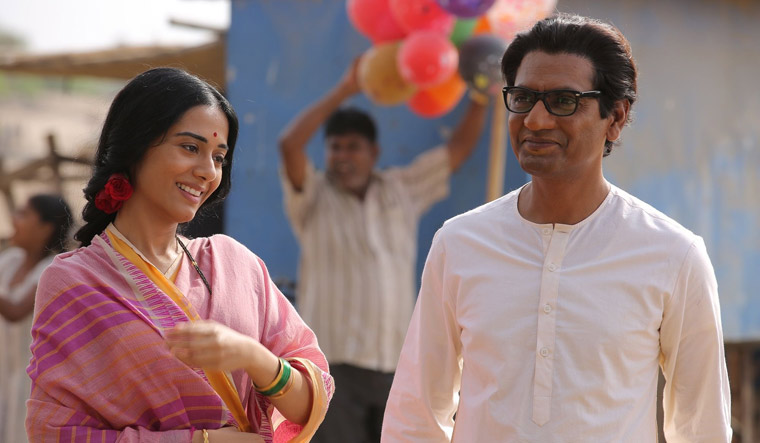 Thackeray-baiters may point at the irony that non-Maharashtrian actors Nawazuddin Siddiqui and Amrita Rao were picked to portray the Shiv Sena supremo and his wife, thus rendering useless Thackeray's nativist and sons-of-the-soil politics. But, it is a foolish and conference-room-debate argument. In the larger canvas of political reality that unfolded in the era in which Thackeray grew and thrived, sons-of-the-soil was an important, valid and useful card to play in real politics. So important and valid that even today, politicians in other states raise the issue. Ask Madhya Pradesh Chief Minister and Congress leader Kamal Nath who recently complained about outsiders taking away jobs from people of the state.
Another terrific scene in the film is murder of Communist legislator Krishna Desai. The firebrand Communist leader was allegedly murdered by Shiv Sainiks outside his office in 1970. Marathi actor Sanjay Narvekar has played the role of Desai very well. It is terrifying to see Desai being murdered by using a gupti (a type of sword) concealed in the handle of an open umbrella. Again, the film does not deny the role of Shiv Sena or Thackeray in that incident. It just goes on to explain that the attack was in response to an attack, allegedly by Communists, on Thackeray. An eye for an eye.
On the downside, the film justifies the use of violence as a necessary means to achieve larger aims. But then, so did Thackeray. He never shied away from saying so. One may call him a demagogue or a fascist autocrat. That is how he was and the film captures it well. Along with Siddiqui and Rao, other actors like Prakash Belavadi, Pradeep Velankar, Sanjay Narvekar and Nilesh Divekar had produced some brilliant performances. The film is a must-watch for those who want to understand Thackeray as he was.
Film: Thackeray
Director: Abhijit Panse
Cast: Nawazuddin Siddiqui, Amrita Rao, Sanjay Narvekar
Rating: 3.5/5