"Agar aap mere afsaanon ko bardaasht nahi kar sakte, toh iska matlab yeh zamaana hi nakaabilebardaasht hai!"
'If you find my stories unbearable, then it means the society we are living in itself is unbearable'. Saadat Hasan Manto's acerbic response to a suggestion to tone down his stories, at an adda session with his 'progressive' friends, lashes our minds like a whip. Even as we wince in pain, we realise the firebrand Urdu writer is right.
The year is 1946. Nandita Das's Manto—a biopic on the firebrand Urdu writer (brilliantly portrayed by Nawazuddin Siddiqui)—focuses on just four years from then on, in his life. But it is enough to offer more than a peek into Manto's brilliant and defiant mind, and into the society then.
It is to this bigoted society that Manto holds a mirror to. And the reflection shows that it has not aged at all in all these years. It is Das's second directorial venture—first being Firaaq, a powerfully evocative film in the backdrop of the post-Godhra riots of 2002. Perhaps, the fact that the film is not a typical cradle-to-grave biopic, allows the audience to understand Manto and his works better.
The Urdu writer's stories like Thanda Gosht, Toba Tek Singh and Khol Do gave the readers "sleepless nights". His works focused on the fringes of the society, on the people in the shadows. And he stood up for them.
However, Manto was as vulnerable as he was defiant. Partition forms the backdrop of the four tumultuous years of his life depicted in the film. Manto, who calls himself "chalta phirta Bombay", was forced to leave the city of his dreams after a conversation with his friend and actor Shyam Chadda (Tahir Raj Bhasin) one night. Though a non-practising Muslim, he realised he is "Muslim enough to be killed" in post-Partition India. He went to Lahore but life was never the same again, as he was tried for obscenity for his work, Thanda Gosht. Though always an alcoholic, he drowned himself in the bottle post the trial that caused him immense pain.
Das had said in an interview with THE WEEK that she always had Siddiqui in mind while writing Manto, and one can see why. You cannot imagine anyone else in the role of the maverick Urdu writer. Siddiqui lives the character—from depicting Manto's idiosyncrasies like collecting expensive pens but not using them, criticising other writer friends like Ismat Chughtai (Rajshri Deshpande) but not accepting any of it himself, as the writer who is hurt when his work is dismissed as "not literature", as a self-respecting artiste who refuses help even when he is down, a man who is ready to don a Hindu topi or a Muslim topi to save himself from the frenzied mob post Partition, and as a helpless but caring father and husband.
There is no room for theatrics in Manto. There is no need either. The 'evils' of the society and even the horrors of Partition are depicted subtly through Manto's stories themselves that weave in and out of the narrative. So, you see Paresh Rawal, Rishi Kapoor, Divya Dutta, Ranvir Shorey, Vinod Nagpal, Tillotama Shome, and even Javed Akhtar making brief but poignant appearances as characters from his stories or as part of the narrative.
But, even in this bevy of brilliant actors, one person who holds her own and shines throughout the film is Rasika Dugal as Manto's wife Safia. She humanises the legendary writer that Manto is. She is the proverbial pillar of strength in his life. Even when Safia berates Manto for empathising only with his characters, she loves and cares for him as a loving wife. Dugal is an epitome of grace and restrained acting as Safia.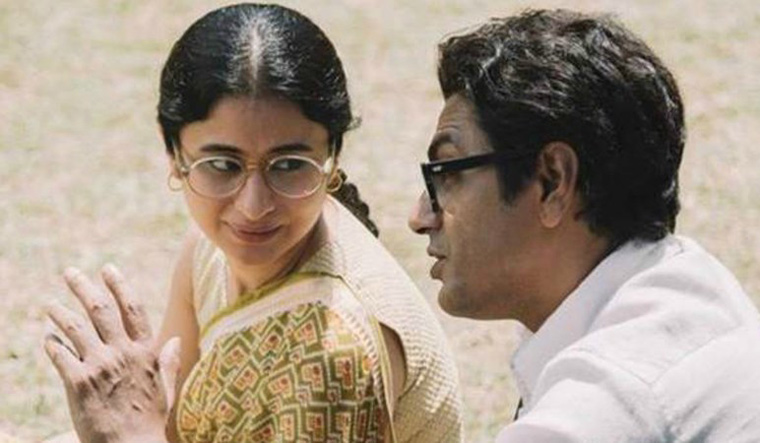 But it is not just these actors alone who drive the film ahead. Be it the haunting music by Zakir Hussain and Sneha Khanwalkar or the frames by Kartik Vijay that capture the spirit and beauty of Bombay, they carry the film along smoothly.
After Firaaq in 2008, it took Das a decade to don the director's hat again. But it was well worth the wait.
More than half a century later after Manto's death, the society still seems to be stuck in a time warp. 'Freedom of speech and expression… artistic licence… creative liberties,' defend the authors and filmmakers in vain. The judgment is passed by judges who do not wear black coats. And the powers that be are more often than not forced to toe the line. Das said in the same interview that with Manto, she wishes to evoke 'Mantoiyat'—the ability to be free-spirited, honest and outspoken.
There couldn't have been a better time for it than now.
Film: Manto
Director: Nandita Das
Cast: Nawazuddin Siddiqui, Rasika Dugal, Rajshri Deshpande, Tahir Raj Bhasin, Rishi Kapoor, Paresh Rawal
Rating: 4/5