"A friend should bear his friend's infirmities...," wrote "Sex-speare". Sorry who, you ask? The one of Julius Caesar fame. Oh, Shakespeare, you mean. Yes, "Sex-speare", as Kamli aka Kamlesh would say. Kamlesh who, you ask? Kamlesh is the star of Sanju. Wait, isn't Ranbir Kapoor playing actor Sanjay Dutt in the Rajkumar Hirani-directed biopic?
He is, but Kamlesh (Vicky Kaushal) is no less a star in Sanju. True, Ranbir walks away with a star on his stooped shoulder with his brilliant portrayal of Sanjay Dutt. But Vicky Kaushal, who appears as Sanju's Gujarati NRI friend who has his heart in the right place, stays with you long after you leave the theatre. And so do his Sex-spearean quotes. Vicky Kaushal's character is said to be based on Sanjay Dutt's real-life friend Paresh Ghelani. Kamlesh not only bears his famous friend's infirmities, but also does everything he can to eliminate them.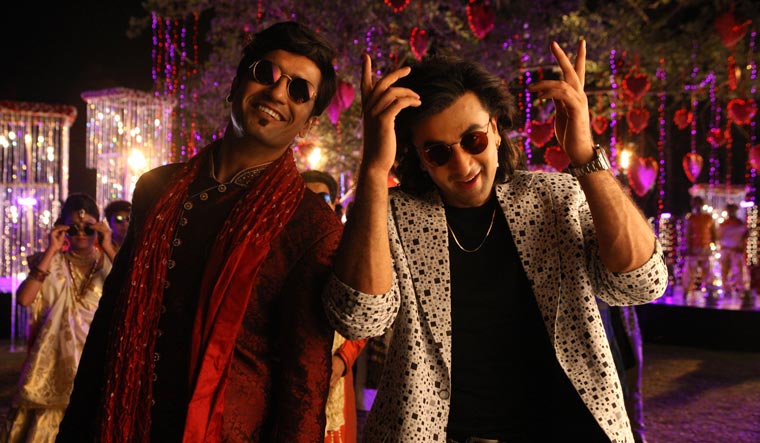 A man is known by the company he keeps, they say. Sanjay Dutt can vouch for it. A lot has been written about Bollywood's enfant terrible. Famous parents, drug abuse, multiple love affairs, accused in the 1993 Mumbai blasts case... the 58-year-old actor's life has been akin to a Bollywood potboiler. And Hirani tries to capture all this in the 160-minute biopic. It presents the other side of the story. Not the one that appeared in print or in the news channels, but directly from the horse's mouth.
So, does Sanju deify Sanjay Dutt? It doesn't, to be honest. It paints his life in black and white. How he struggled to cope with his father, actor and politician Sunil Dutt's larger-than-life persona, loss of his mother and actor Nargis (a heart-warming cameo by Manisha Koirala) due to cancer, how he was ushered into the world of drugs by a 'friend', Zubin Mistry (played by an impressive Jim Sarbh of Neerja and Padmaavat fame), how it messed up his life and of those around him, his 'trysts' with over 300 women, his 'apparent' role in the 1993 Mumbai blasts case, his contact with the Mumbai underworld, his second coming with Munna Bhai M.B.B.S.—another Hirani film—and his 'reformation'.
If the trailer of Sanju gave us a glimpse of the effort Ranbir Kapoor has put into the role, the film itself would leave you awestruck. His uncanny resemblance to the veteran actor is part of Bollywood lore now, but to reprise Sanjay Dutt's characteristic swagger, nonchalance and the physical transformation... well, hats off to him! There were a couple of big names from Bollywood who weren't too convinced about Ranbir Kapoor's ability to pull off the role, but having watched it, one can hardly imagine anybody else in that role.
There is a typical Hirani touch throughout the film, with outlandish song sequences, and more than a dash of melodrama. But then, that's expected, isn't it?
If Sanju's friendship with Zubin and Kamlesh forms the body of the film's story, the soul of Sanju is the relation between the father Sunil Dutt (played by Paresh Rawal) and son Sanjay. To quote "Sex-speare" from A Midsummer Night's Dream, "To you your father should be as a god; One that composed your beauties, yea, and one to whom you are but as a form in wax, By him imprinted, and within his power to leave the figure or disfigure it." Sunil Dutt was a caring husband and a responsible father, according to the film, but Sanjay Dutt was terrified of him. Like any other father, he, too, wanted his son to follow in his footsteps. But, somewhere along the journey, the son stumbled and the father was left helpless. Was Sunil Dutt hard on his young son who lost his mother at a young age? Was it the reason that he was led astray so early in life? The angst of a father is brought out well by Paresh Rawal—interestingly, the role was offered to Aamir Khan but he refused. The scenes between the father and son are the most poignant ones in the film.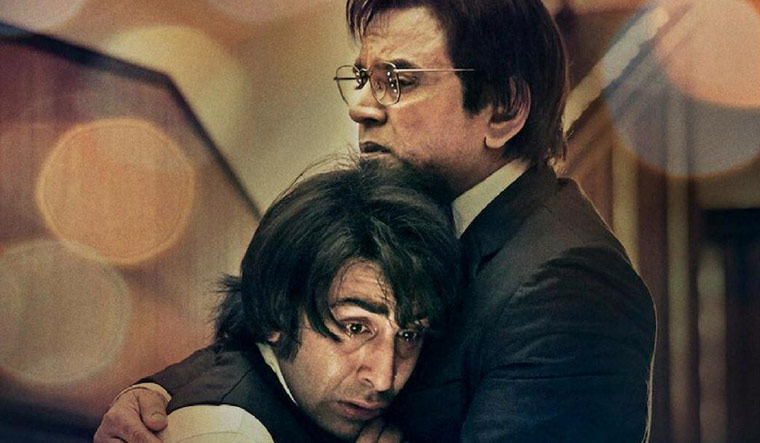 Hirani has managed to bring out the best from each of his actors. Even Anushka Sharma (as Sanjay Dutt's biographer Winnie Diaz) and Dia Mirza (as his present wife Maanyata) make their presence felt. However, what is lacking in the biopic are the grey shades in Sanjay Dutt's life. Hirani glosses over his two earlier marriages and his daughter from one of them. There is only a fleeting reference of his 'womaniser' avatar, and his much-publicised affair with a former actress (Sonam Kapoor does a cameo as his former lover, but that's it). Though Hirani does bring in his links with the underworld, the film doesn't go deep into it.
These apart, Sanju is an intriguing watch for all the Sanjay Dutt fans, and others, too. Taking a cue from Kamlesh, go get your 'snakes' and rush to your nearest cinema 'hole'!
Film: Sanju
Director: Rajkumar Hirani
Cast: Ranbir Kapoor, Vicky Kaushal, Paresh Rawal, Dia Mirza, Anushka Sharma
Rating: 3.5/5